Welcome to the start of Batman's "Early Period"—an over-arching term that describes his first ten years in action. Year One gives us the first major Batman stories in chronological order. Frank Miller's "Year One" is literally one year long, spanning January until December, although Batman doesn't go out in-costume until April. After all contemporary time-sliding, the correct calendar period for Bat Year One is 1989. Nuff said!
_______________________________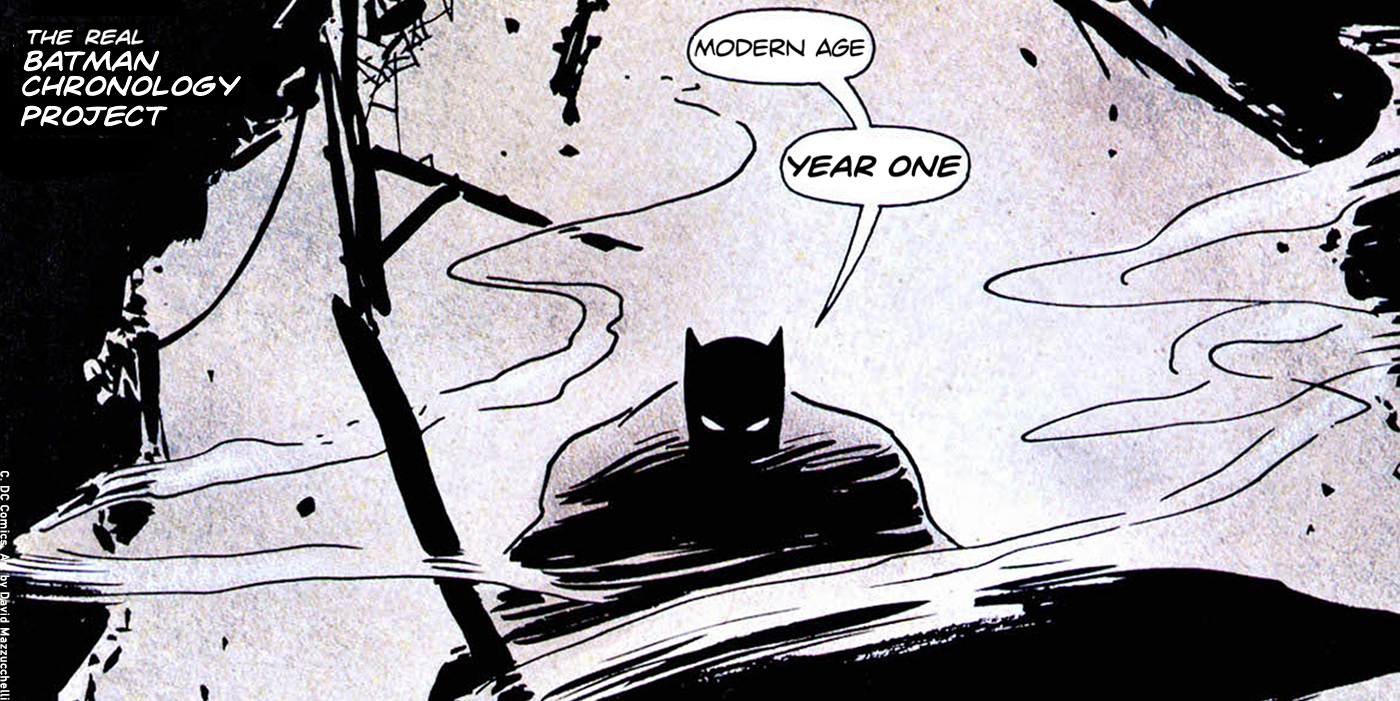 _______________________________
–"Batman Year One" by Frank Miller/David Mazzucchelli (Batman #404) February 1987
January 4-February 26.[4] Twenty-five-year-old multimillionaire Bruce Wayne has spent the last twelve years of his life training to fight crime. His goal is to avenge the murders of his parents by taking down all evildoers using non-lethal force.[5] Bruce returns to his hometown of Gotham City and reunites with his trusted friend and butler, Alfred Pennyworth, at Wayne Manor. (The arrival scene at Wayne Manor is also shown with more detail in Batman: Legends of the Dark Knight #1 and via flashback from Batman Annual #13 Part 2 and Batman Secret Files and Origins #1 Part 1.) Bruce visits his parents' graves. (This graveside visit is also shown via flashback from Infinite Crisis #3.) Not yet ready to patrol the streets, he continues training. (Both of these scenes are shown via flashback from Batman Annual #13 Part 2. Furthermore, Bruce's exact body training regiment from February 20 through February 26 is given to us via a reference in The Batman Files. As is an example of Alfred's delicious and nutritious food menu, which begins Alfred's daily practice of delivering three solid meals befit for a well-oiled and fully-effective crime-fighter. The Batman Files also tells us that Bruce, at this juncture, begins learning how to pick locks and begins studying maps of the city, something he will continually do for the rest of his superhero career.)[6] Meanwhile, Lieutenant James Gordon and his pregnant wife Barbara Gordon arrive in Gotham on the same day. Jim has transferred back to the extremely corrupt Gotham City Police Department (GCPD) from the Chicago PD. The vile Commissioner Gillian Loeb pairs Gordon with the loathsome Detective Arnold Flass. It's not long before the entire Gotham Force hates Gordon for doing honest police work. While not specifically mentioned by Frank Miller, Bruce's birthday, according to pre-original Crisis stories, was February 19, so if this still holds true then Bruce turns 26-years-old in February. (Miller has stated in interviews that Batman's birthday is in November, but he never made this official in any canon Modern Age comic book, so his November statement should likely only be attributed to the alternate Miller-verse timeline.)
–REFERENCE: In JLA #119, Batman/Nightwing: Bloodborne, and The Batman Files. Ever since he was a teenager, Bruce has kept a personal journal/diary. Batman now begins the added practice of keeping a scrapbook. As we have already done in regard to his nearly constant journaling, we must imagine—sprinkled invisibly on our timeline below—Batman obtaining old photos, new photos, flat historical artifacts, dossiers, schematics, blueprints, and clippings, all of which get inserted into the scrapbook. Besides Batman-related materials, much of Bruce's scrapbook ephemera is found among the remnants of his parents' old stuff at Wayne Manor, which Bruce presumably combs through at this juncture. A significant portion of the scrapbook ephemera is also newspaper articles, magazine articles, flyers, police documents, psyche profiles, and hospital papers, which Bruce presumably seeks out and obtains at this juncture as well. (Bruce will continuously get items of this nature, adding them to his collection, throughout his entire career.) Note that Batman will show special affection for Catwoman, dedicating a section of his scrapbook solely to images of her. Also note that this scrapbook is not "The Batman Files," which Batman will make much later in his career—although, this scrapbook will be merged into "The Batman Files" upon the latter's creation. Last but not least, in addition to scrapbooking, Batman will also constantly compile copious notes into a casebook/crime-log for the duration of his career. He will also research everyone that crosses either his path or the paths of any Bat-Family members, making detailed (and constantly updated) dossiers about them. (The term "Bat-Family," an umbrella term used to describe Batman and his closest working associates, won't be used until Bat Year Six, when Robin joins Batman and Alfred.) In addition, Batman will also keep detailed records of his training regiment, at least in the beginning of his crime-fighting career. All of these files will be compiled as a combination of both hard (physical/analog) and digital records. Moving forward, Batman will erase information pertaining to top-top secret cases that involve extremely sensitive materials.
–"Batman Year One" by Frank Miller/David Mazzucchelli (Batman #404) February 1987
March 11. Detective Arnold Flass and a few buddies, on orders from Commissioner Loeb, beat up Jim Gordon with baseball bats. On that very same night, Bruce ends his training and prepares for his first act of vigilantism—a "reconnaissance mission" in Gotham's seedy East End. (As referenced in Batman #683 and seen via flashback from Batman Annual #13 Part 2, Alfred helps Bruce prep for his first outing by teaching him about the art of disguise. Bruce is already good at makeup and disguise, but Alfred will perfect his craft and continue to teach Bruce for years to come. As referenced in Batman Annual #13 Part 2, Alfred also tells Bruce to disguise his voice as well.)[7] Masquerading as a facially-scarred US Army veteran, Bruce takes to the worst streets of the East End, getting in a fight with sex worker/martial arts expert Selina Kyle,[8] her young friend Holly Robinson, and the lowlife Stan the Pimp before getting shot by some bad cops. A flashback from Catwoman #1, Catwoman #3, and Batman #604 also shows Bruce's fight against Selina, Holly, Stan the Pimp, and the cops.)[9] The badly injured Bruce barely makes it home alive. As Bruce sits slumped over and bleeding out in Wayne Manor, an injured bat crashes through the window and lands on a bust, inspiring him to become a costumed vigilante. Bruce gingerly reaches over to a side table and grips a butler bell in Batman #404's final panel. The scene of the bat crashing through the window is also detailed in Batman: Legends of the Dark Knight #1, which shows a two-and-a-half-page recap of Bruce's entire failed first night out. The bat/window scene is also shown via flashback from Batman #0, Batman #682, Batman: Shadow of the Bat #0, Detective Comics #574, Batman: War on Crime, and Batman: The Return #1, with the latter adding a little extra story detailing how the bat came upon Wayne Manor on this fateful night. Secret Origins of the World's Greatest Super-Heroes, Batman Secret Files and Origins #1 Part 1, the second feature to 52 #46 also show flashbacks to this bat/window scene, but they are non-canon.[10] The bat/window scene is also referenced in Batman #561 and Batman #683.
–"Shaman Part 1" by Denny O'Neil/E. Hannigan (Batman: Legends of the Dark Knight #1) November 1989
March 11. Having just witnessed the bat crash through the window, a bloody and battered Bruce sits slumped over in his chair, clutching onto his butler bell. Bruce flips open his Maxwell Floppy book, re-reading the passage, "Criminals are a cowardly and superstitious lot." Bruce then rings his bell and Alfred comes to assist him, saving his life. (This scene is also shown via flashback from Batman Annual #13 Part 2 and Batman: The Return #1. It is also referenced in Batman: Shadow of the Bat #0.) Bruce will spend the next few weeks healing-up—although, note that Legends of the Dark Knight #1 and Shadow of the Bat #29 both completely ignore Bruce's recovery time, which is an out-and-out continuity error. During the initial part of this recovery time period, Bruce and Alfred design and tailor a Batman costume. (A flashback from Detective Comics #0 shows Bruce and Alfred working on the Bat-costume design shortly after Bruce has witnessed the bat crash through the window, although 'tec #0 also gets Bruce's recovery time incorrect.) Bruce tailors several cowls, each of which have different ear lengths (as referenced in Adventures of Superman #643 and The Batman Files). Amazingly, when artists decide to draw whatever Bat-ear lengths they desire (as we will so often see in the comics), it's not simply an artist's rendition—it's canon that Batman specifically wears different cowls on different cases! The teleological explanation is that each set of ears has a unique function. For example, one set might have better head protection whereas another might have a better built-in communication device. Bruce also adds a quick-release button to his costume that can detach his cape from his cowl, in case of emergency (as referenced in The Batman Files). Bruce discusses with Alfred the idea of tricking WayneTech to create night vision cowl lenses for him (as referenced in The Batman Files). Bruce also creates his utility belt, which will be stocked with various crime-fighting accoutrements. (While we won't see him doing it on our timeline, Bruce will constantly replenish his utility belt stock and upgrade his utility belt capability/design, moving forward.)[11] For a few weeks, Bruce takes extra special care while finalizing his costume. Only after this period of intense focus will Bruce be ready to have another go at crime-fighting again.[12]
–FLASHBACK: From Batman Annual #13 Part 2 and Detective Comics #574. In Wayne Manor, Bruce wears his Batman costume and strikes an intimidating pose for Alfred, who isn't much impressed. Over breakfast, Alfred and Bruce talk about the fear of God and the fear of failure. Alfred helps Bruce prep for his impending role as head of Wayne Enterprises (formerly WayneCorp) and his life as a socialite, things he knows very little about. Alfred will help guide Bruce in these areas for decades to come.
–FLASHBACK: In Detective Comics #0—and referenced in Superman/Batman #85, Batman Confidential #1-6, Batman: Legends of the Dark Knight #1, Batman: Shadow of the Bat #7, Batman: Shadow of the Bat #73, Detective Comics #852, Batman: The Man Who Laughs, Batman Secret Files and Origins #1 Part 2, and The Batman Files. March. Bruce takes control of his family's business, Wayne Enterprises—a publicly traded international conglomerate that has many subdivisions and subsidiaries, notably WayneTech, Wayne Industries, Wayne Entertainment, and the Wayne Foundation. (WayneTech deals in the research and development sector, Wayne Industries aptly deals in the industrial sector, and the Wayne Foundation deals with real estate, acquisitions, and the financial sector.) After assuming leadership of Wayne Enterprises, Bruce hires Lucius Fox in an executive role at WayneTech. Bruce also files for patents on thousands of individualized mechanical parts, which he immediately uses to begin creating secret Bat-technology and weaponry, including special boomerangs called "Batarangs." Bruce will secretly use WayneTech mechanical parts in this way—to make Bat-gear, various Batarang types, and other wonderful toys—for decades to come. (Obsessed with his motif, Bruce will add a "Bat" prefix to the name of just about every item or vehicle he uses in his crime-fighting mission.) Bruce visits Lucius at a WayneTech plant to view a prototype military car on the manufacturing line. He tells Lucius to mothball the project, but to save him a model as a personal curiosity. Note that Bruce specifically orders Lucius to drop all military projects, but this won't happen until Bat Year Three's Batman Confidential #1-6 because Bruce doesn't yet wield the kind of authority needed to make that decision. (Bruce has officially joined the Wayne Enterprises Board of Directors, but he won't become Chairman of the Board until he becomes majority shareholder next year.) Soon afterward, a disguised Bruce and Alfred pick up the car, a hang-glider, a boat, and a couple of super-computers from WayneTech. Bruce begins working on the car, which, by November, will be ready to debut as the Batmobile. (Bruce will constantly work on the Batmobile, introducing new features and new models often.) Bruce will pilfer tech from his own company for decades to come. Because Wayne Enterprises is a publicly traded company, Bruce is technically committing a major string of felonies by defrauding his own stockholders! Oh well. Bruce also goes ahead with his earlier plan and tricks WayneTech's R&D Division into starting development on night vision/infra-red lenses "for a private security firm." These lenses will be fully developed in a couple years, at which point Batman will incorporate them into his cowl. Furthermore, Bruce—via WayneTech—funds research into ballistics, bombs, poisons, assassination techniques, and mythologies of indigenous peoples. Notably, Bruce also orders all Wayne-owned properties in the city to be renovated, sparing no expense, to make them earthquake-proof and wheelchair accessible. The same standards, thanks to Bruce's mandate, will be applied to all future Wayne-run constructions projects. Moving ahead on our timeline, be aware that Bruce—as the head of Wayne Enterprises—will have a near constant engagement with the company's business, finance, real estate, and tech dealings. This will be done mostly to keep up appearances, but will still take up a lot of Bruce's time in-between Batman cases. We won't see much of this activity on the timeline below, but, suffice to say, we should imagine it occurring invisibly as we move forward. We know for sure that Bruce will attend (at the very least) one Board of Directors meeting every month from this point on.
–REFERENCE: In The Batman Chronicles #19 Part 1 Intro. March. Still healing from the injuries suffered during his initial East End outing (but nearly recovered), Bruce begins dating socialite Viveca Beausoleil.
–FLASHBACK: From Detective Comics #0 and Christmas With the Super-Heroes #2—and also referenced in The Batman Files. March. Bruce and Alfred examine the caverns beneath Wayne Manor, which Bruce fell into as a young child and then spent his formative years exploring. Guided by a map of the caves in the Wayne Manor library, Bruce decides to use the network of natural tunnels as his headquarters, which will be called "The Batcave." Note that the Batcave includes a complicated series of connected underground rivers that run into Gotham Bay. This system surely must comprise some of the longest underground waterways in the world, so keeping it hidden will be no small task. We can assume that Batman will use various camouflaging means and use his computer resources to erase geological history records in order to keep his secret safe. Likewise, we can assume that Batman will install false seismic echo generators to fool any future radio frequencies or ground-penetrating radar scanning.
–FLASHBACK: From Batman: Legends of the Dark Knight #2 and Batman Secret Files and Origins #1 Part 1. March. Bruce and Alfred perform a speleological study underneath Wayne Manor as they prepare for construction of the Batcave. (Note that this scene originally occurred a little bit later on our chronology, not as a flashback, but seemingly interwoven into the ongoing narrative of Legends of the Dark Knight #2, which doesn't happen until late December. However, since the Batcave will be seen in-use in many of the stories coming up in Year One, I have retconned this scene to appear as a flashback at this point on our timeline.) As referenced in Batman #657, in order to make the Batcave inhabitable for human use (i.e. to reduce methane levels), Bruce and Alfred build an underground preserve and herd all the bats into that dedicated space. Then, Bruce and Alfred begin construction on the Batcave, first by connecting the cave to Wayne Manor via a tunnel and secret entranceway. (Bruce and Alfred hide the entrance behind a grandfather clock.) They will continue building the Batcave throughout the majority of this calendar year. Note that Batman will continuously update and add-onto the Batcave over the course of his entire crime-fighting career.[13]
–FLASHBACK: From Christmas With the Super-Heroes #2—and also referenced in The Batman Files. March. Bruce and Alfred haul monitors, vehicles, weapons, and other equipment into the Batcave, which is now under construction. Bruce and Alfred will eventually fill the Batcave with a very wide variety of vehicles and weaponry. (Design, construction, and upgrading of vehicles and weaponry will happen often, moving forward, changing dramatically over the years. Although, note that most of the design process, building, upgrading, and testing won't be physically listed on our chronology.) The Batcave will also contain a fully-operational crime lab, state-of-the-art training gym, industrial design studio, medical bay, weapons testing range, and garage. Bruce and Alfred now begin construction on the whole shebang.
–FLASHBACK: From Detective Comics #0. Bruce tells Alfred that the Batmobile is nearly finished. (Since we won't see a functional Batmobile until November, we must assume that Bruce beta-tests it and it simply isn't ready for action and won't be for months.) Meanwhile, Alfred sews bulletproof under-armor into Batman's costume.
–FLASHBACK: From the second feature to 52 #46. Bruce takes stock of his weaponry, utility belt, crimefighting tools, and unfinished Batmobile in the still under-construction Batcave.
–FLASHBACK: From Batman #702 Part 4—and referenced in Batman #701 Part 1. March. Bruce, while checking out the caverns on the opposite side of the currently-under-construction Batcave, discovers a room hidden deep beneath Wayne Manor. The room has a secret passageway that connects to Wayne Cemetery above. Inside the room is a cryptic note from Bruce's parents that orders him to keep the room secret and safe. Bruce will abide by this. The room won't come into play for over two decades. What is this room? It is Simon Hurt's Barbatos-worshipping room, used by the Black Glove prior to Thomas and Martha living in the Manor. (Note that Hurt has never actually interacted with the demon Barbatos. His obsession with Barbatos comes from having confused the Hyper-Adapter for Barbatos. More on that much later.) Shortly after Bruce's birth, Hurt came into Thomas and Martha's life. Unsure of whether or not he was truly family, Martha took the wayward Hurt into their lives after hearing details of his life and believing him to have been unnaturally corrupted. Unable to help their ancient relative, Thomas and Martha have Hurt (who they referred to as "Thomas Wayne Jr") committed to Willowwood Asylum. Hurt will stay at Willowwood for a little bit before checking-out and going off the grid. Not sure what to do next, the Waynes simply block-off the room and passageway and leave the note for Bruce, should he ever discover it. The details of Hurt's interactions with Martha and Thomas Wayne are referenced in Batman and Robin #15-16 and Batman: The Return of Bruce Wayne #4-6.
–REFERENCE: In The Batman Chronicles #19 Part 1 Intro. April 4-5. Bruce parties with his girlfriend Viveca Beausoleil until dawn, then spends the rest of the day prepping for his first in-costume patrol.
–"Shaman Part 1" (continued…) by Denny O'Neil/E. Hannigan (Batman: Legends of the Dark Knight #1) November 1989
April 5. Bruce works out and tells Alfred to set up a meeting with unscrupulous Gotham University anthropologist Dr. Madison Spurlock, who is studying Alaskan Native American culture on the Wayne Foundation's dime. Later, Bruce dons the costume that will strike terror into the hearts of evildoers, becoming the vigilante superhero known as Batman. Suited-up for the first time, Batman prepares for his first patrol of the city. (A flashback from Detective Comics #0 also details Batman's preparations prior to heading out on this nervous first night. This preparation includes showing-off Batarangs and his utility belt to Alfred. Batman tells Alfred to make alternate Bat-costumes for different seasons. A generic flashback from Batman: Shadow of the Bat #0 also shows a posing Batman on his first night out.) Don't forget, as mentioned above, LOTDK #1 has a funky timeline that has Bruce's botched East End outing (March 11) occur the night prior to his Bat-debut (April 5). Over a month has passed—not a mere twenty-four hours. So, writer Denny O'Neil's dialogue—"It's not like last night. Tonight he is not awkward, uncertain…"—is a blatant continuity error. Or, as site contributor Elias M Freire says, we could force this dialogue to ring true by fanwanking that Batman did some dodgy training the night prior (before heading out on his date with Viveca).
–FLASHBACK: From Batman: Shadow of the Bat #29. April 5. Batman goes out in costume for the very first time. Making sure he isn't seen, he completes one final test by jumping off the top of a tall skyscraper and catching himself after a dead free fall by hooking onto a gargoyle with his grappling gear. Batman is finally ready for real world action. Note that this item has an erroneous dialogue caption that claims it has only been one day since the bat crashed through Bruce's window at Wayne Manor. Of course, this isn't the case. It's been weeks, so we should ignore that bogus line.
–"Batman Year One" by Frank Miller/David Mazzucchelli (Batman #405) 1987
April 5-6.[14] Bruce, wearing the Batman costume for the first time out in the world, traverses the rooftops of Gotham. In this single-panel we see Batman on his way to Leslie Thompkins' clinic, which has been plagued by several recent break-ins. The image shown in Miller's "Year One" is after midnight on April 6, but we can presume that Batman dons the costume before midnight, technically making his start on April 5.
–"Shaman Part 1" (conclusion) by Denny O'Neil/E. Hannigan (Batman: Legends of the Dark Knight #1) November 1989
April 6. We pick up LOTDK #1 near its conclusion. Bruce has suited up as Batman for the first time and now visits Dr. Leslie Thompkins' clinic. This is Dr. Thompkins' first encounter with Batman on his very first night out. At the clinic, Batman beats up some robbers, and witnesses a bizarre suicide by a pregnant woman. She is a member of the evil Cult of Chubala. Thus, Batman learns about the mysterious "Chubala" suicides, which—according to LOTDK #3—have been occurring for months now. Unknown to Batman, banker Carl Fisk has taken over a heroin cartel in Santa Prisca and has brought the Chubala suicide cult from the small Caribbean island to Gotham in order to prop-up/mask his drug dealings. (Fisk's foray into Santa Priscan mythology had been directly inspired by Dr. Madison Spurlock's anthropological studies.)
–REFERENCE: In The Batman Files. April 6. Batman steals and then wipes surveillance footage of himself from Leslie Thompkins' clinic. While we won't physically see it on our timeline moving forward, Batman will consistently steal video and photographs of himself—during or after cases and patrols—to paste into his scrapbook. He will also erase as much video and photographic evidence as he can in an effort to help keep his secret ID safe and to keep a low profile.
–REFERENCE: In Batman: Legends of the Dark Knight #1-4. April 6. Bruce meets with Dr. Madison Spurlock. At their face-to-face, Bruce tells him about the Native American bat myth that was told to him while he was in Alaska. Spurlock begins researching the myth and other similar folktales. Bruce offers an increase in funding to Spurlock's research and to sponsor a Native American bat folklore exhibit at the Gotham Arms Hotel (scheduled for the end of the calendar year). Spurlock accepts. He also pays for Spurlock (and assistant Bennet Young) to visit and live with the Otter Ridge Tribe in Alaska for the next several months.
–FLASHBACK: From DC Universe Legacies #3—originally told in Detective Comics #27. April 7. Batman goes on the "Case of the Chemical Syndicate," busting some crooks that are trying to rob a payroll from a chemical factory. Note that the unreliable narrator of DC Universe Legacies #3 places the "Case of the Chemical Syndicate" a few months after Superman's debut. It is about six to seven months after Superman's debut, to be precise.
–REFERENCE: In Batman Confidential #3. April 7. Batman and Alfred set up the Batcave's Bat-computer, which is partly designed and programmed by WayneTech employees, who have been tricked by Bruce into thinking they are working on a top secret US Government-contracted project. It is one of the most sophisticated computer systems on the planet, linked to satellite surveillance systems, state-of-the-art portable spy equipment, and every classified information database in the world.
–REFERENCE: In Batman Confidential #1. April 7. Batman breaks into the cold case section of the GCPD evidence depository and steals the gun that was used to murder his parents. He doesn't know that it belongs to Joe Chill and won't find out for a few more years. After running tests on the firearm, Batman locks it away inside a Wayne Manor drawer. (This gun-stealing note supposedly goes a year prior to "Rules of Engagement" aka Batman Confidential #1-6. Since Batman Confidential #1-6 occurs in Bat Year Three on our timeline, one would assume the gun-stealing should go in Bat Year Two. However, Batman Confidential #1-6 was originally written as a "Year Two" tale, hence placement here. It also just makes way more sense that Batman would steal his parents' murder weapon right out of the gate.)
–"Got a Date With an Angel" by Steve Englehart/J. Pulido (The Batman Chronicles #19 Part 1 Intro) Winter 2000
April 8-9. Bruce goes out with his girlfriend Viveca Beausoleil during the evening. Around 12:15 am on April 9, Batman busts some criminals, including a bazooka-toting crook. ("Got a Date With an Angel" specifically details Bruce's 4th through 7th days as Batman, so the rest of the tale will overlap with Batman #405.) Bruce pauses momentarily to phone Viveca Beausoleil before continuing with his patrol.
–"Batman Year One" (continued…) by Frank Miller/David Mazzucchelli (Batman #405) 1987
April 9. Batman has just taken out the bazooka guy and phoned Viveca (as seen in The Batman Chronicles #19 Part 1 Intro). Batman now takes out three teens trying to steal a TV on a fire escape, but nearly gets killed in the process. Clearly, he needs more practice. Across town, Lieutenant Gordon shares a strained exchange with his ever-distant pregnant wife Barbara. One of Gordon's underlings, Officer Stan Merkel calls him at home with reports of a "giant bat" sighting. NOTE: You will have to completely ignore the coloring of Gordon's hair in these first few years and chalk it up to artists' liberties. Yes, Gordon has red hair, but sometimes it's grey, and then it turns red again. We just have to assume that he dyes it every once in a while? After all, Gordon's hair dying is legitimately canon in later continuities![15] Oh, and for clarification, Gordon is initially a police lieutenant, but near the end of Miller's "Year One," he will be promoted to captain.
–"Got a Date With an Angel" (conclusion) by Steve Englehart/J. Pulido (The Batman Chronicles #19, Part 1 Conclusion) Winter 2000
April 9-12. At around 11:55 pm on April 9 (a night after Batman's encounter with the TV thieves), Batman takes-out a few hoods, including a crook with a jetpack. The next night (11:45 pm, April 10) it's more of the same action as Batman takes down some random thugs. Fifteen minutes later, Bruce meets Viveca and they spend midnight until last call dancing at a club. In the morning, Bruce returns home only to learn that the random thugs he busted escaped and caused four deaths while he was partying the night away. Bruce realizes that he can't continue to juggle a playboy's social life and vigilantism. Obviously. Brucie calls Viveca and breaks up with her. The next night (presumably in the wee hours of April 12), Batman recaptures the random thugs for good.[16]
–REFERENCE: In Superman/Batman #86. Batman steals a new version of a high tech grappling gun from his own company and tests it in the field, saving six children from a burning building and stopping a shipment of nerve toxin headed for Gotham Bay. Bruce adapts this grappling gun tech into a device he will routinely carry around, allowing him to ascend to great heights and swing from building to building while on patrol.
–FLASHBACK: From Batman #682 and Batman: Streets of Gotham #20—originally told in Detective Comics #29-30 and Detective Comics #33. April. Bruce, despite having sworn off sexual relationships only weeks ago, starts dating actress/social activist Julie Madison. And, right away, Bruce blowing her off. Bruce also starts telling his high society peers that he has a college degree (as a cover for his time abroad). When the sun sets, Batman deals with Dr. Death. Batman's crusade against crime hasn't been going on long yet, but already Batman has become laser-focused and barely sleeps anymore (having begun a regimen of "micro-sleeps" instead of full night rests). Dr. Death's debut only exacerbates this obsessive-compulsive behavior. Alfred tells Bruce that he can't neglect his new responsibilities to both Wayne Enterprises and Julie. After dispatching Dr. Death, Batman battles and defeats yet another evil scientist, Carl Kruger, who attacks Gotham in his "Dirigible of Doom." We won't see Kruger again, but Dr. Death will rear his evil head again years down the road as one of DC's premier science-villains.
–REFERENCE: In Batman: Gotham After Midnight #3, Secret Origins Vol. 2 #44 Part 1, and The Batman Files.[17] April. Actor turned killer Basil Karlo debuts as the masked villain known as Clayface, attacking a movie set where Julie Madison is working. Batman defeats Clayface and puts him behind bars, where he will remain for the next twelve years! After Batman's skirmish with Clayface, Bruce keeps Karlo's mask, which will later go on display in the Batcave in a few years. We know this because it will be seen in a later issue. If anyone can help out and remind me which issue, that would be great. I forget!
–FLASHBACK: From Batman #589—and referenced in Batman: Legends of the Dark Knight #90. Batman meets the criminal Matches Malone. Soon afterward, Malone fakes his own death and skips town. Believing him to be dead, Batman assumes his identity for future undercover use. Bear in mind, there is probably a surfeit of undercover work done by Batman—as Matches—to bolster the character's underworld reputation that is never specifically mentioned in any comic book. However, we simply have to imagine most of this credibility-building as occurring randomly throughout the timeline from this point forward.
–"Clay" by Alan Grant, Enrique Alcatena, & Jessica Kindzierski (Batman: Legends of the Dark Knight #89-90) December 1996 to January 1997
April 27-May 3. Batman tracks Boss Shelly Xylas, who has kidnapped a woman named Lisa Hagen. Batman soon finds himself fighting Lisa's boyfriend, the tragic shapeshifting monster Clayface II (Matt Hagen). Thanks to a supernatural protoplasm found in an underground pool, Hagen is able to become the new Clayface, but only for forty-eight hours at a time, at which point he needs to re-up to retain his powers. After his first encounter with Clayface II, Bruce is badly injured, although he makes a quick recovery. Batman disguises himself as Matches Malone to dig up dirt on Clayface II. After a week, Batman confronts Clayface II again. The super-villain kills Xylas and Lisa, and then tries to kill Batman by sucking Batman into his body. Nevertheless, Batman bursts free to achieve victory. Note that "Clay" is also referenced in Batman: Gotham After Midnight #3 and The Batman Files, although in the latter, author Matthew Manning attempts to push the story a few years later by having Batman use a cowl-radio to speak with Commissioner Gordon. While admittedly a very rational move by Manning, that bit must unfortunately be ignored. Furthermore, just as the Clayface I flashback origin from Secret Origins Vol. 2 #44 Part 1 is technically non-canon (relegated to a mere reference following Zero Hour), the same more-or-less goes for the opening portion of the Clayface II flashback origin from Secret Origins Vol. 2 #44 Part 2. The opening portion of the flashback from Secret Origins Vol. 2 #44 Part 2 is a re-telling of Clayface II's original Silver Age origin from Detective Comics #298 (basically Hagen becoming Clayface II but sans Xylas and Lisa and with a cheesier Batman fight). However, it also includes the following scene: After his first encounter with Batman, Clayface II immediately escapes custody but is defeated again when he gets stuck in a large kiln. Due to circumstantial courtroom evidence, Hagen walks free. Secret Origins Vol. 2 #44 Part 2 contains more Clayface II material to follow, but that will occur a few years down the road.[18]
–"One Night in Gotham City" by John Byrne (The Man of Steel #3)[19]
May. Batman chases after deadly newcomer, Magpie. When Batman gets wind that Superman (Kal-El/Clark Kent) might be coming to Gotham to work the case, he preps for the Man of Steel's possible arrival, notably adding protection under his cowl that will prevent Superman from using his x-ray vision to discover his secret ID.[20] Sure enough, Superman shows up and meets Batman for the first time, bearing strong disapproval of the outlaw vigilante. However, Superman reluctantly teams-up with Batman to defeat Magpie. (As detailed through a flashback from Superman #710, Bruce met Clark in their civilian identities while in Bhutran, but this is the first meeting between Batman and Superman in costume.) "One Night in Gotham City" is the official canonical first meeting between Batman and the Kryptonian "Man of Steel" Kal-El, even though much of the original Man of Steel series has since been retconned. Following this encounter, we can assume that Batman immediately begins exhaustive research into finding out all he can about the Man of Steel and prepping defenses against him.[21]
–REFERENCE: In Superman #710—originally told in Superman #76. Superman, Batman, and intrepid young reporter Lois Lane track a diamond smuggler aboard the SS Varanian Princess (aka SS Varania) cruise ship. When the smuggler blends in with the vacationers, Bruce and Clark assume their civilian identities to search the vessel. As fate would have it, Bruce and Clark wind up sharing a cabin and learn each other's secret identities! The World's Finest heroes dodge the snooping Lois and manage to nab the criminal. I should mention that Bruce might have already known that Clark was Superman, having witnessed Clark use superhuman strength while traveling abroad less than a year ago.[22][23][24]
–FLASHBACK: From "The Trust" (Mythology: The DC Art of Alex Ross)—and referenced in JLA 80-Page Giant #1 Part 1. Now that they know each other's secret IDs, Batman and Superman do as much research on each other as they possibly can. Batman and Superman don't see eye-to-eye on everything, but they become fast friends, learning to trust each other rather quickly. As an act of good faith, Superman tells Batman all about his primary weakness—green metal ore from his home planet Krypton, known as Kryptonite. He gives a piece of Kryptonite to Batman, in case of emergency. Batman stores this in the Batcave.
–REFERENCE: In Batman #406. Bruce commissions an "unofficial" invention that is created by Wayne Electronics: a sonar device that attracts swarms of bats. He begins testing the device and will continue to do so over the course of the next couple weeks (overlapping into the May nights of our upcoming ongoing "Batman Year One" narrative). Using various frequencies, Bruce will eventually find the one that gets the bats' attention.
–FLASHBACK: From Secret Origins Vol. 2 #50 Part 5. Batman goes on routine patrol, knocking some baddies on their asses.
–"Batman Year One" (continued…) by Frank Miller/David Mazzucchelli (Batman #405-406) 1987
May 14-August 7. Batman roughs up the corrupt Detective Arnold Flass, while the latter attempts a drug deal with Jefferson Skeevers. The next day, Lieutenant Gordon and the fetching Detective Sarah Essen brief the GCPD officers about the supposed "Batman." Gordon says that the mysterious vigilante has been linked to seventy-eight acts of assault since his debut in early April. We must assume this number is either exaggerated (or under-exaggerated). Either way, we have to imagine a lot of crime-fighting in the past five weeks on the part of Batman that isn't specifically listed on our timeline. On May 19, Batman makes his presence known to Gotham's underworld in dramatic fashion at a fancy dinner at Mayor Wilson Klass' mansion.[25][26] Batman threatens Italian Mafia bosses Carmine "The Roman" Falcone and Sal Maroni and crooked GCPD Commissioner Loeb. The next day, having previously been treated as a joke by the cops, Batman is made Gotham's most wanted. By the end of May, Batman has struck up a secret working relationship with Assistant District Attorney Harvey Dent. (The Batman/Harvey Dent partnership is also highlighted via flashback from Batman: Ego.) On June 6, Gordon and Essen come face-to-face with Batman after witnessing him save a pedestrian from a runaway truck. (This scene is also shown via flashback from Batman #458.) Soon after, Batman gets shot and cornered by the GCPD SWAT team (led by Lieutenant Branden and Sergeant Frank Pratt) inside a vacant tenement building. The early morning of June 7 is rocked by a GCPD bombing of the building, which wakes up everyone within a mile radius, including sex worker/cat-burglar Selina Kyle and her young friend Holly Robinson. Selina and Holly join a large crowd of onlookers at the scene. Batman, although badly injured, escapes by using his sonar device, which attracts a swarm of bats. This dramatic escape scene is also shown in the quasi-canonical Catwoman Annual #2[27] and via flashback from Catwoman #1. A few days later, Gordon, suspecting that Bruce Wayne is Batman, tries to contact him. However, Bruce has gone to Switzerland to recover from his recent injuries, and cites a skiing injury to mask the true origin of his multiple gunshot wounds. On June 17, Selina and Holly leave Stan the Pimp, earning his ire. Meanwhile, Gordon begins an affair with Sarah Essen. On August 7, Selina debuts as Catwoman.
–"Waiting in the Wings" by Kevin Dooley/Malcolm Jones III/Adrienne Roy (Batman Annual #13 Part 2) 1989
August 7-8.[28] Bruce schedules a hangout with three acquaintances. While Alfred entertains them at Wayne Manor, Bruce adventures as Batman. Bruce's friends and Alfred watch on live TV as Batman takes down some gang members and saves the life of a small boy. Cameras capture brief audio of Batman speaking, to which Bruce's friends respond by exclaiming that they think they recognize his voice. Alfred throws them off the trail and sends them packing. Batman then comes home, bleeding like a stuck pig thanks to a knife wound suffered at the hands of one of the gangbangers. Alfred nurses Bruce back to health. In the morning, Alfred tells Bruce that his Batman voice must go lower. Thus, the true deep and growly Bat-voice is invented. (Note that there's no way in hell Batman hadn't already been using an altered glottal tone from the get-go, but it obviously wasn't altered enough. Moving forward, however, it will be.)
–NOTE: As referenced in Catwoman Vol. 3 #1-2 and Catwoman Vol. 3 #6—originally told in the quasi-canonical Catwoman #2. August 8. One night after Selina's debut as Catwoman, an angry Stan the Pimp kidnaps Selina's sister Maggie Kyle. It is important to keep in mind that Catwoman #1-2 ("Her Sister's Keeper") by Mindy Newell is only partly canon. (We have to ignore most of the first two issues of this four-part series except for the important aspects—Maggie Kyle is indeed kidnapped by Stan the Pimp and Catwoman is indeed part-time trained by Wildcat Ted Grant, who also taught Bruce how to box back in the day.) Early parts of this story overlap with the also-quasi-canonical Catwoman Annual #2 by Jordan Gorfinkel as well.[29]
–FLASHBACK: From Batman #682—and referenced in Batman #682. Bruce blows off Julie for the second time in order to do Batman stuff. Later, Alfred stitches-up Bruce after a particularly bloody night's patrol. While he does so, Alfred tells Bruce about all the possible different costumed vigilante themes he could have chosen besides that of a Bat. Alfred also notes that Bruce has stopped referring to his Batman persona as a "disguise."
–FLASHBACK: From Batman: Ego. The legend of the Bat vigilante grows as Batman continues patrolling Gotham, busting criminals left-and-right. Batman forges hundreds of Batarangs. Batman also runs from trigger-happy cops.
–FLASHBACK: From Batman #682. This flashback is an homage to Detective Comics #27, depicting Bruce Wayne laughing-off the idea of the existence of Batman while in conversation with Lieutenant Gordon.
–FLASHBACK: From Batman #589. This flashback is a montage (in random order) that depicts Batman attempting to use several other undercover aliases including; henchman-for-hire "Irving O'Neil," a bearded biker guy, a leather-clad Mad Max type, and a rehash of the scarred army vet character from Miller's "Year One." Batman tests these undercover aliases now. Note that this montage also depicts Batman dressed up as a Black man (in blackface no less) during a confrontation with the Joker. This Joker confrontation takes place next year.
–REFERENCE: In Detective Comics #827. Batman adds a few more colorful alter egos (complete with unique costumes) to use as undercover aliases when probing Gotham's underworld from within. "Eddie Nickels," "Brains Bronner," and "Lefty Knox" are just a few of a handful of fake gangsters that Batman invents. We can assume that Batman uses these undercover aliases randomly over the course of the next twenty years, albeit invisibly on our timeline.
–REFERENCE: In Batman: Journey into Knight #5. Batman sets up ten apartment safe houses across Gotham, filling each with spare costumes, spare utility belts, computers, and medical equipment. The Dark Knight will use these safe houses as needed, moving forward. We'll have to imagine these visits sprinkled throughout our timeline.
–REFERENCE: In Batman: Legends of the Dark Knight #95. Bruce goes to the Hamptons to watch stage magician Jaye Richards perform a close sleight of hand act.
–"Batman Year One" (continued…) by Frank Miller/David Mazzucchelli (Batman #407) 1987
September 2-October 12.[30] Batman confronts Jefferson Skeevers and "convinces" him to cop a plea bargain with Harvey Dent, exposing Detective Arnold Flass as a criminal. Angered that his top man is going down due to the scheming of Dent and Gordon, Commissioner Loeb does a little threatening of his own and reveals that he knows about Gordon and Sarah Essen's affair. On September 25, Gordon, still convinced that Bruce is Batman, visits Wayne Manor with his wife. Bruce plays the role of drunk playboy, complete with sexy foreign "girlfriend" to throw Gordon off the trail. (This scene is also shown via flashback from Batman #0.) Afterward, Gordon tells Barbara about Sarah. On October 12, Barbara gives birth to James Gordon Jr. Also on the 12th, the news reports that Catwoman has completed a series of four high-profile burglaries. As referenced in The Batman Files, Bruce reads about Catwoman and looks at the blurry silhouetted photo of the thief, which was originally printed in the papers following her second major heist.[31] Another reference in The Batman Files tells us that Catwoman is also known as "The Cat," despite the fact that she isn't called this in any Modern Age comic. This likely means that Catwoman is referred to simply as "The Cat" by some news media outlets.
–FLASHBACK: From Batman: The Killing Joke, Batman: Gotham Knights #54, Batman: The Man Who Laughs, Batman: Ego, and the second feature to Countdown #31—and referenced in Batman: The Killing Joke and Batman: The Man Who Laughs. October—this item occurs roughly three months prior to Batman: The Man Who Laughs. The Red Hood Mob, a crime-gang led by a challenging new super-villain called The Red Hood, debuts in Gotham. The Red Hood pulls off a few scores, evading police capture. Eventually, unbeknown to the GCPD, Batman takes on the Red Hood Mob, but the bad guys still away. Unknown to both the cops and Batman, the gimmick here is that someone different wears the face-obscuring Red Hood helmet each time the gang pulls off a heist. At Ace Chemical (aka Gotham Chemical), Batman confronts the Red Hood Mob again, now with cops present at the scene. (Note that Batman: Ego incorrectly calls the plant "Axis Chemicals," which is a reference to the 1989 Tim Burton Batman film.) This time, a nervous patsy named Jack is wearing the Red Hood costume. With Batman encroaching, the scared "Red Hood" falls into a chemical vat. In an instant, the Joker is born. Note that Joker's pregnant wife Jeannie has been murdered, and in Alan Moore's original text, it was made to look like she was accidentally electrocuted. Gotham Knights #54 retcons Moore's original version of the story so that Jeannie was kidnapped and murdered, with the crime being covered up by a boiler explosion.[32] An apocryphal version of the Red Hood incident is also referenced in DC Universe Legacies #3 in the form of a third-hand account by someone who simply read about it in a newspaper. After the Red Hood incident ends, Batman steals the Red Hood's helmet from police evidence.
–REFERENCE: In Batman and The Monster Men #5. Batman, in an effort to reach out, gives Jim Gordon a radio transmitter with which he can contact him at any time. Of course, Gordon won't use it for weeks since the real Batman/Gordon partnership won't develop until after Bruce saves Gordon's son on November 3 (in Miller's "Year One").
–FLASHBACK: From the second feature to 52 #46. Batman goes on patrol, busting some muggers.
–"Broken Nose" by Paul Pope (the second feature to Batman: Gotham Knights #3 / Batman: Black & White) May 2003
This is a B&W Paul Pope short where Batman gets his nose broken for the first time (!) by robotic armored super-villain Mabuse. Batman gets patched up by Alfred, who notes that it is astonishing that Bruce has never broken his nose prior to now. Batman then defeats Mabuse, drags him out of the robo-suit and breaks his nose! Even-steven.[33]
–"Batman Year One" (continued…) by Frank Miller/David Mazzucchelli (Batman #407) 1987
November 2-3. Batman spies on Carmine Falcone at his estate. Catwoman makes a surprise visit to Falcone as well and scratches his face. During the daytime hours of November 3, Commissioner Loeb, frustrated that Gordon won't fall in line, orders an attack on his family. After a call to Falcone, the mobster's hitmen go to work, assaulting Gordon at home and kidnapping his baby. Bruce, in street clothes, saves James Junior's life when the tot gets tossed off of a bridge. Gordon thanks his son's savior, knowing that he is Batman. But without his glasses, Gordon can't see to whom he is speaking.
–REFERENCE: In Batman #407. November 4. Jim Gordon is promoted to captain.
–"Revelations: Brothers" by John Ostrander/Tom Mandrake/Carla Feeny (Martian Manhunter Vol. 2 #22) September 2000
November 4-7.[34] With the guidance of Wayne Foundation's real estate head Mr. Beebe, Bruce begins purchasing properties near Crime Alley in an effort to block a shady gentrifying businessman Rupert Maggs from forcing-out tenants. This leads to conflict and arson fires, which in turn leads to the murder of an innocent journalist named Brian Meade, who Batman sees fall to his death off of a skyscraper. The death is ruled a suicide, but Batman suspects that crooked cop Paul Ross is the culprit and begins an investigation. J'onn J'onzz (aka Detective John Jones of the Denver Police Department aka Martian Manhunter) comes to Gotham to work the case with his partner, Detective Diane Meade (sister of the murder victim Brian Meade). (J'onn, a super-powered Green Martian, has been living on Earth since the late 1950s. Note that Jones and Meade technically work for the Middleton Police Department, a suburban division of the greater Denver PD.) Jones and Meade speak with freshly promoted Captain Jim Gordon, who feigns ignorance when questioned about Batman. Later, J'onn shapeshifts into a wild version of Batman (based on a mash-up of eye-witness accounts and a telepathic scan of Captain Gordon's mind), soon drawing the attention of the real Dark Knight. Not wanting to startle Batman further, J'onn reverts to his alternate "Bronze Wraith" superhero persona to chat with him. Later, J'onn attacks Paul Ross (Brian's murderer) but falls victim to his only weakness of fire. Batman saves J'onn, discovering his Martian Manhunter identity. Together, the heroes bust the killer and link him to his boss Rupert Maggs.
–REFERENCE: In Batman and The Monster Men #1. Commissioner Loeb is put under investigation for corruption, going through an internal affairs tribunal process. Peter Edward "Jack" Grogan is appointed as the new acting (interim) commissioner. Note that Loeb won't officially resign until December 4.
–Batman and The Monster Men #1-6 by Matt Wagner
November 9-19.[35] Our story begins with Julie Madison and her father Norman Madison chatting about headline news (written by photojournalist Vicki Vale) in the Gotham Gazette about the Red Hood's altercation with Batman. (It happened a month ago, but it's still headline news, so we must assume that the details have finally leaked to the public.) In this arc, Bruce's first serious relationship (with Julie) is highlighted and Batman deals with crime boss Sal Maroni's secret partnership with Hugo Strange, who creates experimental "Monster Men" out of kidnapped asylum residents. Batman learns of Strange's connection to the crimes and has his first encounter with the professor. After finding a foolproof link between Strange and Maroni and discovering the location of Strange's evil lair, Batman finally debuts the first of what will be many Batmobiles, driving it into battle. Batman defeats Strange and his "Monster Men" and then beats the stuffing out of Maroni. However, despite having seen the horrible Strange at his worst, the Batman is unable to publicly link the villain to any wrongdoing—Strange burns down his lair (and all evidence within) before escaping scot-free. (This explains Strange's clean record when we next see him in "Prey.") Shortly thereafter, Bruce pays off a huge debt that Julie's dad Norman owed to Maroni. Norman is off the hook, but the experience has left him a shattered, broken wreck of a man.
–"Til Death Do Us Part" by Greg Rucka, Steve Lieber, & Tom McCraw (Batman: Turning Points #1) January 2001
Captain Gordon returns to his apartment to find that his wife Barbara has filed a petition for divorce and returned to Chicago with their baby son James. When Dr. Hale Corbett takes a random bride and groom hostage because his own wife and child have just died, Gordon is on the scene as a hostage negotiator. Batman shows up to provide support, eventually taking down Corbett. Later, Batman chats with Gordon in his apartment. Note that Jim and Barbara do not yet get divorced. That won't happen for a few years. Thus, we must assume that Jim and Barbara reconcile, and then Barbara cancels her petition for divorce and returns to Gotham with James Jr.[36]
–REFERENCE: In Batman: Legends of the Dark Knight #67. Batman saves Dr. Lynn Eagles from getting mugged and killed. Lynn will repay the favor in a couple years.
–REFERENCE: In the second feature to Detective Comics #782. Late November—the anniversary of Batman's parents' deaths. When he was a boy, Bruce twice visited Crime Alley to honor his parents on the day of their murder. Batman now revives this ritual, beginning what will become an annual tradition of placing two roses on Crime Alley every late November.
–FLASHBACK: From Batman Secret Files and Origins #1 Part 1. Batman and Alfred descend into the Batcave from Wayne Manor above. Batman dons his cowl and prepares to head out in the Batmobile.
–"Guardian" by Alan Brennert/Jose Garcia-Lopez (Batman: Gotham Knights #10 Part 2/Batman: Black and White) December 2000
Batman patrols in the Batmobile and meets the semi-retired original Green Lantern Alan Scott. Alan Scott was not only the original defender of Gotham City from the 1940s into the 1970s, but also one of Bruce's favorite childhood heroes. The duo works a case together, but Batman is still hesitant to make his presence known around cops while Alan Scott is friends with all the cops.
–"Batman Year One" (conclusion) by Frank Miller/David Mazzucchelli (Batman #407) 1987
December 3. Gordon stands atop the GCPD HQ and waits to meet with Batman. We also learn that Sarah Essen has moved to New York and that Commissioner Loeb is set to resign at any moment. NOTE: In this single page of Frank Miller's "Year One," the captions tell us that an unknown person, simply calling himself "The Joker," has sent word to the GCPD and media outlets about plans to poison the Gotham Reservoir, resulting in a citywide panic. HOWEVER, a reference in Batman: The Man Who Laughs changes things entirely. Oddly enough, the only retcon to the untouchable holy gospel that is Miller's "Year One" comes from The Man Who Laughs! (A few other issues attempt to retcon Miller's "Year One," but they don't stick.) As per The Man Who Laughs, Joker won't make his presence known until after Loeb officially resigns, and it'll have nothing to do with the reservoir (at first). Instead, he'll target high-profile Gothamites (Henry Claridge and company). When Joker finally does strike at the reservoir (on December 8), it'll come as a relative surprise—without warning, so no time for citywide panic to spread. Therefore, after the retcon dust settles, the canon December 3rd scene is simply Gordon meeting with Batman. We should also note that The Batman Files tries very hard to squeeze Legends of the Dark Knight #50 into canon (including the debut of Joker's cousin Melvin Reipan), placing it right after this item. But, for all the reasons listed above, notably the fact that the reservoir threat has been erased from "Year One" and pushed-back/retold at the end of Man Who Laughs, this is impossible. Not to mention, LOTDK #50 functions as a modernized re-imagining of Batman #1, which places it into dubious canonical status to begin with.[37] We should also note that, by this point, Batman is also being publicly referred to by various nicknames, including "Dark Knight," "Caped Crusader," "Dark Detective," and "World's Greatest Detective."
–REFERENCE: In Batman: The Man Who Laughs. December 4. Commissioner Loeb finally resigns, making Jack Grogan the official commissioner.
–REFERENCE: In The Batman Files. Bruce and Julie Madison get engaged to be married. The Batman Files is the only reference for this item since there is no Modern Age comic that says Julie was ever Bruce's fiancée.
–Batman and The Mad Monk #1-6 by Matt Wagner[38][39]
December 5-9. Bruce stands up his fiancée Julie Madison while engaging with Catwoman, who robs a store. Batman mentions specifically that this is their second meeting. The Dark Detective fights Catwoman, and the latter scratches his chest and escapes. Batman thinks about adding extra armor to his costume for the first time. Batman is then called to GCPD HQ via radio signal to meet Jim Gordon. There, Batman saves Gordon from some crooked cops on Commissioner Grogan's payroll. Gordon notes how this is the first time he's really seen Batman in action up-close and personal. Gordon and coroner Murray Fineman then show Batman a corpse in the morgue that appears to be the victim of a vampire attack. Across town, the evil vampire cult responsible, known as The Brotherhood, gathers to sacrifice another victim to their leaders, the vampire called The Monk (Niccolai Tepes) and his partner Dala Vadim. Bruce spends the night at Wayne Manor with Julie. The next day, Batman meets with Harvey Dent. When another vampire body shows up, Batman investigates and roughs up some dudes that work for the Brotherhood. The day after that, Julie is duped into visiting Rallstone castle, home of the vampire cult. There, she gets bitten by the Monk and falls under his spell. That very night, while on a date, Bruce sees her neck bites. Later, Batman trails Julie to Rallstone Castle, where he gets chewed up by attack dogs and bludgeoned by spiked traps. A bloody Batman retreats and meets with Gordon, who decides to get rid of his Bat radio transmitter (saying he needs something bigger and better). After making sure Julie is back home safe and sound, Batman returns to Wayne Manor where Alfred stitches him up. Still under the vampire spell of the Monk, Julie returns to Rallstone Castle and gives the Brotherhood access to her family's vast wealth. Batman, equipped with silver Batarangs, then rescues Julie, who is about to be sacrificed by the Brotherhood. Batman then defeats the whole Brotherhood. Dala Vadim and the Monk are killed. Julie learns that Batman is Bruce and cannot deal with the fact that her boyfriend is a vigilante superhero. As referenced in Detective Comics #676, Batman keeps the lightning-scalded shroud of the Monk as a souvenir—(we'll see it on display in the Batcave in a year's time). Batman then escorts the weary Julie home. Meanwhile, across town Sal Maroni murders Julie's father, Norman. With the combined weight of Bruce's secret revealed and the death of her dad, Julie decides to leave Gotham for good, although she won't immediately. Note that Mad Monk #6 has a separate epilogue that doesn't take place for a month.[40]
—[41]
–FLASHBACK: From Batman #682. December 10. Bruce blows off Julie Madison for "the third time" (which could conceivably and very likely means third time this month, knowing Bruce). Fed up, Julie tells Alfred that she is leaving for Los Angeles to pursue her acting career. However, Matt Wagner (via reference in the epilogue of Batman and The Mad Monk #6) will show us that Julie winds-up in the Peace Corps, so we must assume that Julie is either lying to Alfred or changes her mind to join the Peace Corps. While Julie chews-out Alfred, Batman escapes from an acid bath deathtrap and stares down multiple gun barrels. A typical night for the Bat. Alfred tells Bruce about Julie's departure, but he's so focused on Batman stuff, he barely listens. (Note that Julie will mail multiple letters to Bruce, but Bruce won't bother to read them because he'll be so focused on Batman stuff. Presumably, Alfred will tell Bruce about these letters, but Bruce won't really listen.)[42]
–REFERENCE: In Catwoman Vol. 3 #1-2 and Catwoman Vol. 3 #6—originally told in the quasi-canonical Catwoman #3-4 ("Her Sister's Keeper"). December 10—these semi-canonical Catwoman issues take place now because they seem to work better after Julie Madison has left. After pursuing a lead into the kidnapping of Maggie Kyle (a case also being worked by GCPD Detective George Flannery), Batman goes after Stan the Pimp at Bruzinsky's Theater. There, Batman helps Catwoman save Maggie from Stan, who dies during the altercation.
–"Prey" by Doug Moench/Paul Gulacy (Batman: Legends of the Dark Knight #11-13)
December 11-15. Batman busts some crooks, much to chagrin of GCPD Sgt. Maxwell Cort, who loathes Batman. Later, Bruce watches a TV program featuring Captain Gordon, Mayor Wilson Klass, and Hugo Strange. Strange disses Batman hard, angering Bruce.[43] Bruce then works on the Batmobile, which has been completely stripped down, in an attempt to make it better and stronger. Later still, Batman fights both the The Fish and his gang along with Cort's new anti-Batman "Vigilante Task Force." Batman arrives home early. A few hours later, Bruce has brunch with Mayor Klass, Strange, and Klass' daughter Catherine Klass. In the evening, Batman meets with Gordon and captures the Fish.[44] Gordon, having abandoned his Bat-radio transmitter in Mad Monk, drapes a cloth Bat-symbol over the GCPD rooftop spotlight, making the first ever Bat-Signal! (The Bat-Signal is also spelled "Batsignal," "Bat-signal," or "Bat Signal".) Batman responds and approves, but then departs to beat up some random street punks. Meanwhile, Max Cort becomes a masked vigilante known as Night-Scourge. A flashback from Batman: Ego, showing Bruce and Captain Gordon attending a black tie event with Mayor Klass, gets squeezed-in here. Klass tells them he agrees with Strange's negative assessment of Batman. A day later, Bruce listens to a news report about Night-Scourge's violent debut. Batman helps Catwoman fight off Night-Scourge, but gets beaten up pretty badly in the process. Allied with Hugo Strange, Night-Scourge then kidnaps Catherine Klass and frames Batman for the crime.

–"Prey" (Conclusion) by Doug Moench/Paul Gulacy (Batman: Legends of the Dark Knight #14-15)
December 16-21. Mayor Klass gives Captain Gordon five more days to apprehend Batman and find his daughter. Soon after, Batman confronts Hugo Strange about Night-Scourge and the kidnapping. Strange drugs Batman with a powerful hallucinogen and Batman flees in a panic. The next afternoon, Batman is still tripping, but finally makes his way home. At Wayne Manor, Bruce is disturbed to discover that Strange has been in his home, and thus now knows his secret ID. Still under the effects of the drug, Bruce locks himself in the Batcave to recover. After three whole days quarantined in the cave, Batman emerges and unveils the new and improved Batmobile. Fully recovered, Batman publicly exposes Strange as criminal, helping Gordon rescue Catherine Klass in the process. Strange evades the cops, but falls into the Gotham River and is presumed dead. (We'll see him again.) Later, Batman defeats Night-Scourge with help from Catwoman. Revealed as Max Cort, Night-Scourge is shot dead by cops in a firefight.
–"Shaman Parts 2-5" by Denny O'Neil/E. Hannigan (Batman: Legends of the Dark Knight #2-5) December 1989 to March 1990
December 21-30. LOTDK #2-5 concludes "Shaman." Bruce says that six months have passed since the events of issue #1, but it is definitely late-December, which would make it more like eight months, so maybe his recollection is a bit shaky. This part of "Shaman" begins with a series of strange deaths, which all link to the Chubala cult suicide that Batman witnessed on his very first night out at Leslie Thompkins' clinic. Bruce then attends Dr. Spurlock's Gotham Arms bat-myth exhibit with one-time date Theodora Hackley. Lots of interesting faces in the gala crowd—I see Donald Trump, Ivana Trump, Michael Keaton, and Jack Nicholson. (A reference in The Batman Files reveals that, following the visit to Gotham Arms, Dr. Spurlock gives a piece of the exhibit to Bruce as a keepsake. As referenced in Batman #656, this launches Bruce's lifelong hobby of collecting offbeat "outsider" art.) Later, Batman fights some Chubala cultists outside Gotham General Hospital. He confiscates wads of cash and drugs, but still doesn't know about their connection to Fisk. (Don't forget, the scene in LOTDK #2 which details the origin of the Batcave isn't written as if it is a flashback, but Bruce has already been using the Batcave for some time now. Therefore, this scene must be considered a flashback to earlier in the year, which can be viewed above.) Shortly thereafter, Captain Gordon tells Batman that the Chubala gang bangers are Santa Priscan. Then, Bennet Young (Spurlock's assistant) is murdered by Tom Woodley, who steals back a native outfit, bat mask, and weapons from the Gotham Arms exhibit. (Unknown to Batman, Spurlock—upon arrival in Otter Ridge, Alaska—hired Woodley to help him get-in with the locals. However, when Spurlock corrupted the natives and stole from them, Woodley got pissed, swearing revenge against Spurlock and associates, including moneyman Bruce.) Later, Bruce runs into Carl Fisk, who says he has come into some money. As night falls, Batman fights the Chubala gang at Fisk's construction site, confiscating more cash and drugs, but he still doesn't know Fisk's connection to the cult. Woodley, still wearing the native bat-gear, shows up and tries to kill Batman. (Having been spying on Bruce for a while, he knows he is Batman!) In the Batcave, Alfred puzzles over what the Otter Ridge tribe has to do with a Santa Priscan cult. (They don't have anything to do with one another—the connection is merely coincidental, of course.) After the assassination of Spurlock at the hands of Woodley, Bruce returns to Alaska where he meets up with the family that once saved his life. The granddaughter tells Bruce that Dr. Spurlock corrupted her tribe and stole their precious artifacts—all part of the Wayne Enterprises-sponsored anthropological study. An apologetic Bruce realizes that Woodley killed Spurlock and his assistant (and is now gunning for him) as revenge. Alfred sends Bruce a file detailing all the facts so far, which Bruce reads on the plane while flying back to Gotham. After analyzing the file, Bruce quickly links Chubala to Fisk. Batman visits Fisk's apartment, finding a Chubala costume and an article about Spurlock's trip to Alaska. Batman believes he's now found a connection between Fisk/Chubala and Spurlock/Woodley. However, this is a plot hole. (Batman says that Fisk was inspired to go to Santa Prisca and use the Chubala myth for his own personal gain after reading about Spurlock's Otter Ridge study. This is untrue, for as we have learned before, Fisk was Chubala-ing prior to Spurlock's trip. Batman specifically knows this! Thus, the only possible connection here is that Fisk read about Spurlock's myth studies prior to Bruce funding him and adapted parts into his Chubala scheme—but this is a flimsy connection at best. Really, Woodley's revenge plot had nothing at all to do with Fisk's Chubala scheme, with only an extremely tangential Spurlock connection between the two.) On Christmas Eve, Woodley kidnaps Alfred and ambushes Bruce at Wayne Manor. Bruce fights Woodley, who gets seriously wounded and flees into the snowy woods. Making sure Alfred is safe and sound, Batman then busts Fisk and his sinister Cult of Chubala. The Caped Crusader then delivers photo evidence of Fisk and his cult (which he secretly took while fighting them) to Jim Gordon in an effort to ensure Fisk gets a maximum jail sentence. (Note that, despite having debuted a working Batmobile only a month prior, Batman uses a regular Porsche in this arc. Since Batman will once again debut a new Batmobile a couple weeks from now, we can assume that he's once again put his combat vehicle in the shop.) The next day, Batman finds Woodley, who gives him his ancient bat mask before dying. In order to give his friends from the Otter Ridge Tribe the privacy they deserve, Bruce tells the press that Spurlock's entire exhibit was a sham. Bruce then travels to Alaska yet again—to visit the the Otter Ridge Tribe (specifically the shaman's granddaughter) and to deliver them Woodley's corpse. Bruce then returns home and hangs the ancient bat mask on a wall in Wayne Manor.
—[45]
–REFERENCE: In Catwoman Vol. 3 #1-2 and Catwoman Vol. 3 #6—originally told in the quasi-canonical Catwoman #4 Epilogue. December 30—three weeks have passed since the rescue of Maggie Kyle. Batman checks-up on Holly Robinson, who has been beaten by a corrupt cop. Then, a very important moment occurs: Batman's first canonical kiss with Catwoman! Catwoman #4 may only be semi-canonical (and shouldn't be read as is), but this smooch definitely occurs! Note that Batman mentions that he's only met Catwoman twice before. This line is totally bogus and has long been retconned out-of-continuity. Ignore.
–FLASHBACK: From Batman: Battle for the Cowl – Gotham Gazette: Batman Alive? #1—and referenced in Batman #403 and Batman Confidential #25. December 30-31. Bruce has his first sexual liaison with photojournalist Vicki Vale, becoming legitimate friends with her in the process. Post coitus, Vicki comments on Bruce's various battle scars. Bruce tells her he got them playing polo. (Yes, as confirmed in other stories, notably Batman: War on Crime, Bruce is already fairly heavily-scarred due to his years of intense training abroad and brutal first year of vigilantism.) Bruce and Vicki will have an on-again-off-again thing for years to come. Vicki, who now works for a pro-Batman magazine, also meets the Dark Knight as well, becoming infatuated with finding out his secret ID. While we will only see Vicki sporadically in Batman's Early Period, we must imagine that she will distantly trail the Dark Knight on a lot of his cases for the next decade.
_______________________________
_______________________________________________________________________________________
_______________________________
<<< PREVIOUS: SALAD DAYS <<< |
_______________________________
<<< PREVIOUS: INTRO <<< | >>> NEXT: YEAR TWO >>>