It's that time of the season again! And I've read more comics this past year than ever before. Not to mention, I have been honored by being invited to serve as a jury member for the Lynd Ward Graphic Novel Prize, an annual award sponsored by the Library of Congress, making it the most prestigious graphic novel award outside of the industry. Comics have been treating me well as of late, and here are the ones that affected me the most—aka my favorite print comic books of 2015. First, the HONORABLE MENTIONS.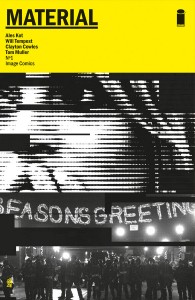 Material by Ales Kot/Will Tempest/Clayton Cowles/Tom Muller (IMAGE)
That handsome baby-faced devil Ales Kot always has multiple titles on my Best Of lists, and for good reason. His boldly cool, highly-refined, and sophisticated insights into modern culture, politics, race, and society are peppered throughout all of his works. And Material is no exception. This feels like high art, but at the same time registers as unafraid blue-collar "activism via the weekly comic magazine"—a very personal, whip-smart, lefty-perspective social commentary that more mainstream comics need. However, truth be told, while I really like Material, when I first read this title, it was higher up on my list, but upon further readings, it slid back to the Honorable Mentions. Material is an undoubtedly an important work, but it feels like a sloppy first draft and can be pedantic, especially in regard to its pseudo-scholarly citations that ostensibly come from the pedestal of yuppie-hipster privilege. But that aside, I truly wish there were more Ales Kots out there. Looking forward to more material—(hopefully a bit more polished)—from Material in 2016.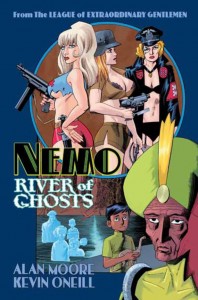 Nemo: River of Ghosts by Alan Moore/Kevin O'Neill (TOP SHELF)
I hope that old jerk Alan Moore, no matter what he does with his angry life moving forward, continues to write League of Extraordinary Gentlemen comics. It's simply what he does best these days. River of Ghosts was a superb addition to the ever-growing universe of the League. The mind-blowing sequence that mashes-up Billion Dollar Brain, The Creature From the Black Lagoon, Boys From Brazil, Dr. Goldfoot, AND Stepford Wives is some 110% serious next level brilliance. No matter what I think of the guy's views on the comic book industry, there's no denying that Alan Moore is the legendary genius of comic books. And I would be grossly negligent if I didn't mention Kevin O'Neill's top notch art, which is likely the best it's ever been. Any opportunity to consume O'Neill's illustrations shouldn't be missed.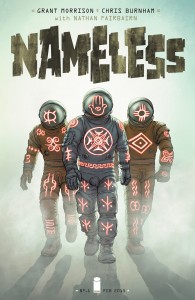 Nameless by Grant Morrison/Chris Burnham/Nathan Fairbairn (IMAGE)
Morrison and Burnham teamed-up again to bring one of the strongest and strangest (and goriest) comics of the year. This is all of Morrison's black magick, voodoo, and occult wizardry working overtime. Good stuff for hardcore fans and the uninitiated as well. If you want a good sci-fi story with Cthulhu elements, tarot, and some of the purest evil-imagery ever recorded in a comic book, this is the book for you. The art combo of Burnham and Fairbairn, as always, produces the best illustration and color you can get in sequential art today. Their tarot card design is sickening cool. Highly recommended.

Huck by Mark Millar/Rafael Albuquerque/Dave McCaig (IMAGE)
I loathed Zach Snyder's completely out-of-touch colorless Man of Steel. Millar not only loathed it, but felt so traumatized as to write a response in the form of the lovely and powerful Huck. This is the Superman as socialist hero comic book story that I love and understand. Part of me thinks that Millar might be putting out his best work now that the DC Cinematic Universe is getting started. But seriously though, he might want to take a look at his own stale movie brand too… we could see some positive responses on the other end as well.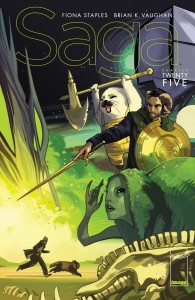 Saga by Brian K. Vaughan/Fiona Staples (IMAGE)
What more is there to say about Saga other than it is still great. The longevity of this title is something else. To stay relevant and consistent for so many years is a testament to the greatness that is the collaboration between Staples and Vaughan, who both know how to create thrilling page-turners. In a year where Vaughan also put out the acclaimed Paper Girls and Private Eye (both of which fell quite flat for me), Saga is definitely Vaughan's darling baby, and it shows. On a side note, Private Eye, even if it's story leaves something to be desired, does have some of the best illustration of the year by Marcos Martin. So, honorable mention for Marcos Martin.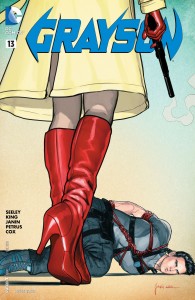 Grayson by Tom King/Tim Seeley/Mikel Janin/Jeremy Cox (DC)
Grayson—along with other post-New 52 titles like Batgirl, Prez, Midnighter, Omega Men, and Gotham Academy—has become a critical darling. (All of these titles deserve the praise they've gotten—except for Batgirl, which sucks.) For my money, Grayson tops them all. The John le Carre/Len Deighton-meets-sci-fi-weirdness of Grant Morrison's final Batman run continues, albeit with a radical departure from the safety zone that is keeping fan-favorite Dick Grayson in his status quo as costumed superhero. Who would have thought that Borne Identity Grayson would work so damn well? And don't get us all hot and bothered about Janin's ability to adequately display the sexiest male character in all of comic-dom.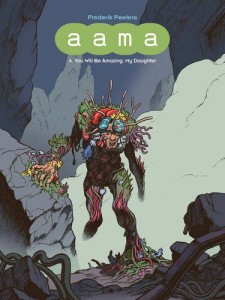 aama Vol. 3-4 by Frederik Peeters (SELF MADE HERO)
I anxiously waited for the third and fourth volumes of aama to be released in America this year, and when they dropped, my high expectations were absolutely met and then some. Like the previous two installments, Peeters continues his deft illustrative style and conjures up some dark, sci-fi shit in the vein of Jodoworsky or Frank Herbert. Killer comics right here that are not to be missed.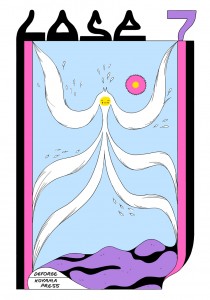 Lose #7 by Michael Deforge (KOYAMA PRESS)
Michael Deforge has quickly risen to the rank of legitimate genius creator when it comes to comic art. And as he's done in the past, Lose #7 brings us more Deforge greatness. Capturing different perspectives and navigating the confusion and complexity that goes along with human interaction in the 21st century, Deforge, in Lose #7, also brilliantly captures the un-affected un-influenced nature of what it is like to be a child experiencing the world for the first time—albeit bizarrely with a fully developed (and contradictory) adult mindset already set in place. This is undeniably one of the best comix of the year.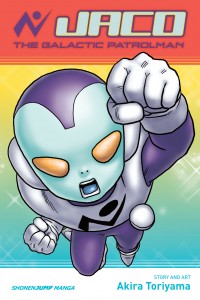 Jaco the Galactic Patrolman by Akira Toriyama (SHONEN JUMP)
The long-awaited US release of the Dragon Ball prequel, which Toriyama himself has claimed to be his best work ever. And I'll be damned if it isn't (or doesn't come close). The legendary master, whose name should probably be listed alongside Hayao Miyazaki and Osamu Tezuka, brought the delightful Jaco into the world of Dragon Ball and I couldn't have been happier about it. His characters-design and ability to balance humor and action are both still on-point. It feels as if he'd never stopped doing Dragon Ball manga at all.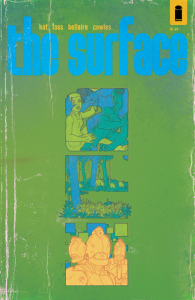 The Surface by Ales Kot / Langdon Foss / Jordie Bellaire (IMAGE)
Psychomagic, the universe as a hologram, Spider Jerusalem, anarchy, Philip K Dick, Stanislaw Lem, Grant Morrison's Invisibles, polyamory (maybe), The Matrix. Take all of these things and put them in a blender. Add psychotropic drugs. Add the contents of all human experience and memory. Add one Ales Kot. You've got yourself The Surface. A kind of sort of follow-up to Change, Kot gives us something rarely seen—outside of Grant Morrison comics that is. But this comic is unique in how honest it is. Kot puts himself in the story, but with surprisingly less hubris than one would expect from such a metafictional writerly act. It's hard to be a writer and to expose one's self so boldly. And it's even harder to acknowledge that difficulty within one's own narrative (and at the ostensible expense of one's narrative, to boot)! The young but talented and highly sophisticated Kot clearly is heavily influenced by the best (and coolest) things in reality/unreality, and it's fun to watch him process/struggle against these heady concepts with the turn of every page. I can see Kot in a decade's time—having fully found himself—prying open third eyes, giving us new spirituality, a new visionary dream—the key to accessing a new way of human existence/experience.