No matter what flak they may receive (or deserve), there are some mainstream comics that are still worth a damn. I read four recent single issues, each published by a different BIG comic book company, and all of which wowed me to such an extent that I thought I'd feed the content machine that is the Internet.
Zero #15 (Image)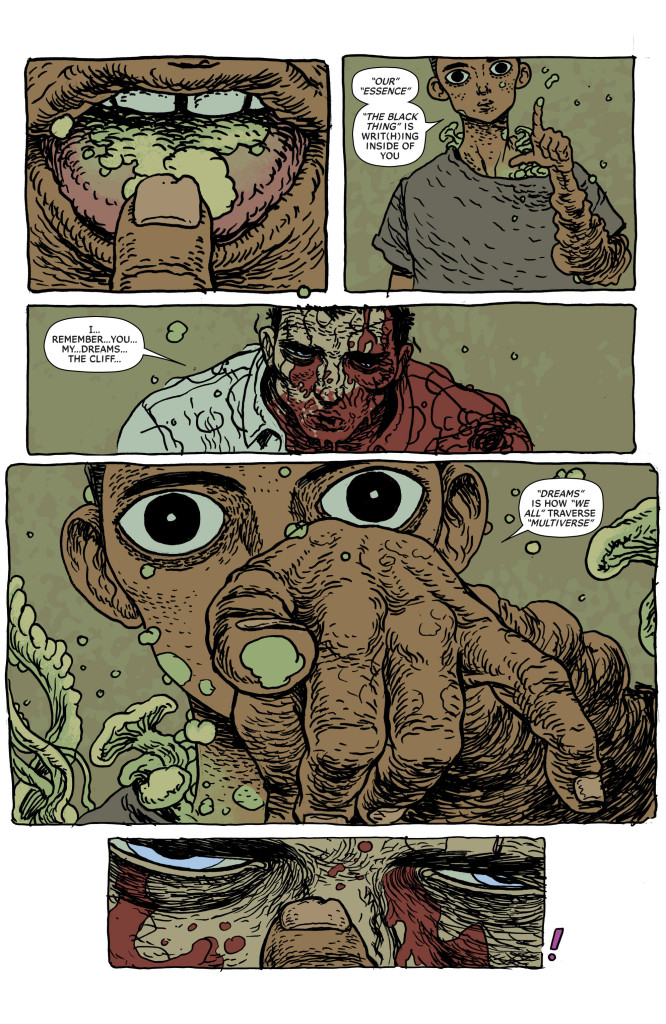 Easily one of my favorite single issues of the year, Zero #15, a vessel through which superstar Ales Kot increases his worth, is a tripped-out, psychedelic ride through time and space that has to be read (and re-read) to comprehend–(and even then things are still a bit fuzzy but in the best possible way). If you are willing to accept this challenge, Kot delivers a conceptual masterpiece. The inter-cutting from Tangiers in the 1960s to the UK in the 2020s is amazingly handled, and done with incredible panache, mirroring the cut-ups William S. Burroughs (a character featured in this very story) so famously created with Brion Gysin in the 1950s. Kot's stars, Ginsberg Nova and Edward Zero, we learn, are the possible products of—in fact, existing only because of—the cosmic wanderings of a psilocybin-demented Burroughs (tripping balls and pounding typewriter keys in our reality). Kot's historical fiction—mixing elements of Burroughs relationship with Alan Ginsberg in the Interzone, hitting important notes of his darkest moments that inspired Naked Lunch and Queer, and ultimately centering on the tragic shooting death of Joan Vollmer—adds an Earth-Prime meta-angle to the already dense narrative. But what makes this issue damn-near perfect is the inclusion of the fantastic Ian Bertram, IMO one of the best current working illustrators in the biz, who FINALLY brings his stuff to Zero. This deadly combination of Kot and Bertram, long overdue, leaves me craving more. These two were made for each other. Their time-twisting acid-trip becomes a bizarre origin story that bridges the gap between the occult and spy novel, captured visually by Bertram and spilled onto the pages in 'zine-like illustrative, multi-colored (and black-and-white) weirdness as Burroughs and Ginsberg chat through the smoky haze of a seedy Moroccan dive bar. Simultaneously, Bertram pencils Ed Zero, who struggles through the grimy, grotesque future, a sick vision of Will Burroughs' mind-fuckery depicted in Cities of the Red Night. Actually, there are parallels and connections in Zero #15 to Place of Dead Roads, Cities of the Red Night, The Western Lands, Queer, and Naked Lunch both narratively and visually that are so impressive and complex they warrant further analysis—although, even after multiple read-throughs, I'll be the first to admit that I'm not quite ready to figure out the intricacies as of yet. Annotations to come? The occult, viral epidemics, sexual depravity, magickal vice, the Kali Yuga, and various areas of Hindu mysticism—all things central to some of Burroughs works—are definitely represented in Zero #15. Exactly how they all fit together is something else entirely. But the question is precisely what makes Kot and Betram's Zero #15 so interesting and so deep, a comic book that gives even Grant Morrison's metafictive hyperreality in The Multiversity a real run for its money. This is a damn good comic that does what good comics should: Reflect upon interesting subject matter while uniquely pushing the creative envelope to new heights.
Mind MGMT #31 (Dark Horse)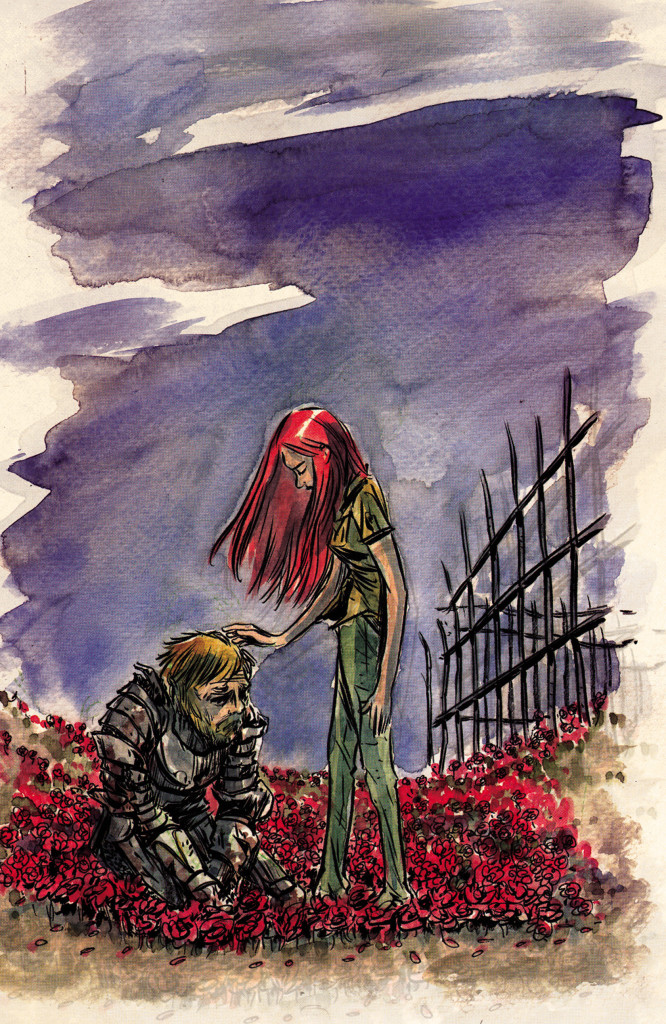 Matt Kindt's signature watercolor technique, frantic sketchy pencils, and striking inks all keep getting better and better with each issue of this amazing series. Mind MGMT #31 is no exception. So much STYLE and even more SUBSTANCE here. As the overall story nears its grand finale, this book continues to give me chills and make my jaw drop with unique layouts that come eerily to life by appearing in the last way you'd expect them to appear. Meru is still one of the best characters in comics today and her story—it really is her beautiful story despite the variance of unique characters that proliferate the pages of this series—shouldn't be missed. A semi-resolution with Harry Lyme happens right on time, highlighted by a breathtaking splash-page with brush-strokes of vibrant purple sky and the aforementioned character in a redemptive pose, clad in symbolic medieval armor. There's a great deal of meta-narrative here in the form of the story taking form within itself as a comic book as well. The meta-narrative has always been present in Mind MGMT, but this is taking it to the next powerful level of literalism. And it works wonders. The Salvador Dali excerpt in the "Triple Indemnity" back-up is a neat addition as well, adding to the high-stakes nature of the narrative.
Grayson #8 (DC)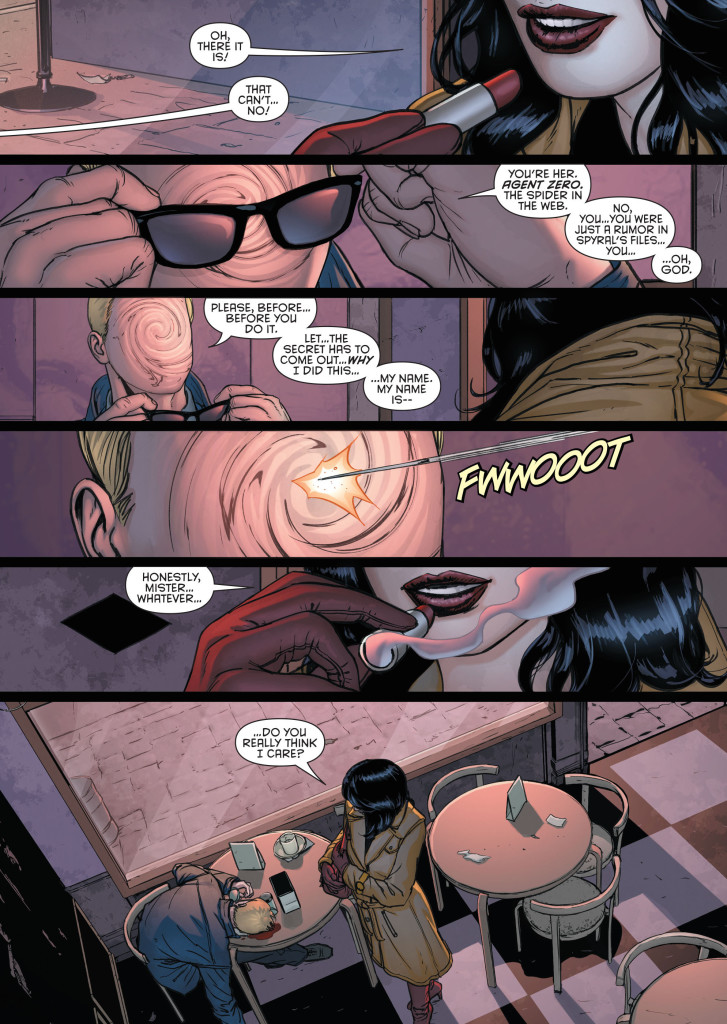 Peter Tomasi has been running with Grant Morrison's ball for the past three-and-a-half years. And while I've personally enjoyed Tomasi's work on Batman & Robin, no one has shown a true grasp of what Morrison's Bat-verse represents better than Tom King and Tim Seeley. What the hell happened to Kathy Kane, leader of Spyral? Why has this weirdo Mr. Minos been in charge of the game? We finally find out and it's masterfully done. A new status-quo for Dick Grayson is ushered in for the post-Convergence DCU, leaving any reader with a heart and soul eagerly anticipating the next round of intrigue and mystery. The twists and character development fall nothing short of anything seen in John Le Carre's best novels. This is the spy book that superhero comics deserve! Mikel Janin and Jermoy Cox are majorly on-point (as always), breathing extra life into the title with the expression of fluid movement in fighting bodies and detailed realism in facial countenances. Kathy Kane is framed perfectly with subtle glances at her "Bat-makeup kit" and dark ruby lips peppered throughout her scenes. These trademarks of what negatively defined and limited Kathy Kane as the campy Batwoman of the 1950s are now used to define her as the mysterious feminist, post-modern spy-queen, previously only seen briefly and never fully fleshed-out in Morrison's Batman Inc run of a couple years ago. King and Seeley have re-introduced (and re-invented, in a sense) Kathy Kane, who is now immediately one of the most badass characters DC has to offer, a character that only increases her own value by the sheer fact that you won't see much of her. Future Kathy Kane appearances could have the same feel as when any of Neil Gaiman's Endless would show up in primary universe DC comics back in the day. Excellent issue on all fronts.
Thor Vol. 4 Annual #1 (Marvel)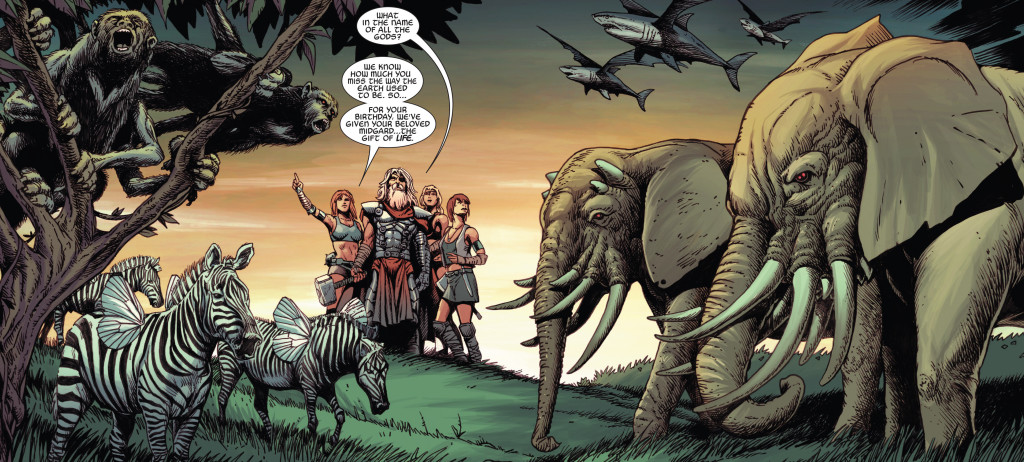 Thor Annual #1 is a this brilliant trio of tales, showing different shades of Marvel's Norse God of Thunder: Thor as Ultimate Deity, Thor as Humanist Rookie, and Thor as Old School Bad Boy. Jason Aaron's "King Thor" opens the Annual, a jaunt into the Dead Earth future of the gray, elderly Old King Thor. This Dead Earth is a place/time that we've seen before in Aaron's hall of fame Thor run, but now playfully illustrated by Conan's own Tim Truman. The sheer wonder of Thor's granddaughters bringing a tear to the old curmudgeon definitely tugs on the heart-strings, but it's the narrative scope of their gift that makes Aaron's story a real winner. This is Marvel's Earth, long dead, a wasteland of dust and forgotten memories—with only sad Old Man Thor to remember the old days. But this isn't an alternate universe story or a What If…?; this is the real deal primary 616, which means that THE world gets a new start courtesy of the Norse Gods—a new Genesis, but with superheroes at the helm. It's Super Gods as Creators of a new humanity (and some weird-ass mash-up animals). A glorious concept, done gloriously well. Following-up Aaron's part of the Annual is Noelle Stevenson and Marguerite Sauvage's charming feminist yarn about Thor (don't call her LADY Thor!) and the awesomeness just keeps on coming. Stevenson and Sauvage's "Thor" effectively shows the new Thor win over the hearts and minds of Asgard's harshest (and most sexist) critics by showing that the new Thor has different (stronger! better?) sensibilities and new methods of interacting with the world that differ greatly from the old roughshod, rough-and-tumble drunkard ways of her thuggish predecessor. She's not only more feminine, but more HUMAN as well. For all the lip-service mainstream comic companies have been serving up about wanting to cater to a more diverse audience lately, Thor Annual #1 definitely comes through on those promises. And for part three of the Annual, you can't get much more out-there and fresh than to have pro-wrestling's biggest star and current expat CM Punk serve up the final bit. With Chew's Rob Guillory handling artistic duties, Punk's "Thor" is total maximum fun, fast-paced, and quirky. It captures the spirit of Thor from head to toe and shows Punk's intensely passionate knowledge of the character. Not to mention, how great is it that straight-edge CM Punk's first comic book story is all about drinking contests and getting shit-faced? Can't wait to read more from Punk.