I was recently reading a post entitled "Comic Characters I Enjoy More in Spin-off Media" by the great Anthony Dean, who runs the wonderful blog, Diverse Tech Geek. In his piece, Dean speaks about some of the reasons that he isn't that into the current Batman featured in mainstream comics. While he lays out a variety of complaints, the main one that strikes me (and one that has been seriously bothering me lately) is rooted in the following passage:

"Problems [with Batman] are probably tied to how slavishly dedicated DC is to Frank Miller and his 1980s series The Dark Knight Returns. That's been over 30 years ago, yet it's left a very deep mark on almost every version of Batman to date. [. . .] Other stories also feel like they've cast a similarly influential yet problematic and dated tone (The Killing Joke, etc.). There's also various real life changes since the 1980s. For instance, Gotham feels stuck in the popular media view of 70s/80s-era New York as a 'cesspool' with major problems; however, the real New York (which Gotham's a pastiche of) has since vastly changed and improved. Mental health treatment attitudes have also changed over the decades, which might make Arkham Asylum as a concept problematic in the future. Additionally, there's much more criticism now versus the 80s of 'tough on crime' policies; such policies tend to disproportionately harm Blacks and Latinos. An angry rich White guy declaring a 'war on crime' conveys a different tone these days."

Today, the majority of crime in New York City (where I proudly live) does not revolve around stick-ups, bank robberies, drug deals gone wrong, or back-alley assaults in seedy neighborhoods. Crime in NYC is white collar. Government kick-backs and tax breaks to corrupt real estate agencies, greedy landlords and greedier property-owners, European oligarchs purchasing large plots of building space and condos tax-free—and keeping these spaces un-occupied while homelessness is on the rise, big business polluting our waterways and air while denying or lobbying against science, racist over-militarized policing, hypocritical self-serving politicians, the privatization of our educational system—a system that is a pipeline for lower income children to end up in publicly-traded prison, institutions of power suppressing women's rights and LGBT rights while abusing children, crumbling infrastructure, countless sick and addicted people without health care and working multiple low-wage long-hour jobs for uncaring profit-driven bosses, large portions of the community burdened by debt taken on by predatory lending by corrupt bankers. These are things that truly plague NYC today. (These things plague all of America too, for that matter.)

How is it possible that you could tell a story about a pastiche of NYC and NOT INCLUDE ANY OF THAT EVER? Thats bogus. And it's what hurts superhero comics today.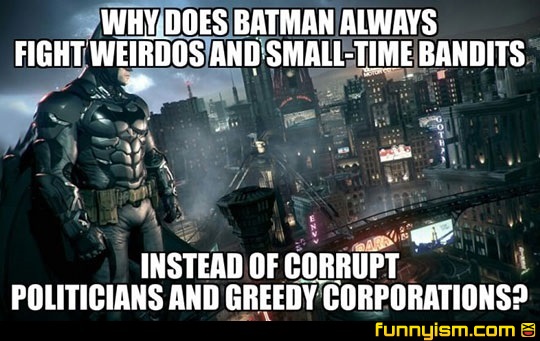 And even if we move beyond the big city narrative, the reality of the 21st century is a place where super-villainy isn't about some Ocean's Eleven heist or some Venture Bros-esque costumed rivalry. True super-villains are the perpetrators of all the crimes I listed above. True super-villains exist as religious institutional leaders, right-wing lobbyists and pundits, evil corporations, vile self-serving TV talking heads, and corrupt government officials. True super-villains are the Nazis and White supremacists that cause more harm via gun violence than anyone else in America these days. Remember the 1940s when it was clear that Superman, Wonder Woman, and Batman had to put their lives on hold to fight Hitler? Why isn't this being addressed in comics today either? Is it because our corporate overlords that own the comics don't want to discuss these things?
A lot of people come to comics for an escape from the shocking reality of now. They want pure fantasy. I get it. We all need a break from the horrors of the modern world. However, comic books have always—ALWAYS—been a reflection of the real world. Much of the fantasy and sci-fi genre have been as well. From the 1940s to the mid 2000s, superhero story-arcs have always addressed (some more directly than others) the global sociopolitical climate i.e. real world issues. Superheroes represent the best of humanity—an idealized version of what we could be if given fantastic powers. With great power comes great responsibility, as Uncle Ben said. Has the responsibility become too much of a burden to bear? Super-villains, on the other hand, have always represented the worst that humanity has to offer. And the ideation of both the worst and the best has shifted, as things do, over time. I believe that different comic book eras, for decades, have always shifted along with the times. Having recently read all of Batman through the 60s and 70s, Ive been able to verify this firsthand.
However, it seems like the shift has stopped dead in its tracks (for the most part). Whenever I see Batman patrolling and busting random muggers, or whenever I see Superman foiling a bank heist, I roll my eyes. If these types of crimes exist in our world, they are outliers—and they should be in the fantastical world of the DCU too. Don't get me wrong, there's always been an exciting (albeit Judge Dredd-like fascistic) power element involved with being into Batman or any revenge-based vigilante heroes (at least since the 1970s, anyway). There is something satisfying in seeing the give-no-fucks heavy-hitters, like Wolverine or Batman, kicking ass. After all, while they might be "angry White men" delving out justice from an extremely violent and privileged place, we know that these guys have strict moral compasses that guide them to, at the very least, be stomping out those who rightfully deserve to be stomped out. Their values are just and unsullied, even if their actions might not align with how we'd act in proper society. However, if the moral compass isn't aligned with/tuned-into the current sociopolitical and economic climate in which we live, then Logan and Batman's ass-kickings become more and more problematic. Maybe the course needs correction. Maybe Batman should spend less time hunting jewel thieves (what even is a jewel thief?) and more time patrolling Wall Street, surveilling Roman Catholic confessional booths, or hacking Milo Yiannopoulos.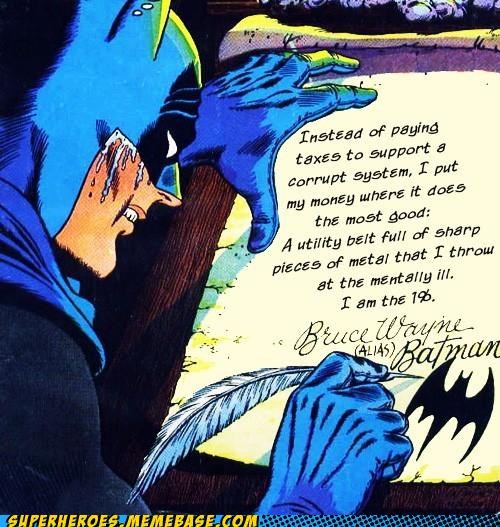 I've been reading comics since I was a kid in the 1980s. And, as stated above, I've spent the past decade reading DC Comics in chronological order from the 1940s to the present. Never before in the history of comics has there been less reflection of the modern world in the pages of the so-called funnybooks than today. We are in the Prismatic Age, so they say, where everything is a reflection of a reflection of a reference of a reference, rebooted, reworked, re-fandang-doodled. Somewhere in the kaleidoscopic meta-miasma that is contemporary superhero comics, the vibrant rainbow of social commentary and real-world reflection has been lost. If comics are pure fantasy, showing a utopia that is only threatened by crises delivered by kooky cosplayers, angry gods, and cosmic monsters, that's fine and dandy. I love all that. Comics wouldn't be comics without that. But if we've abandoned the street-level narrative—the real world material that has always been at the very core of superhero comics, then comics aren't as good as they should be. A comics devoid of social justice values is a comics devoid of values in general. Without a heart or a mind, you might as well count me out.