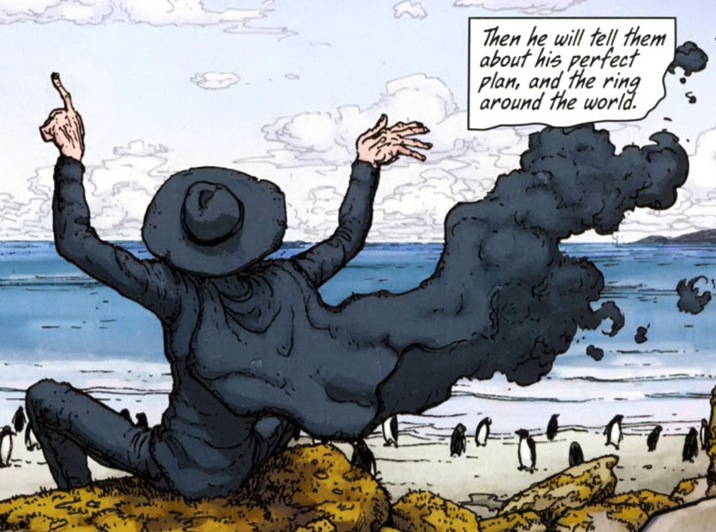 Lately, a few folks have e-mailed me with thoughts regarding Grant Morrison's Batman Inc Vol. 2, and how it might function as both a major arc in the New 52 and the actual final tale of the Modern Age. Most notably, site-contributor Jamison, who is always positively provoking me with insightful musings, said:
"I think it's obvious that DC has sort of shoe-horned Batman Inc Vol 2 into New 52 canon forcibly. It's confusing because the book sort of demands to be the main event in Batman's world, yet DC is pushing [Scott] Snyder's book as the main plot. […] It sends a very mixed message to readers. […] Ideally Batman Inc vol 2 would have been marketed as the conclusion to the pre-Flashpoint universe (much like Leviathan Strikes), but I suppose they figured it would sell more books as a part of New 52 canon. […] [Morrison's Batman Inc Vol 2] is definitely New 52 canon, but I believe these 13 issues—(14 including the zero issue)—can literally count toward both continuities simultaneously. If you read these issues in the context of the Modern era, then it's the end. If you read them in the context of the New 52, then it's the beginning. [This is] much like [Morrison's] Oroboros concept, with the snake eating its tail, as well as the looped universe timeline concept from the Return of Bruce Wayne."
Based upon this statement, I wanted to more closely examine whether or not this could actually be a possibility. Bear in mind, there are still four issues that haven't been released yet, and any tiny thing within those four issues could mark Batman Inc Vol. 2 as being solely in the New 52 realm. But amazingly enough, Jamison (and a few others) aren't wrong! And I want to adress all of this with greater scrutiny.
But first, let's talk about the Modern Age's abrupt end: When Flashpoint occurred and the New 52 began, the Modern Age came to an official end. BUT… gloriously, there was still one more Modern Age tale to be told. At the time, I thought to myself, "Gods be praised, Grant Morrison gets to write the capstone to the Modern Age, the final ever Modern Age DC comic book… and it's Batman to boot!" The months leading up to that book were exciting for me as I imagined the various ways Morrison could send off not only Batman, but the entire DC multiverse as well. I really thought that Leviathan Strikes would be that story, featuring a narrative that would possibly span centuries. And when the double-sized issue was released and I read that opening "takes place in a previous continuity" editor's note on the first page, I jumped for joy and said, "Morrison can do whatever he wants and he's going to!" However, as awesome as the issue still was, it was something else entirely—it was a big "to be continued in the New 52." While the prospect of Morrison getting more issues was fantastic, at the same time, I was really let down. But the prospect of having Batman Inc Vol. 2 function in both continuities is really really amazing. But can it work?
To find out, let's address a few major points and delve into the nitty-gritty. For one thing, Morrison doesn't seem to be catering to the New 52's continuity that much—(although, to play devil's advocate, drafted his scripts similarly when regarding the continuity of others in the Modern Age as well). There are a plethora of references to the Modern Age, but very few references to the New 52.
Here are a bunch of items that reflect the Modern Age more than the New 52.
1. Batman Inc Vol. 2 seems to be a direct continuation of Leviathan Strikes (the conclusion of which even says the story continues).



2. Batman Inc Vol. 2 #0, which details some of the early Batman Inc recruiting, tells us that Damian is ELEVEN-YEARS-OLD!! This age fits the Modern era perfectly, as Damian was dropped off with Bruce for the first time at age 10 and Batman Inc starts roughly a little over a year later! In the New Age, Batman's mention of Damian being 11 is an out-and-out continuity flub.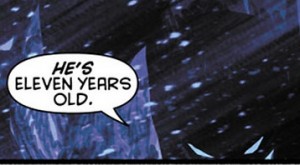 3. Batman Inc Vol. 2 #0 makes many references to a bunch of things that seem more Modern than New. In fact, you can spot a lot of references throughout issues #1-9 that do the same thing as well. But let's not get too hung up on that, and move on.
4. Keeping with the debacle that is Damian's age in the New Age for the moment: Batman Inc Vol. 2 #1-2 highlights a version of Damian's life that seems to imply that he ages normally, year by year, and that Batman's history with the Al Ghul's goes back well over a decade (instead of the messy six or seven New Age years).
5. Furthermore, Morrison references Element Man aka Metamorpho as having been in the Justice League, a nod to his own run on JLA. While this can be explained away in the New Age, it registers as a direct reference to the Modern Age.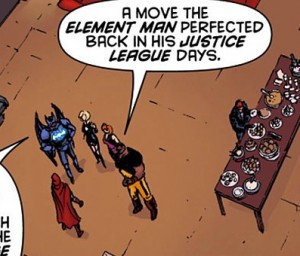 6. In Batman Inc Vol. 2 #1, Black Lighting, Katana, and Element Man (Metamorpho) are subtly referenced as Outsiders (or former Outsiders at the very least), when in the New 52, neither Lightning nor Katana were meant to be a part of the team (or if they were it was for a short period). Katana is actually featured in Leviathan Strikes as an Outsider, although she fails to appear in Vol. 2. Likewise Element Man fails to appear as well, although he is mentioned.
7. Talia appears in issue #2 in a flashback which shows her leading the Secret Society of Super-Villains with Black Adam and others. This is another out-and-out continuity error, something that couldn't have possibly happened in the New Age, and that requires significant caveats to explain.



8. So far, Morrison has avoided even mentioning Batgirl. Steph Brown was Batgirl in Levithan Strikes, but in the New 52 she doesn't exist and Babs has morphed from paralyzed Oracle to un-paralyzed Batgirl. Is the avoidance deliberate so that the story can work in the Modern Age?
9. In relation to the Babs examination, the future dream of the world of 666 shown in Batman Inc Vol. 2 puts Babs in her Modern Age wheelchair. This is either another nod to the Modern Age, or we have to assume in the New 52 that she would have gotten re-paralyzed.
The list could probably even go on, but you get the point. If we really were to add Batman Inc Vol. 2 to the Modern Age, we'd need to make a few notations that occur in-between Leviathan Strikes and Batman Inc Vol. 2—mostly cosmetic and non-problematic.
1. Batman Japan changes his costume after defeating Gorilla guy.
2. Katana is not present after Leviathan Strikes, despite being in Leviathan Strikes, so we'd have to invent a reason for her not continuing on with Batman Inc, which probably wouldn't be difficult. Same goes for Metamorpho/Element Man. We'd also have to mention the simple fact that Metamorpho changes his name to Element Man.
3. Dick becomes Nightwing again. (Although, in Batman: Gates of Gotham #5, Batman specifically says that Dick will soon return to his role as Nightiwng anyway)!
4. Since there so far has been no mention of Batgirl, Steph's absence must be explained as well.
5. Gordon has red hair and a red moustache. Must be a dye job? It's not like we didn't experience this same "problem" early in Year One Era anyway!
6. The Bat Family must get Titus (the dog).
7. Tim must debut new Red Robin costume.
8. Batman must open a new Batcave West in San Francisco. (The old Batcave West was in Los Angeles).
Besides these items, that's really it! But there are a few actual problems that must be addressed.
1. Obviously, Batman switches costume back to non-yellow oval costume. However, he does it early on—during recruitment process in issue #0, which means he must switch back-and-forth between the black symbol and the yellow-oval costume intermittently during the early Batman Inc Vol. 1 days.
2. The ONLY New 52 story arc that Batman Inc Vol. 2 references is Tomasi's Batman & Robin Vol. 2 #1-8—references to Titus and Nobody. We even learn that Morgan Ducard aka Nobody (from B&R #1-8) is killed by Damian BEFORE Leviathan Strikes, which oddly means that this New 52 arc would occur in some shape or form before Levithan Strikes.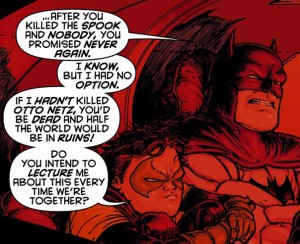 3. If Batman Inc Vol. 2 really is the true end to the Modern Age then much of the future stuff with Damian as Terry McGinnis's mentor and Damian's own career as Batman, which were both supposedly canon, simply couldn't be. And Morrison's own concept of time lends itself to hold true that the future is relatively set in stone, whether it be Damian as Batman or the world of the 853rd century. Yet at the same time, we know Morrison had always intended on killing Damian—in fact, he wanted to do it much sooner. With that in mind, we could then assume that the entire "world of Batman #666″ (including glimpses from Superman/Batman and Batman #700) is comprised of Bruce's vivid death dream of the future—a future that was never meant to happen and clearly never did. Honestly, this is the one hiccup that I'm having the most issue with. Batman #700 clearly references further down the road to the time of Brane Taylor and then to the 853rd century. Superman/Batman #75 and #80 both refer, in what seems canonical fashion, to a Batman #666 and #700 world, but one where Damian survives, becomes the trench-collared Batman, and trains Terry McGinnis. If we assume that Damian dies and then gets resurrected in the Modern Age (which is a big stretch to make) then, and only then, would these future references work, right? Otherwise, we'd be (sadly) erasing a very large chunk of the "Welcome to the Future" section of my site.
It's all food for thought. Don't forget, I'm not trying to debate whether or not Batman Inc Vol. 2 works in the Modern Age versus the New Age. It is 100% a part of the New Age, there's no argument there. I am simply trying to see if it also works in the Modern Age. If Batman Inc Vol. 2 does indeed simultaneously function as the concluding chapter of the Modern Age, I can tell you with absolute certainty that it makes for a great bookend. And it directly continues the story from Batman Inc Vol 1 and Leviathan Strikes, doing so really only by making cosmetic changes and non-mentions to cater to the New 52 continuity. Only the final four issues and some dedicated thought to the conundrum will give us an answer. Morrison's Batman Inc arc is THE definitive end to the Modern Age. So, the end of that story surely would or should end the definitive end, right?