Alan Moore did it again. I said I wasn't going to comment, and I won't say much. But if you've been following for the past few years, Moore has been fueling his rage in a crescendo of anti-superhero comics hate-speech that rivals nothing we've ever seen before in the history of the industry except for maybe Fredric Wertham's Seduction.
The always wonderful Pádraig Ó Méalóid interviewed Moore (in what is meant to be his final public interview, supposedly) for his wordpress blog Slovobooks. While always articulate and damning with his superior wit and undeniable intellect, Moore sends himself off in probably the worst way ever, coming off at times like a whiny asshole that has lost touch with reality and wants to fight with fisticuffs against fanboys, his critics, Morrison, and the actual inanimate comic books themselves. Some folks might find this type of behavior on Moore's part as simply lending itself to his persona of being the weird Occult demigod that has become the genius curmudgeon in his old age. Of course, there's an argument for that—maybe he's just adding to and playing the role of the "Moore character." But I disagree. His interviews have not only been filled with such unwarranted venom and vitriol against things and people that I love, but filled with venom and vitriol that seems to come out of nowhere. Half of what Moore says that I take offense to wasn't even directly brought up by Ó Méalóid. It' Moore's world. We are just living in it.
(On a side note, I wonder what Ó Méalóid thinks of Moore these days. Ó Méalóid is one the preeminent Moore scholars and someone that knows Moore personally. But even after the interviews and investigations of the past few years, Ó Méalóid summed up that he felt that Moore was the one primarily responsible for continuing the Morrison feud and that Moore has been mostly unfair and unwarranted in doing so).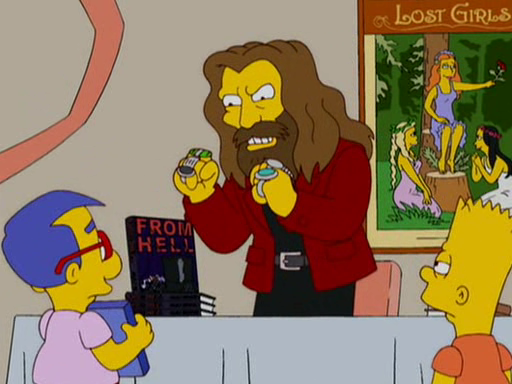 Harry Edmunson-Cornell wrote an op-ed for SeqArt yesterday that summed up my feelings about Ó Méalóid's "final Moore interview."
I wrote a small bit in a comment-response on my previous post about Alan Moore that I felt was a fitting end to the discussion on a man who has shaped my life so positively (writing some of my favorite works like Watchmen, Swamp Thing, Top Ten, and League of Extraordinary Gentlemen). My comment response is still a fitting end to the discussion on Moore, so I'll include it verbatim below:
"What's even more frustrating [about the latest Moore interview] is that I picked up the Miracleman reprint (by 'THE ORIGINAL WRITER and Garry Leach')—I've read the series a dozen times before and it's always moved me. Re-reading it, I still got chills. Why does Moore insist on tarnishing his own legacy? It's almost as if he hates superhero comics so much that he wants to attack the strongest things about it (fandom and Grant Morrison) in an attempt to alienate himself as much as possible from the genre. It just doesn't make sense. Literally, NO OTHER CLASSIC COMIC BOOK WRITER has trashed the genre the way Moore has. I mean, could you imagine Neil Gaiman, fifteen years from now, pooping all over superhero comics via a 20-page WordPress blog interview? Inconceivable."
The sad thing is, I can imagine Moore, fifteen years from now, fifteen years angrier, having removed his name from literally every comic book he ever worked on (validating in his mind the total purge of the comic book medium from his oeuvre, in a sense cleansing his past of the vile superhero history that he thinks tainted him) and still chugging along on the 750,000th page of Jerusalem, which will still be unreleased.