Lately I've been having a really hard time enjoying Batman comics. I don't mean to be negative. I really want to like them. I've been a huge Batman fan for years. Batman was my gateway to the rest of the DC Universe and comics in general, though more and more I find myself not in the mood to read a Batman story in favor of other areas of the DC Universe like Birds of Prey, Green Lantern, JSA etc… How can this be? How could I not like Batman anymore. The answer is that I still do very much, although there isn't a whole lot in recent comics that reminds me of what I like about Batman. I decided to scour Batman's 75-year history to remind myself what it is that I do and do not like about this important character from a reductionist point of view to create a new head-canon of Batman continuity that reminds me why I love the character instead of making me forget.
I experience this phenomenon, as I assume many people do, where if I read a comic that I do not enjoy, it seems to damage my love for the medium. Conversely, when I read a comic that I love, it strengthens my love for the medium. Thus for my own sake, I needed to become a reductionist. That is, I need to abandon "completionism" in favor of removing as many stories as I can that I do not enjoy so that my head-canon can become stronger, and thus maximize my enthusiasm for the medium. I'm not sure how many people feel this way. It sounds kind of strange writing it out like this, but it is undeniably how I feel.
This train of thought all started when I decided to give Scott Snyder's Batman run another chance. Running out of old runs to enjoy, I decided that it was important to leave the past behind and try to see the good in the New 52 so that I could enjoy future runs as a part of a shared universe. I know that stories should stand or fall on their own merit, but strong stories feel even stronger when they are a part of a rich canon. As a consumer of fiction, I long for this sense of awe again that I have since lost when it comes to Batman. I want to live in a world again where the next great Batman story is just around the corner to make the canon even stronger. So I tried—I tried really hard, but the current canon does not feature the Batman that I want to read. So… Is Batman likable? He used to be. Then he wasn't and then he was again, but now he isn't. Let's go back in time…
Batman's character tends to undergo extremely long periods of stagnation. During the Golden and Silver Ages, Batman's character didn't have a ton of depth but still underwent some character development. In his initial outings in costume, Batman was an unrelenting, grim crusader for justice with mysterious motivations. With the introduction of the Robin character about a year later, he became an adventure-loving father figure and essentially remained that way until Frank Miller changed the character significantly. Most fans would argue nowadays that the Golden and Silver Age interpretation of Batman is far too brightly toned for their tastes. They might be right, but if Bill Finger and Gardner Fox were on one end of Batman's tonal spectrum, then Frank Miller was on the opposite end with an overly dark and dramatic tone. There was, however, a 10-year long period where the tone of the Batman books was in perfect balance: the 1970's.
The problem with Frank Miller's influence on Batman is that his character ended up becoming a total dick to everyone close to him. This was not the case during the 1970's. The books, under the creative direction of pioneers like Dennis O'Neil, Len Wein, Steve Engelhart, Neil Adams, Jim Aparo and Marshall Rogers, became much darker in tone and made Batman much more brutal to criminals, yet retained his fatherly affection to his family. The best example I could find of this is during Steve Engelhart and Marshall Roger's run on Detective Comics.
And in regard to his brutality toward criminals, look no further than issue #2 of Len Wein's Untold Legend of the Batman.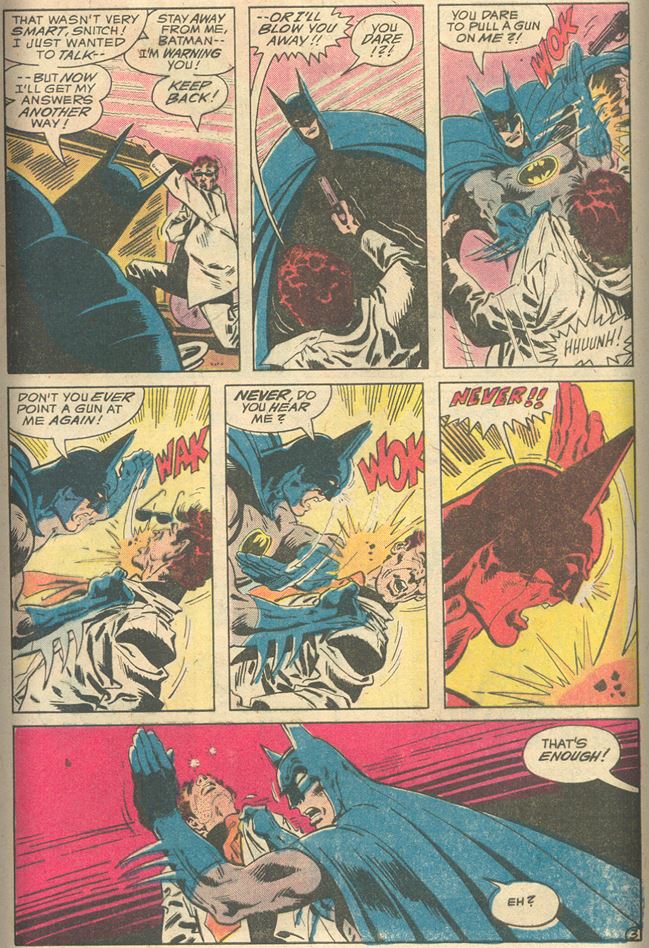 This is the Batman I find likable. This is also the characterization of Batman that influenced the creators of Batman: the Animated Series, so perhaps I feel the greatest nostalgia reading Bronze Age Batman because I was 7 years old when B:TAS first aired. It's this simple but overlooked tonal balance between light and dark that makes Batman a likable character, in my opinion.
That all changed when Frank Miller arrived on the scene. Although I don't necessarily think Frank Miller's Batman is totally unlikable, the writers that Miller would inspire certainly pushed him that way. From 1987 onward, Batman became a total asshole. Right off the bat (oh, puns…) in Batman #408 (the issue right after "Year One" ends) we get the tough-love Batman who no longer trusts his family to get the job done and who prefers to isolate himself to everyone else's (including my) frustration.

Batman stays like this for almost 20 years. It is during this 20-year period that Batman becomes far less interesting than the rest of the Bat-Family. Since Batman is a total dick, the remaining members of the Bat-Family have something to rally against, and characters like Dick Grayson, Tim Drake, Barbara Gordon, Cassie Cain, Selina Kyle and Stephanie Brown successfully outshine their leader in some truly fantastic stories. There was a saving grace post-Frank Miller who ignored Frank Miller's influence for the most part: Mike W. Barr. Mike Barr's run on Detective Comics following "Batman: Year One" largely ignored the tonal shifts implemented by Frank Miller, and unsurprisingly didn't last. I would argue, however, that he produced the most likable version of the Batman character in the post-Frank Miller era, and was the only person until the 2000's to have Batman undergo a character arc. In his masterpiece Son of the Demon, Barr had Batman go through a very believable and relatable character arc where love and hope returned to his life once again in the form of a pregnant Talia Al Ghul.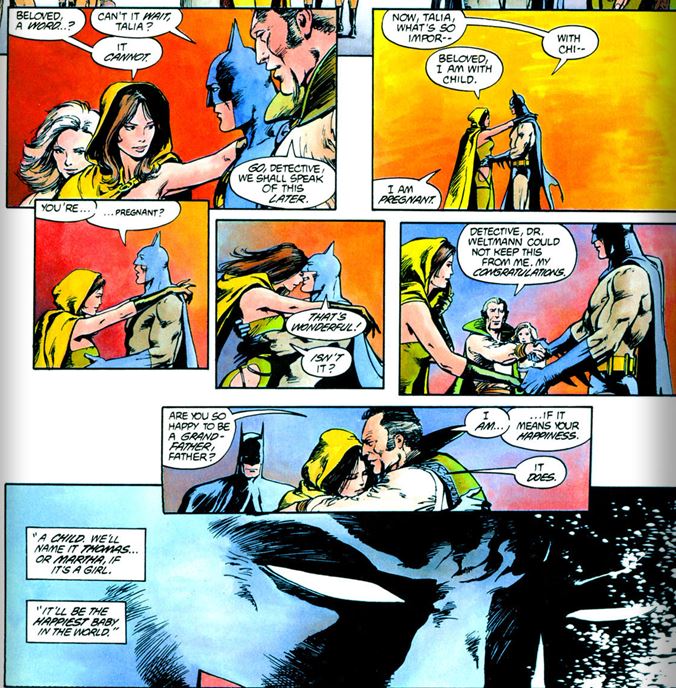 Mike Barr made Batman happy and hopeful… and it was extremely interesting.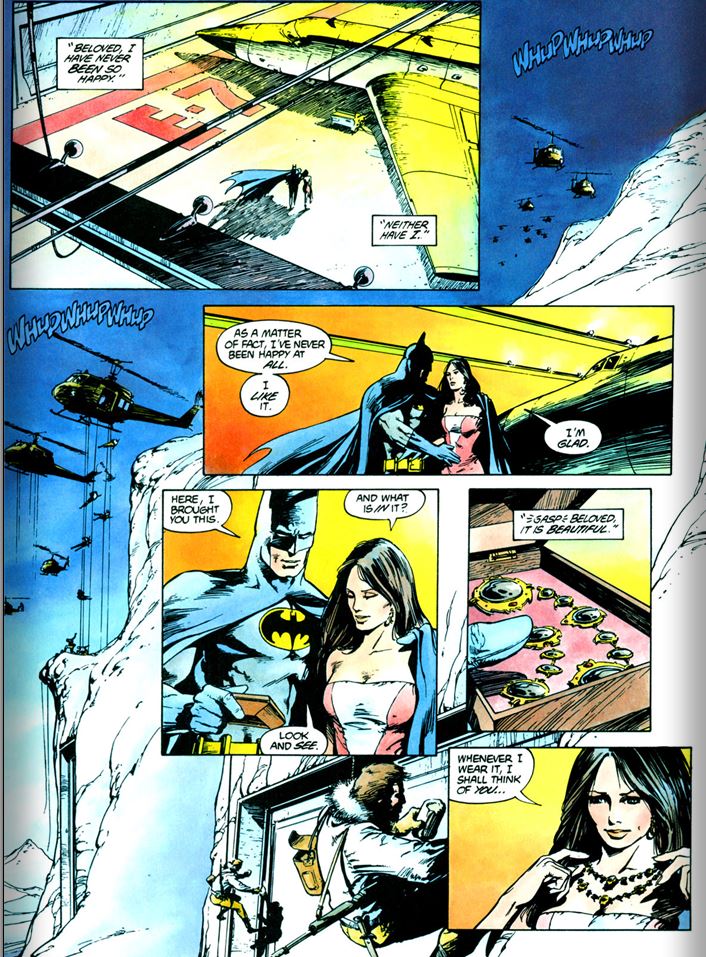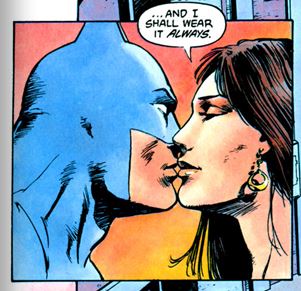 It also included a very touching beat in the Batman/Ra's Al Ghul dynamic.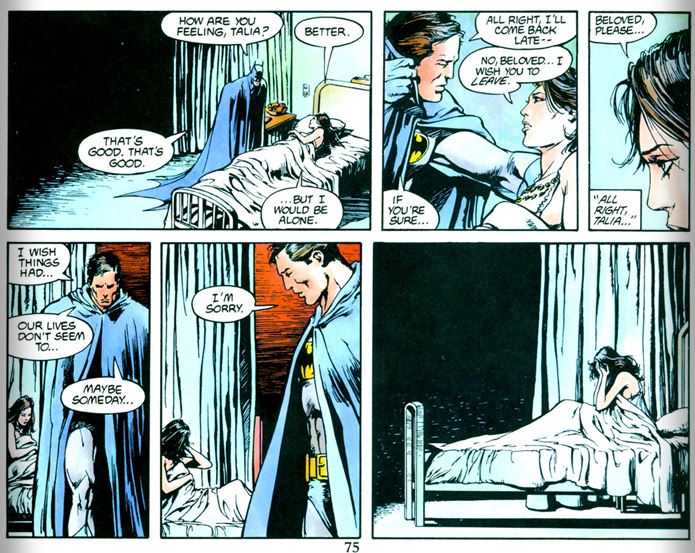 By 2004, the main Batman books had become increasingly dour. Crossovers like Bruce Wayne: Murderer/Fugitive and War Games plus the JLA story Tower of Babel had propelled Batman's dickishness to new heights (or depths?).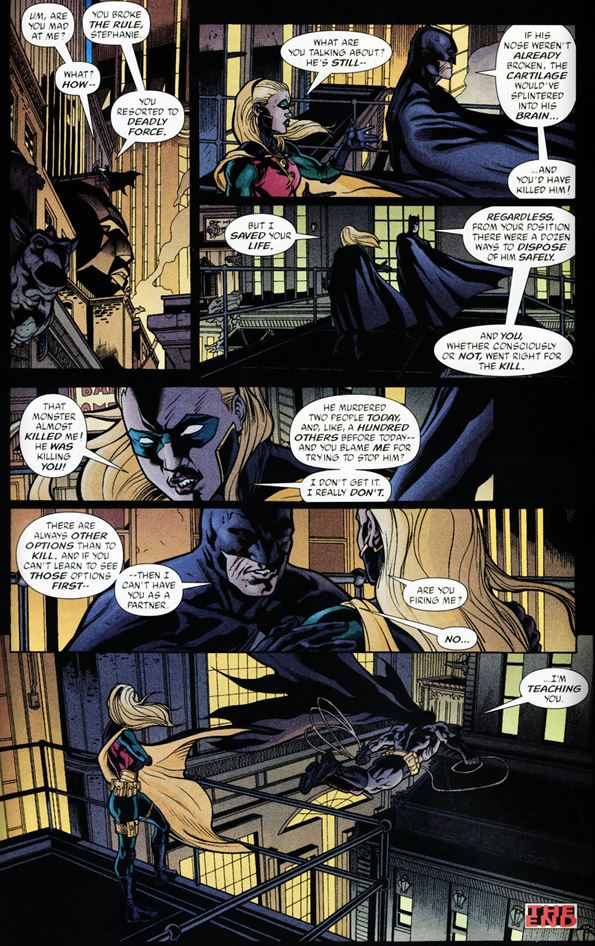 It was because of Batman's lack of trust for his partner that all of the "War Games" nonsense happened in the first place. It should be noted that alongside these grim, asshole-Batman stories also ran Devin Grayson's Gotham Knights which did a wonderful job restoring Batman's compassion and family dynamic, but was unfortunately pretty short-lived and not influential.
By the time Infinite Crisis began in 2005, writers like Greg Rucka, Mark Waid and Grant Morrison began to notice the problem with Batman. In Mark Waid's words during his interview with Alan Kistler:
"AK: Right. Well, my question was, with writers like you and those I've mentioned and your emphasis on fun and wonder, is there any fear that we're going back to the grim and gritty 80's with stories like IDENTITY CRISIS, WAR GAMES where Leslie Thompkins is a killer, and where half of INFINITE CRISIS looks like it's about Batman being betrayed? What do you think of that?
MW: The good news is, and I guarantee you this, when we're on the other side of the CRISIS, those days are GONE. Just gone. We're sick to death of heroes who are not heroes, we're sick to death of darkness. Not that there's no room, not that Batman should act like Adam West, but that won't be the overall feeling. After all this stuff, after everything shakes down, we're done with heroes being dicks. No more "we screwed each other and now we must pay the consequences." No, we're super-heroes and that's what we do. Batman's broken. Through no ONE person's fault, but he's a dick now. And we've been told we can fix that."
Holy shit was this the best news for Batman fans. His characterization got so bad that Frank Miller, of all people, parodied the character in the form of All-Star Batman and Robin. More on that later.
During the weekly series 52, Grant Morrison began a transformation of the Batman character in an effort to return him to the adventure-loving Bat-dad of the 1970's in the form of the "Thogal" ritual, wherein Batman goes on an inward journey of self-realization to purge his inner darkness. During Grant Morrison's Batman run, Batman smiled again and began his first character arc in 20 years.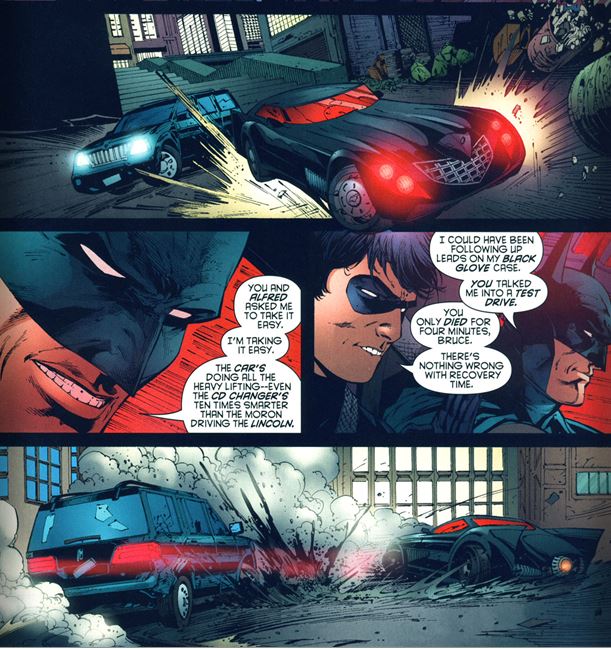 By the time Bruce Wayne returned from his trip through time via the Omega Sanction, Bruce Wayne re-learned the importance of family after realizing that isolation and a lone-wolf attitude were not getting the job done. He recalls that Alfred was there to help him on that fateful night where he decided "I shall become a bat," and concludes that the only way to accomplish his mission is to rely on his allies instead of pushing them away.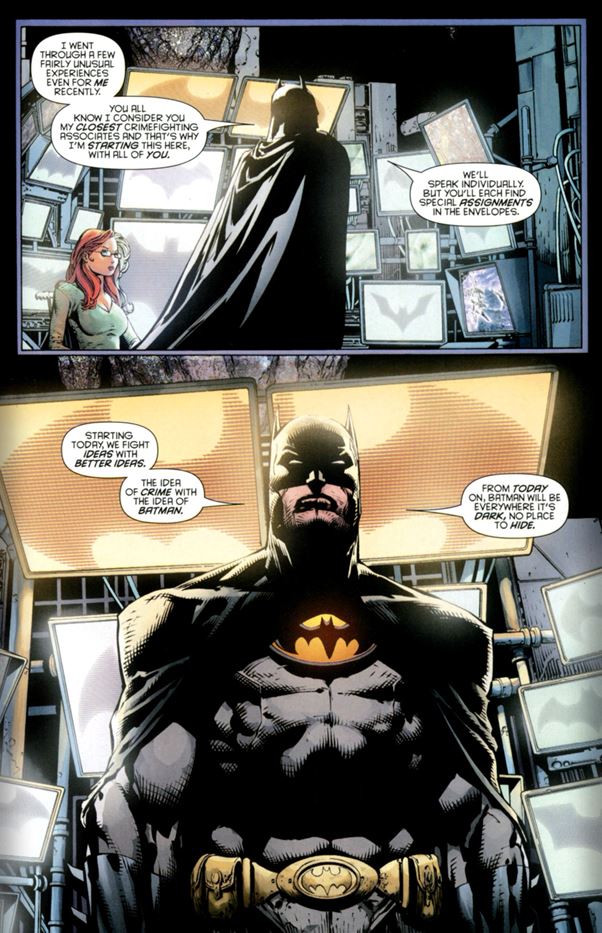 This was the direction I really wanted to see the character go indefinitely. I wanted to see the era of Frank Miller's influence end once and for all and move on to a new, more dynamic and likable Batman. But all that ended with Scott Snyder. This brings us to modern day Batman…
It did not take very long into the New 52 continuity reboot until I noticed that asshole-Batman was back. Scott Snyder now leads the charge of the Bat-books with a Batman who has clearly forgotten about his experiences with the Thogal Ritual and the Omega Sanction and has become a parody of himself once again. Recall the scene in Batman v2 issue #7 where Dick Grayson angrily (and rightfully so) berates Batman for being an emotionless asshole. How does Batman respond? He punches him in the face, of course.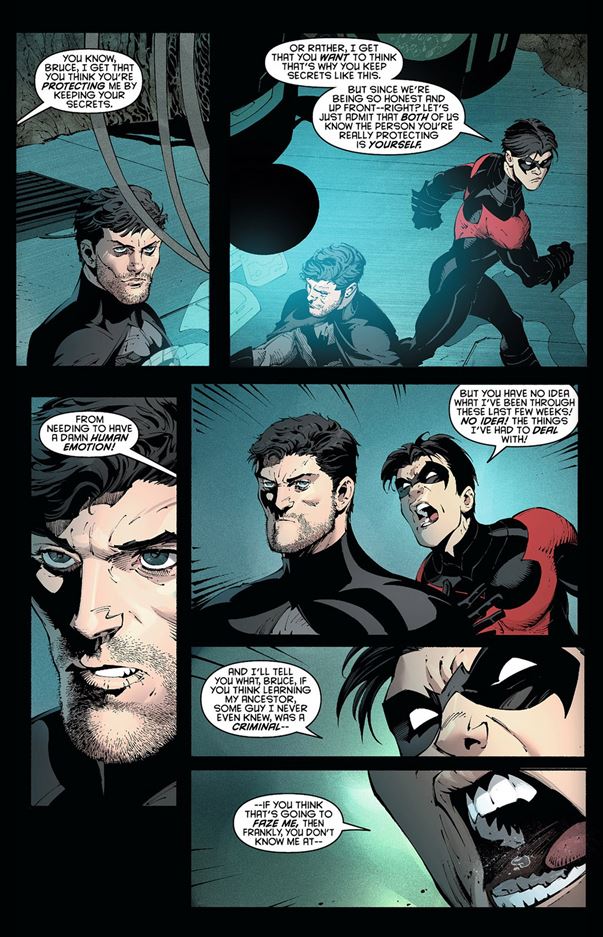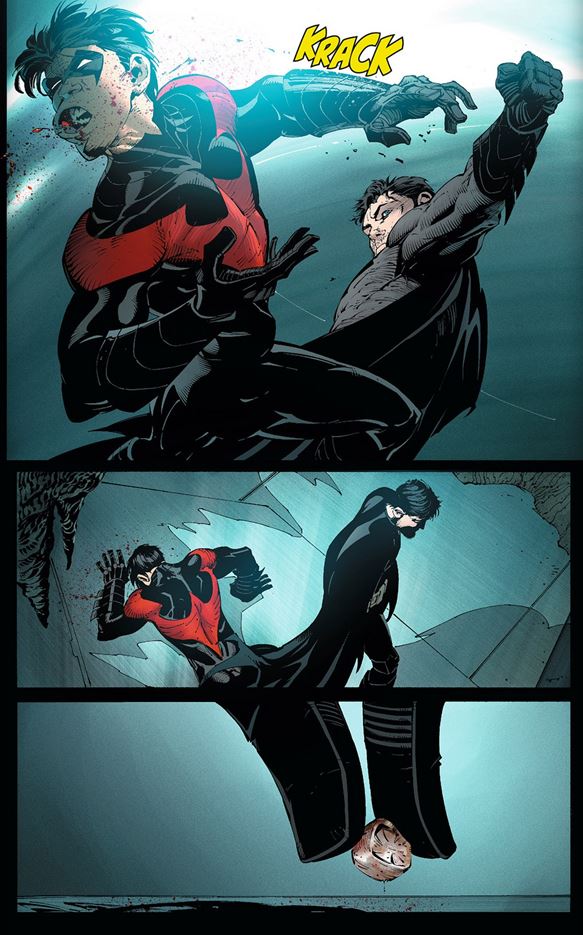 I realize he needed to get the Court of Owls fake tooth out of his mouth or whatever, but there were so many other ways to accomplish that without acting like an ass. Say…you know what this reminds me of?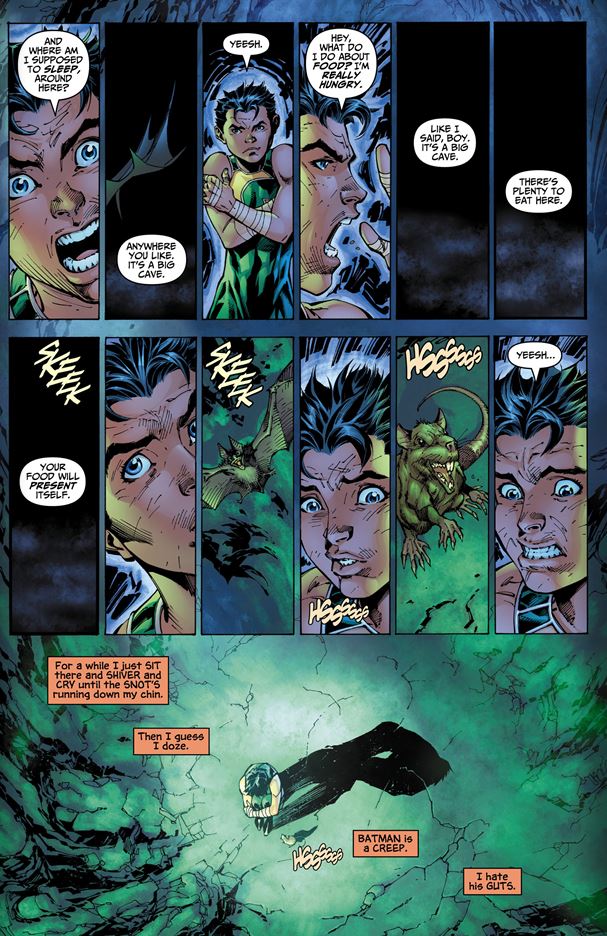 At least Frank Miller doesn't have Batman hit Dick in the face for no goddamn reason.
Say what you will about Batman's indifference to killing during the Golden Age, but Bill Finger's and Gardner Fox's contributions to Batman were nothing short of brilliant. I still find the original Golden Age stories very exciting, and when I realized that Scott Snyder was channeling that old continuity in his Zero-Year story, I was very excited. I couldn't wait to see modern interpretation of the purple gloves, Doctor Death, and the first Bat-Mobile. The idea of departing from the Frank Miller continuity in favor of re-embracing the original continuity is fantastic and very Grant Morrison in its conception. If you recall one of the final pages of Batman Incorporated Vol. 2 #13 where a young Jim Gordon is seen comforting an even younger Bruce Wayne who just lost his parents, you probably remember having your mind blown because this directly contradicts Frank Miller's seminal "Batman: Year One" story where Gordon is shown to arrive in Gotham at the same time as Bruce Wayne. Gordon's presence in Gotham as a young Lieutenant even before the Wayne murders, however, was a pre-Crisis establishment.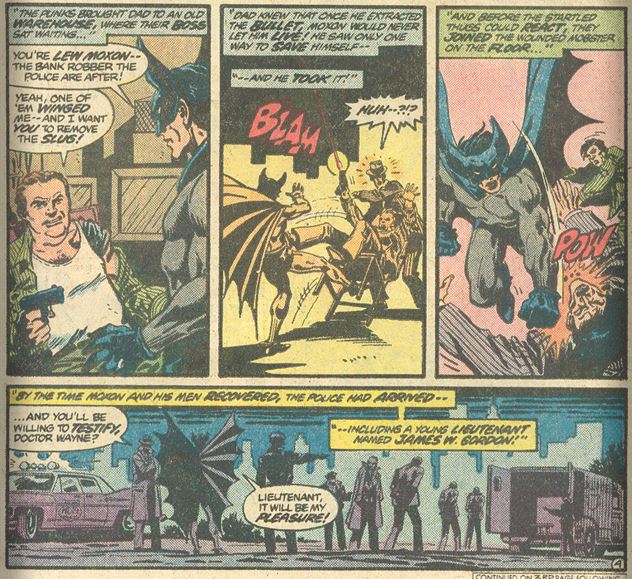 Unfortunately Snyder's "Zero Year" fell flat for me even on a second reading. Seeing Greg Capullo's renderings and re-imagining of characters like Doctor Death was thrilling, but the story is brought to its knees by cringe-worthy prognosticating, and it perpetrates what had already become a very tired cliché as worded by Grant Morrison in a recent interview.
"Every comic book hero — TV heroes too, like 'Doctor Who' — must inevitably, relentlessly, repeatedly face a dedicated threat to his or her very essence and core. It's no longer sufficient to commit a weird sort of crime in Gotham City; any given baddie has to gnaw at the very roots of Batman's being, fuck up the private lives of his friends and relatives, make him doubt his raison d'etre, set his postal district on fire and blow up his cave."
Worst of all is the poor characterization. Surprise! Batman treats Alfred like shit to the point where Alfred's will to participate in Batman's mission is totally baffling.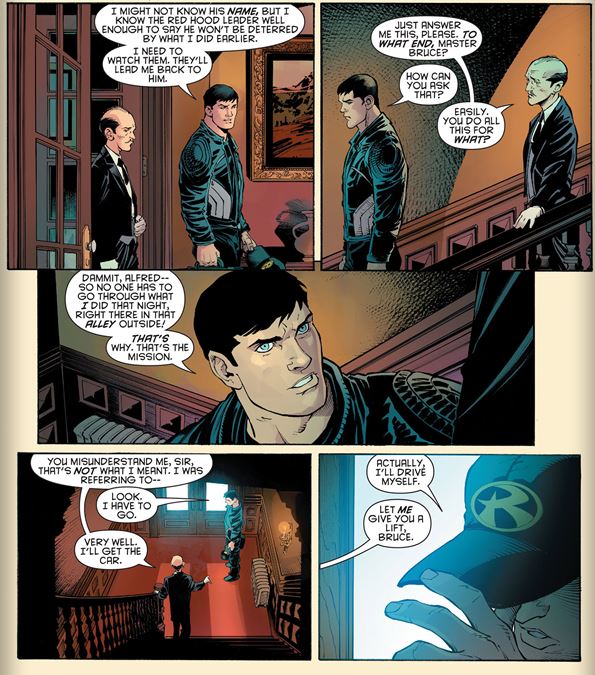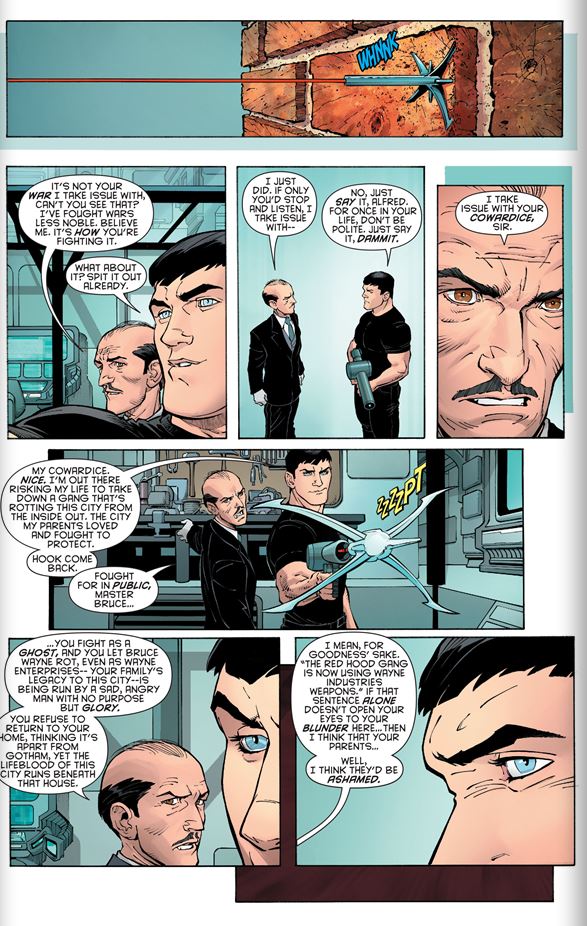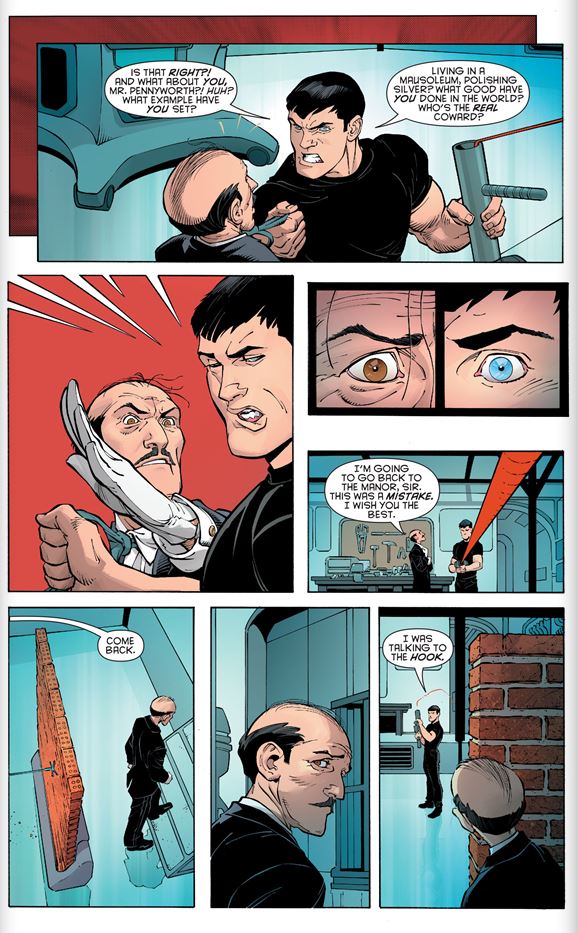 Just fuck right off. Ok, Bruce? Thanks.
So "Zero Year" ended a few months ago, adventure-loving Bat-dad is gone, and Frank Miller's influence is alive and well due to Scott Snyder's undying boner for the man. The result is a Batman who treats his allies terribly, pontificates way too much and is arrogant to the point of ineptitude (see "Court of Owls"). But hey, people love it! Batman sells nearly 120,000 copies a month still, so what do I know.
Anyway, here's my new, ruthlessly reductionist head-canon that I came up with. These are what I consider essential Batman stories (with a good characterization of Batman himself). While my actual head-canon includes a bit more, the vast majority of the stories not on this list I can honestly do without.
Batman: Year One (Batman v1 #404-407)
Detective Comics by Bill Finger, Gardner Fox (Detective Comics v1 #27-38)
The Joker/The Giants of Hugo Strange (Batman v1 #1)
The Origin of Batman (Batman v1 #47)
Eye of the Beholder (Batman Annual v1 #14, Detective Comics v1 #66, 68 )
When is a Door… (Secret Origins Special #1, Detective Comics v1 #140)
The Batwoman/Challenge of the Batwoman (Detective Comics v1 #233, Batman v1#105)
The Black Case Book (Batman v1 #65, 86, 112, 113, 134, 156, 162, Detective Comics v1 #215, 235, 247, 267)
Pavane (Secret Origins v2 #36)
Tales of the Demon (Batman v1 #232, #235, #240, #242–244; Detective Comics v1 #411, #485, #489–490; DC Special Series #15)
Batman by Neal Adams v1(Batman v1#200, #203, #210; The Brave and the Bold #75–76, #79–85; Detective Comics v1 #370, #372, #385, #389, #391–392; World's Finest Comics #174–176, #178–180, #182–183, #185–186)
Batman by Neal Adams v2 (Batman #219; The Brave and the Bold #86, #93; Detective Comics #394–395, #397, #400, #402, #404, #407–408, #410)
Batman by Neal Adams v3(Batman v1 #232, #234, #237, #243–245, #251, #255)
Strange Apparitions (Detective Comics v1 #469-477)
Batman By Len Wein (Detective Comics #408, #444-448, #466, #478-479, #500, #514, Batman #307-310, #312-319, #321-324, #326-327,  World's Finest Comics #207, DC Retroactive Batman – The 70s, Untold Legend of the Batman #1-3)
Batman by Alan Davis, Mike Barr (Detective Comics v1 #569-575)
Batman by Jim Starlin (Batman v1 #414-430, The Cult #1-4)
The Killing Joke (One-shot)
Birth of the Demon (Graphic Novel)
Son of the Demon (Graphic Novel)
Arkham Asylum: A Serious House on Serious Earth (Graphic Novel)
Dark Knight, Dark City (Batman v1 #452-454)
Vows (Legends of the Dark Knight Annual #2)
A Bullet for Bullock (Detective Comics v1 # 651)
No Man's Land (Detective Comics by Greg Rucka)
Detective Comics by Greg Rucka (Detective Comics v1 #742-765, Death and the Maidens #1-9)
Gotham Knights by Devin Grayson (Batman: Gotham Knights #1–11, 14–18, 20–32)
Mad Love (One-Shot)
Detective Comics by Paul Dini (Detective comics v1 #821-837,839-845)
Suit of Sorrows (Detective Comics v1 #838)
Batman by Grant Morrison (Batman v1 #655-703, Batman and Robin v1 #1-16, Batman: The Return, The Return of Bruce Wayne #1-6, Batman Incorporated v1 #1-8, Leviathan Strikes #1, Batman Incorporated v2 #1-13)
________________________________________________________________________
ABOUT THE AUTHOR: Jamison Weber is a long-time comic book fan in his mid 20s with an Economics degree from UCSD. Currently he is working toward a graduate degree in mathematics education in Arizona, and continues to nourish his passion for comic books whenever he gets the opportunity.