Hey everyone! I'm PurpleGlovez, longtime reader of the site. Many years ago, Collin posted a two-part blog detailing Gotham City's mayors in the post-Crisis era (link: https://therealbatmanchronologyproject.com/blog/the-strange-case-of-mayors-gill-and-hill/ ). For some reason, I've always found the fictional politics of Gotham City interesting and the idea that it's had so many mayors just gets the gears in my head turning. I've recently finished chronicling what I believe to be every appearance of a Gotham City mayor in a mainline comic book, and a few interesting facts came to light.
So in these series of posts, I'm going to go over them. After the Crisis on Infinite Earths in 1986, we all know that DC continuity was "rebooted" and new stories in the early years of characters like Batman were revealed, starting with the famous Year One. For this first post, I'm going to start with these "retroactively-established" mayors, and then in the second post I'll start with the actual first appearance of a mayor in a Batman comic (1942's Batman #12.)
But first, a rundown of Gotham's mayors before Batman. Theodore Cobblepot, great grandfather of the Penguin, was mayor in the late 19th century, according to the Gotham Underground series, as well as Gates of Gotham and The New 52 All-Star Western. In James Tynion IV's Batman and Robin #23.2, an unnamed mayor runs afoul of the Court of Owls in 1914 and is presumably killed by them. Archibald Brewster served as a well-renowned mayor during the Great Depression (per West End Games' fabulous Daily Planet Guide to Gotham City.) Thorndike was killed by the Made of Wood killer in 1948 when Alan Scott's Green Lantern roamed Gotham, as revealed in Ed Brubaker's Detective Comics #784-786. Aubrey James was an associate of Thomas Wayne who was stabbed to death, according to Legends of the Dark Knight #204-206. Lastly, Jessop was in office after the Wayne murders, per Morrison's Return of Bruce Wayne #5.
Now, our possible first mayor of Gotham during Batman's career is a very obscure tidbit I discovered. In Alan Brennert's astonishing Black Canary story in Secret Origins #50, we see Ted Grant talking to a young Dinah Lance shortly after the Batman's debut. He claims that the mayor is a man named Falcone, a stooge of the Roman's! But wait… the Roman is Falcone, right?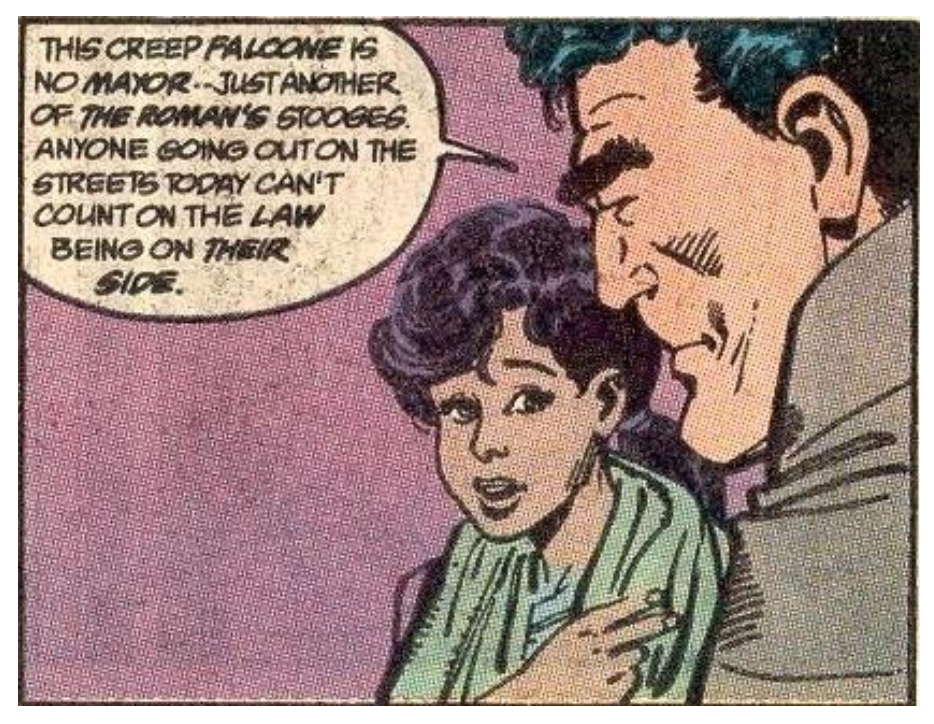 Well, at the time, not necessarily. Throughout the entirety of Batman: Year One, the Roman is never explicitly identified by name. In the mayor's mansion dinner scene, Commissioner Loeb tells someone named Falcone that District Attorney Dent is their problem. Jeph Loeb took this and made Carmine Falcone the Roman in The Long Halloween. However, it seems some people (including at DC in the late '80s) thought it was strange for Loeb to be so flippant with the city's ultimate crime lord, and that it didn't make sense for Harvey Dent to be the Roman's responsibility, and took the conversation as if Loeb was in fact talking to the mayor.
This is the assumption Alan Brennert makes in his story. Now, if we take this at face value, what does it mean? Could Carmine Falcone have in fact been operating as mayor with the public unaware of his life as the Roman? It seems unlikely. In truth, if someone named Falcone was mayor during the early days of Batman's career, he was probably a well-connected relative of Carmine's.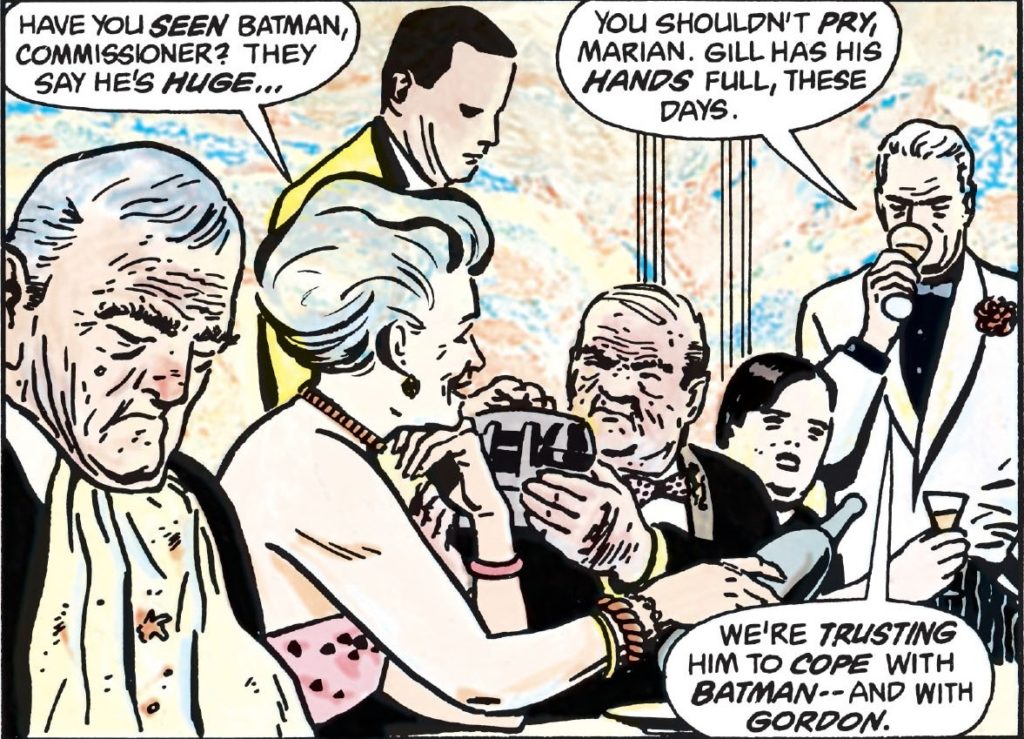 In the compendium of Absolute Batman: Year One, Frank Miller's complete scripts for the series are included. According to them, the man on the left in this image is the mayor of Gotham, sitting next to his wife! Intriguingly, when Loeb is talking to "Falcone", a bunch of text in the script is blacked out. Guess there's something DC didn't want us to know? At any rate, there's the man who was mayor on May 19th of Year One!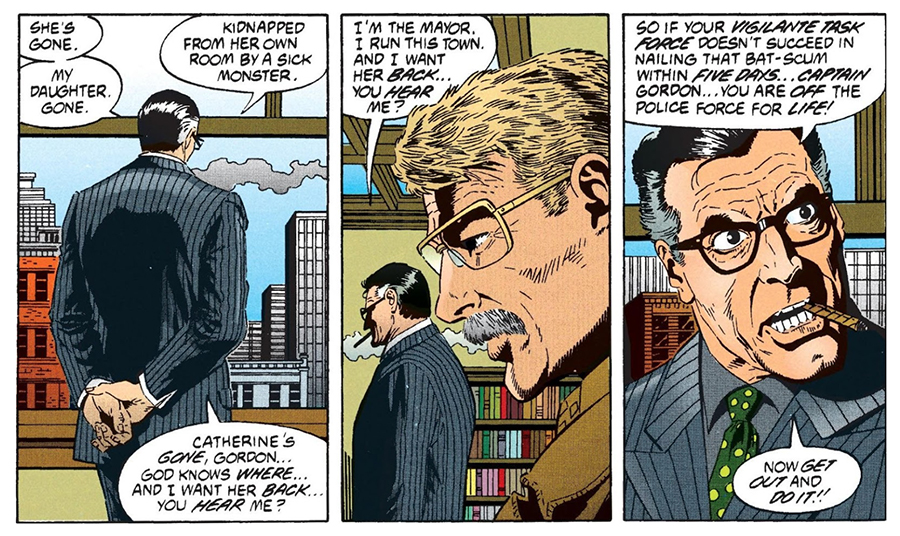 The next classic "Year One"-era mayor is a man named Wilson Klass. He originally formed an anti-vigilante task force to take down Batman in Prey (Legends of the Dark Knight #11-15), but when Batman saved his daughter from Hugo Strange, he directed the GCPD to turn a blind eye to Batman's activities. He is also the named mayor in the summertime Heat (LotDK #83-84) and Infected (LotDK #83-84), and appears to be the mayor in Duty (LotDK #105-106), supposedly a year and a half to two years into Batman's career, as well as Idols (LotDK #80-82), purportedly set in June of Batman's third year.
Confusingly, a number of different men are shown as mayor during Batman's early years. As you'll quickly realize, the level of consistency is not ideal when it comes to Gotham's mayoral office. Due to the volatile nature of Gotham politics, we just have to assume that mayors are recalled, impeached, ousted by scandal, or killed on a near constant basis. We can also assume deputy or vice mayors serve as acting mayor while the true mayor is on leave or indisposed. For Klass, something like this must have happened, because he appears intermittently in office until at least the summer of Year Three.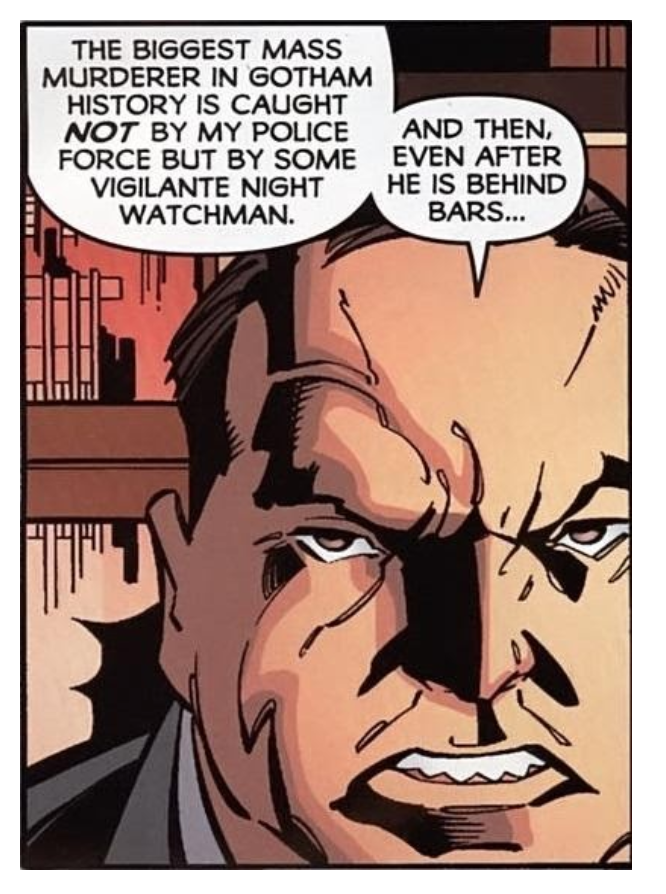 A man named Hill with brown hair was serving as mayor in Batman Confidential #24 when the Joker was first apprehended and sentenced to Arkham. He ran his campaign on a platform of zero tolerance towards crime. We know next to nothing about him, except this is presumably not another Gotham mayor who serves later named Hamilton Hill. Do You Understand These Rights (Batman Confidential #22-25) ostensibly takes place shortly after Prey… maybe Klass took a vacation with his daughter?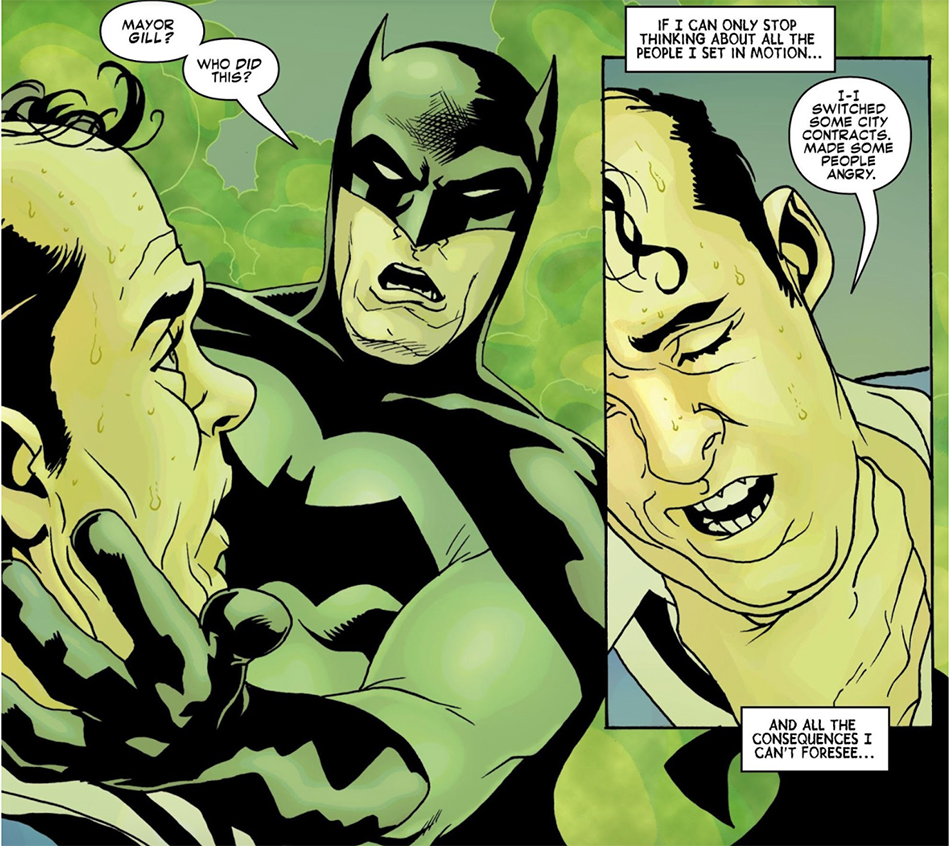 Next, Mayor Gill appears in Irresistible (LotDK #169-171). He's slightly fat and has thinning black hair. After Frank Sharp used his… powers of persuasion (long story) to convince the mayor to switch some city contracts, Gill was kidnapped and rescued by Batman. This story takes place ambiguously early in Batman's career, but Arkham Asylum is open, Batman hasn't started collecting trophies, and Penguin seemingly hasn't started his supervillain career. The story notes that Gill was already mayor when Frank first approaches him during his campaign. Hill is stated to have campaigned as well. Both of these campaigns would've taken place around the same time… so the jury is out. Are Hill and Gill really the same person, despite their slightly different appearances? A man named Hillford Gill perhaps? We may never (definitely won't ever) know.
The next mayor is an unnamed man with white hair and a boil who was in office during the Rudolph Klemper murders and Harvey Dent's earliest days as Two-Face, as shown in Batman Annual #14. This was Two-Face's original post-Crisis origin and served as the basis for The Long Halloween, which pulls several story beats and moments from this comic. However, TLH actually rearranges the dates and sequence of events, changes a bunch of stuff, and doesn't actually reference the Klemper murders. Thus, some people expunge Annual #14 from canon altogether… but if we assume it is canon within the framework of The Long Halloween, then this man was mayor at some point prior to or during the story.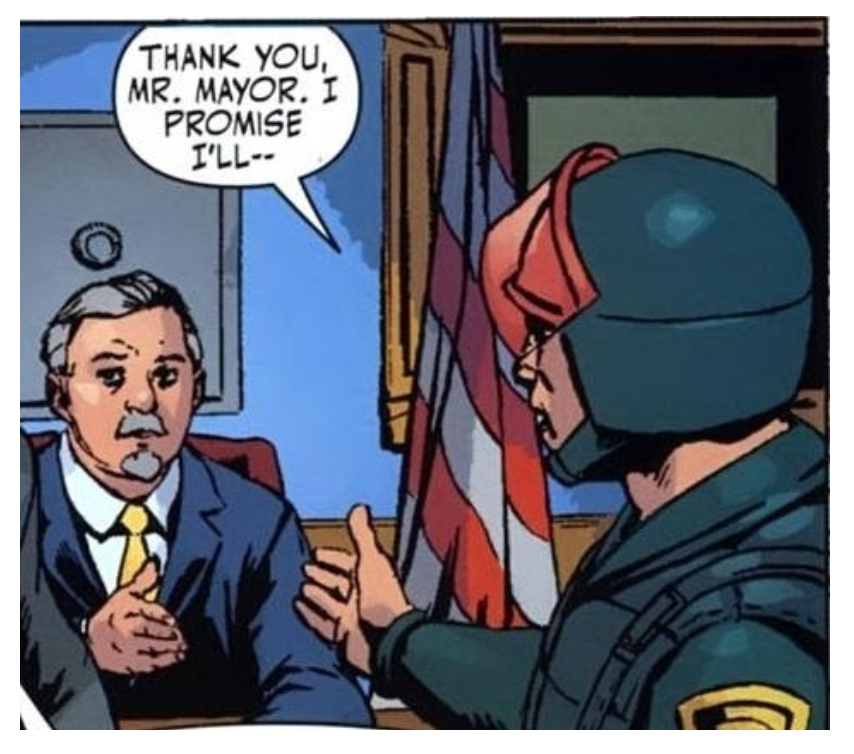 Then, a man named Grogan is mayor in Two-Face: Year One #2, set just prior to Dark Victory. Although it's a continuity nightmare, DC did intend Two-Face: Year One to be canon, and it actually has links to tons of stories (few of which make sense.) This is presumably the same Grogan who was commissioner of police at the end of Year One. Notably, the mayor has brown hair and no facial hair at the beginning of the issue, yet is shown with grey hair and a mustache later on when he is referred to as Grogan. Can DC keep anything straight?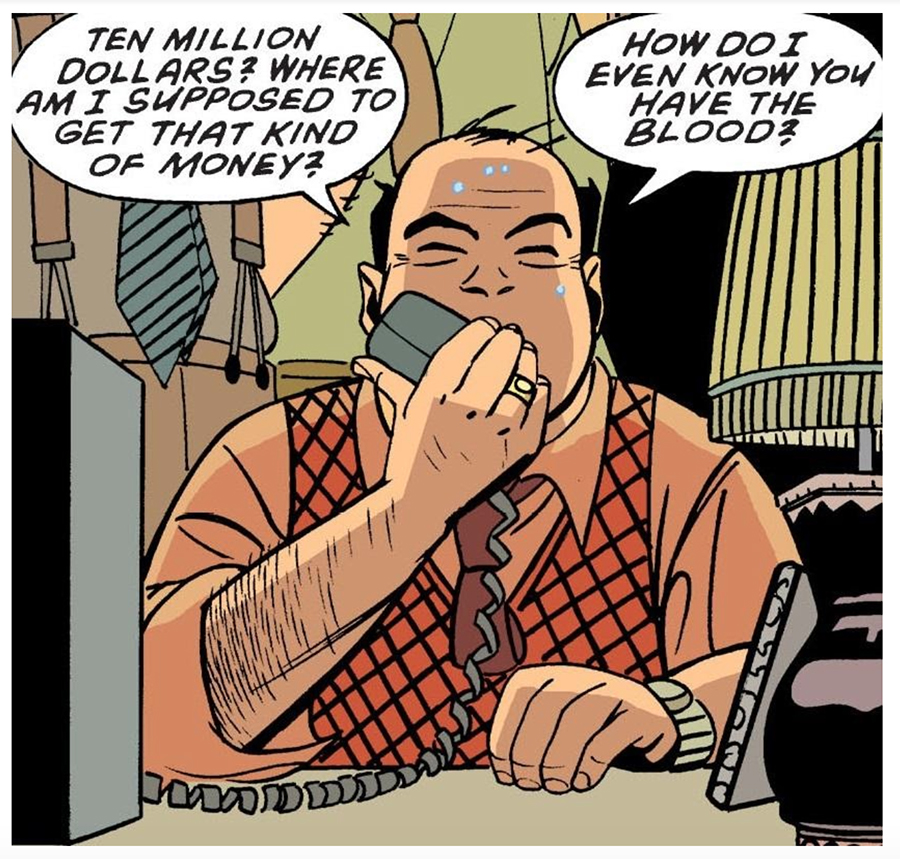 A slightly fat mayor with thinning black hair (he kinda looks like Gill?) argues with Mr. Freeze over the phone in Robin: Year One #3.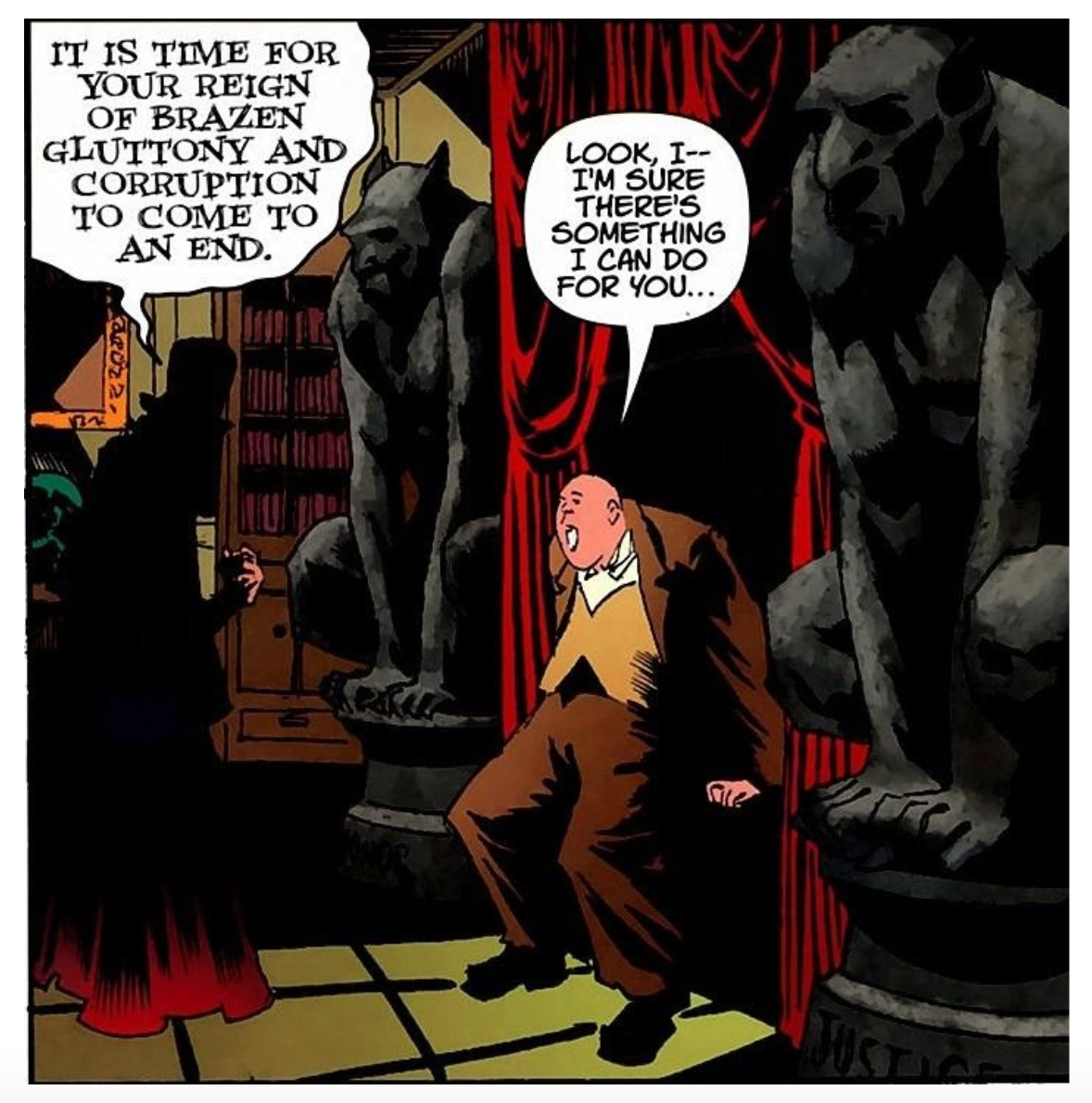 A fat, bald mayor is killed by Midnight in Batman: Gotham After Midnight #7. The chronology of these stories is up for debate. If Gotham After Midnight immediately follows Dark Victory, then the Midnight mayor (killed shortly after Halloween) probably precedes the Robin Year One mayor. However, if you place Gotham After Midnight sometime later (it's been "months" since the Creeper's debut, traditionally a post-Robin character; Green Arrow seemingly knows Batman's identity; Jim Gordon is implied to be single) then his time in office would be afterwards.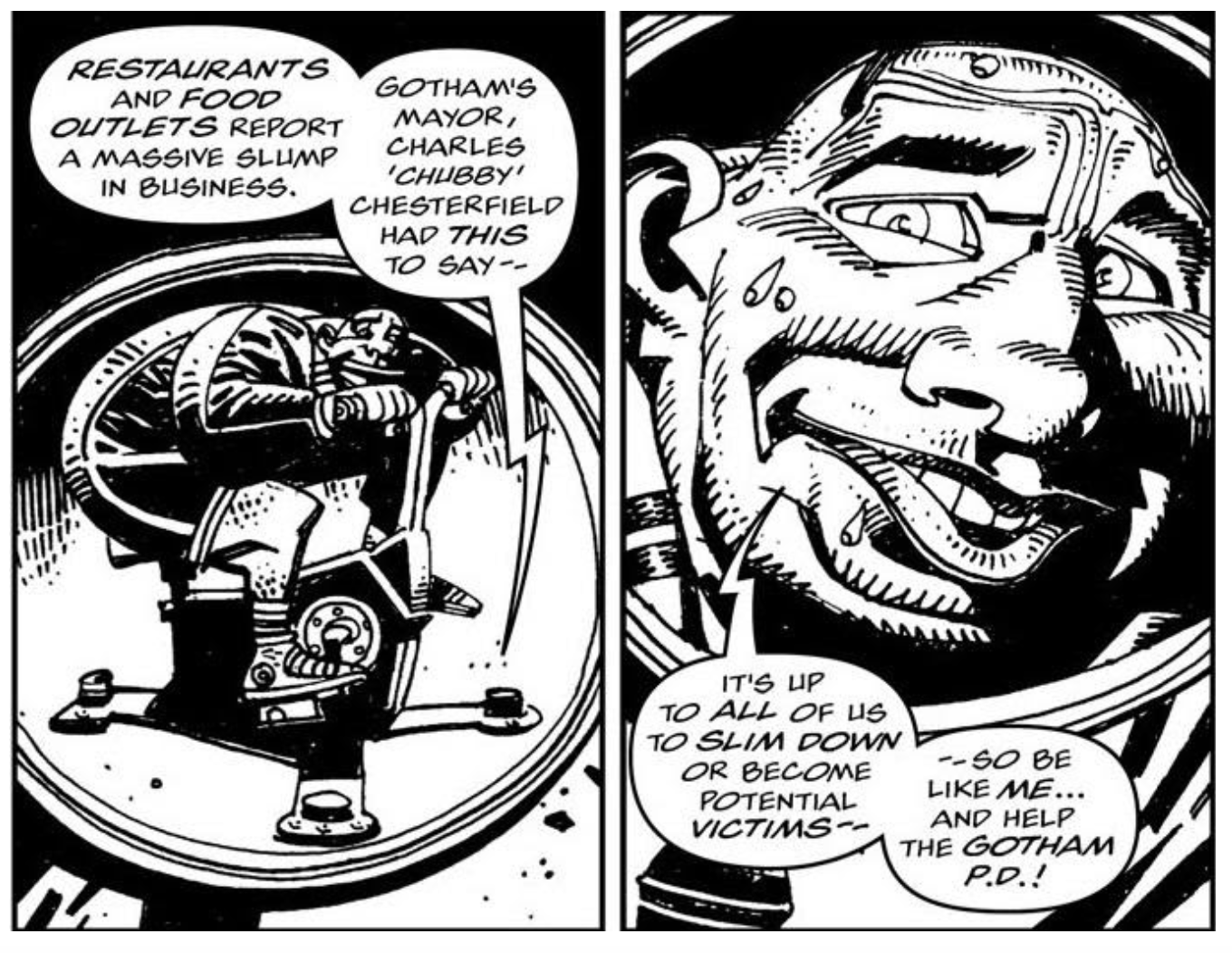 I'll close out this post with a mayor that Collin doesn't consider canon, but what the hell. In Fat City (Gotham Knights #18) a construction worker drops his lamp in a bucket of grease. It shorts out and causes the grease to become a sentient blob that travels through the sewers and kills people by sucking out their body fat. Mayor Charles "Chubby" Chesterfield actually gets in shape and becomes "Slim" Chesterfield in order to protect himself, encouraging Gotham to do the same. However, the virus ends up killing him anyway, right after he steps out of the shower. Darn! This story takes place after Batman adopts his yellow oval costume, and likely before the mayoral lineage becomes semi-coherent with a man named Hamilton Hill. We'll get to him later.
Phew. That was a lot, but we're not done. Next, we'll take a look at all the mayors in the original Batman comics from 1942 through the '70s! See you soon!