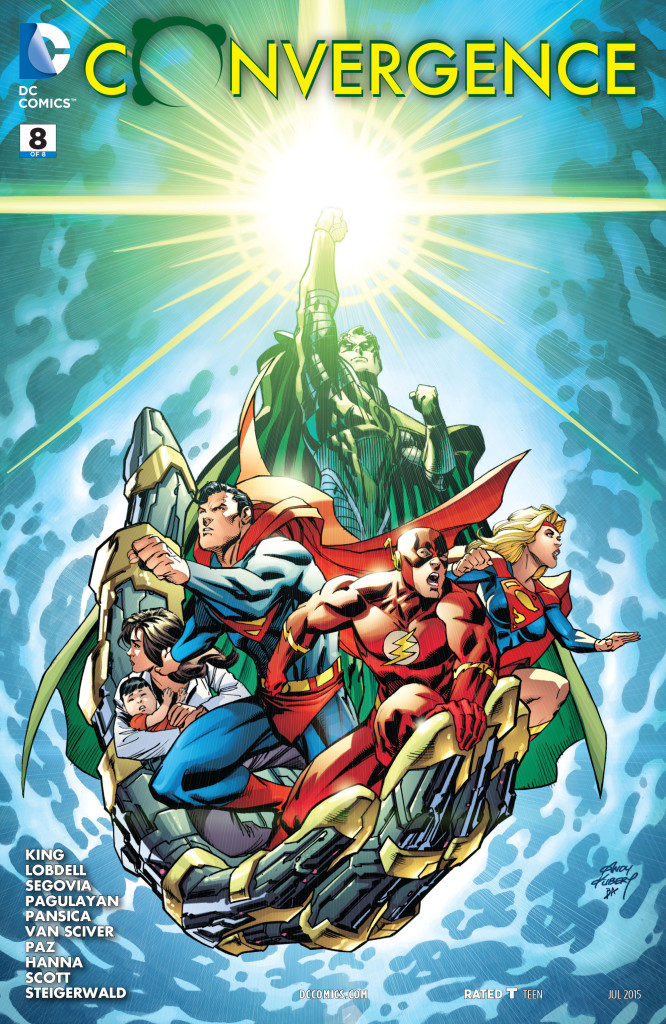 Wow, there has been some BAD internet reporting on the final issue of Convergence. How anyone read issue #8 and thought that all of the old characters from previous continuities are now fair game to use and write about moving forward is beyond me. How any reporters read issue #8 and thought that Silver and Modern Age characters would now be apart of the upcoming DC line is just plain nuts. (Plus, there are plenty of non-continuity books—especially digital-first stuff—that allows for such tales to be told anyway, so why have a freak-out even if it were true.) Below is a literal synopsis of what happens, but a small caveat noting that there technically are a variety of different ways to read this issue. Things are extremely unclear (deliberate or not), but here's my take.
Brainiac wishes to "return to what he was [before Flashpoint]" i.e. a less cancerous/poisoned volatile god dude. In order to do this, Brainiac must save the multiverse, which has cracked wide open and is beyond repair and headed toward death thanks to Telos being turned into a pressure cooker. Saving the multiverse can only be done if Brainiac is able to "channel the temporal energy within Telos and return [all the displaced characters] to [their] homes" i.e. their correct timelines. "It is the only way to reset the multiverse."
However, the original Crisis blocks Brainiac from sending everyone home because it is "too strong. If it is not changed the multiverse will again collapse into one universe." This, I'll admit is a confusing part, but I think that in order for Brainiac to return everyone to their rightful timelines, he has to do it the same way he stole them in the first place, by swimming down time streams from Vanishing Point. Crisis being "too strong" means likely that Brainiac can't slide past it due to its massively important chronal impact, which prevents Brainiac from properly returning everyone home where they belong. Pre-Crisis Flash and Supergirl respond to Brainiac's complaint by saying that they know their fates i.e. that they will die to save the world: "If this is the only way to restore the multiverse and save everyone, we'll do it like we did it before." This means that Flash and Supergirl understand Brainiac to mean that they must go back and repeat their actions—fighting to the death to preserve the multiverse. Yes, there is a major retcon at work here. Modern Age Superman (and Lois and his baby) and pre-Zero Hour Parallax Hal Jordan go back and make an impact on the original Crisis. They "prevent the multiverse from collapsing," which basically means that they work from the shadows to ensure the status quo returns in our present. Crisis goes down virtually the same. After all, the multiverse wasn't really destroyed during the original Crisis anyway. Convergence is simply cementing that idea. While everyone was meant to think that Crisis smashed everything into one Earth, from our point of hindsight here in 2015 knowing that Zero Hour, Infinite Crisis, 52, Final Crisis, and Flashpoint would later occur, we know that there always was a multiverse (hidden or not). So what if the original Crisis is now retconned—it doesn't change a thing in the long run.
Brainiac then says, "Many of you will return to your deaths… to worlds with no tomorrow." (Everyone that he has taken, if they go back home, will return to a doomed timeline.)
Modern Age Superman then says, "Don't send us back to our timeline. Send us with them, Brainiac."
Brainiac explains, "You must go back to the first Crisis and prevent the collapse of the multiverse. THEN EVERYTHING WILL RESET AND RETURN TO WHAT IT WAS BEFORE I BROUGHT YOU ALL HERE." Return to what it was before I brought you all here—this means return to the status quo right before the cities were stolen, essentially rendering Convergence down to a tiny blip of little consequence on each timeline. (The real question here is DOES WHAT HAPPENED UNDER THE DOME STAY CANON? Sure it's just a blip on the radar, but it was a full year spent outside of time and space. For these characters a year of STUFF happened, and some of it pretty damn huge. Superman and Lois having a baby, Nightwing and Oracle getting hitched, Golden Age Robin becoming Batman, several important villains and heroes getting killed, etc… )
The next double splash shows the old pre-Crisis, pre-Zero Hour, and pre-Flashpoint versions of various Earths and their returned status-quo Multiversity Map equivalents for the New Age/New 52/DC You. "EACH WORLD HAS EVOLVED BUT THEY ALL EXIST." And Brainiac is restored on Earth-0. The versions from old timelines that we've been shown in Convergence are ghosted-out. Gone bye bye. Long live the Multiversity Map. Long live the DC You.
Why anyone would want the characters from old continuities returning into the fold makes little sense. Talk about what a clusterfuck that would be. Enjoy your old comics! Show your protest by not purchasing new books if you don't like them! The 52 Earths of the current Multiverse (i.e. the ones from the Multiversity Map) have been reinforced by Convergence. You won't see a Golden, Silver, or Modern Age Superman again. Sorry, fans.
This is Tom King telling us that the new 52 Earths from the Multiversity Map represent everything from the old DC of yesteryear. He's essentially saying that if you liked all of the great stuff that DC had to offer you in the past 75 years prior to the New 52 reboot, then don't worry because everything that is new reflects the ghosts of the old continuities. They are truly dead, but what remains holds their spirit in new "hip" ultra-paneled costumage and hopefully-not-too-grim-n-gritty attitude. Whether we buy into that or not is a different story all together. A very different story.