Insert Clayface onto the list of "bad childhood Bat villains."

But I'm beyond over this "bad childhood bad-guy" bunk, so let's move on.
Do we have a possible game changer (from a chronologistical perspective) in Forever Evil: ARGUS #1?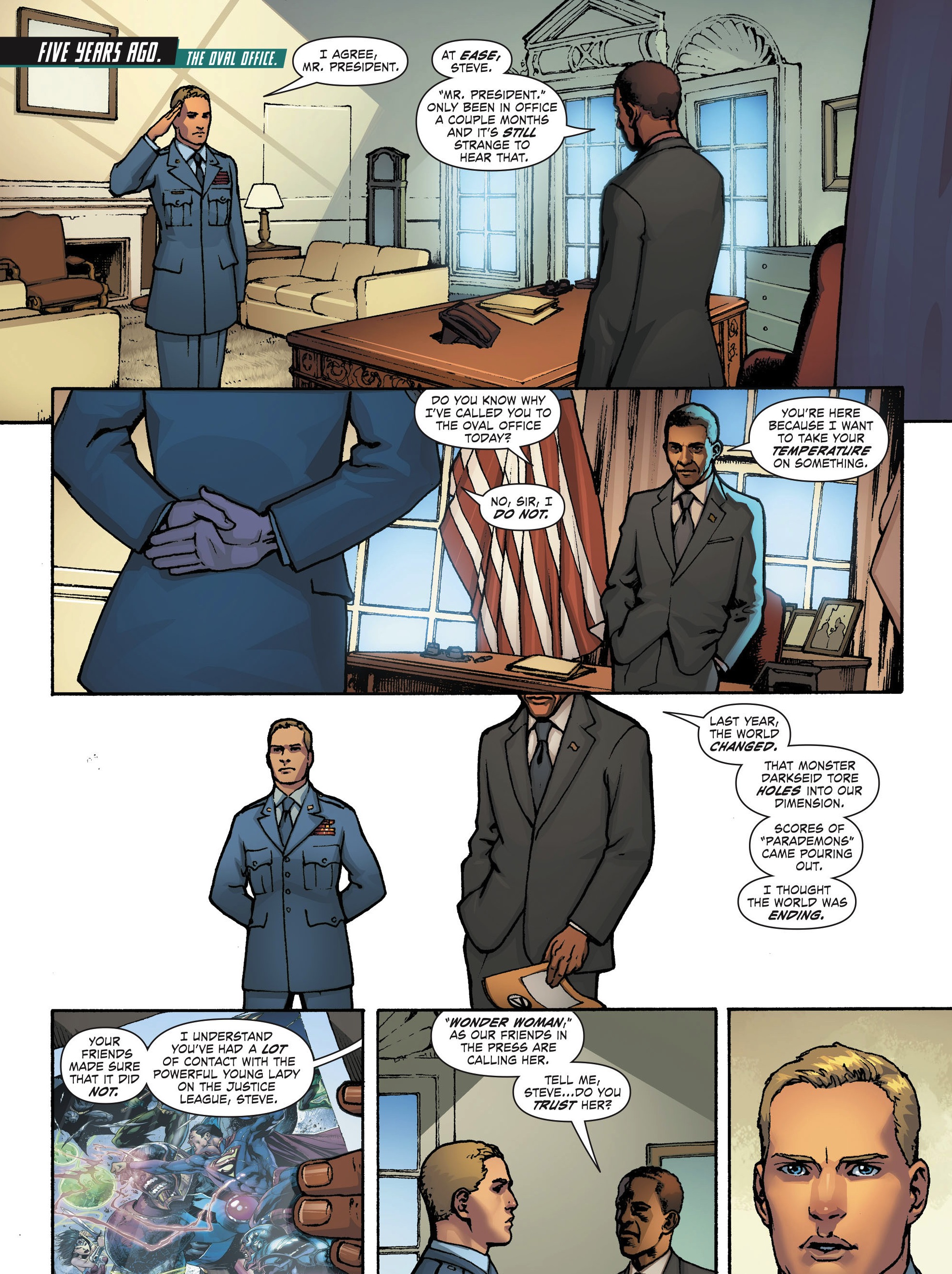 The whole "five years ago" "six years ago" thing has been a clusterfuck from day one. YEARS AGO from when? What if DC has been dialing back from a set point the whole time, but we haven't reached it yet or it simply hasn't been revealed yet?
Take the above scene for example. This is recently inaugurated President Barack Obama, not some analogue or fictional generic prez dressed up to look like Obama by a wily artist; this is the Barack Obama, as specifically named in other DC books, notably by Geoff Johns himself in Green Lantern. Granted, this is still the DCU, so things don't have to perfectly mirror the real world, but I submit that writer Sterling Gates wouldn't overcomplicate things just for the sake of doing so—I submit that Gates is writing this scene with a firm historical reference in mind i.e. to be, as he explicitly says, occurring "a couple months into Obama's presidency," meaning roughly around March 2009. If true, this means that when Obama says that Darkseid attacked Earth "last year" then the Prez means 2008.
But damn it if I didn't have the Darkseid attack (and JL response to said attack) as occurring earlier than that! I originally took the "5 years ago" from JL #1 to mean "5 years before the 2011 reboot" aka 2006. Then I realized the "5 years ago" label from JL #1 actually meant "5 years before the series caught up to the present in JL #7" aka 2007. But if 2008 is when Darkseid attacked then does "5 years ago" mean "5 years before whatever happens when Forever Evil ends"? And if that's the case, does that mean we (the ENTIRE Internet) have been misreading the "5 years ago" labels?
But let's focus on Batman for a moment, shall we? It's now possible that the JL debuts in 2008 thanks to Forever Evil: ARGUS #1. But let's say Obama's dialogue is just a bunch of non-formal approximations and the JL debut should be in 2007 instead (if not for the simple sake of keeping our chronology intact as is for now). It's possible, no? Either way, it gives me a sneaking, shuddering suspicion that Batman's 1st and 2nd years should maybe be mashed together into a single year. We've always been led to believe that Superman came six months to a year before the JL and that Batman came six months to a year before Superman, right? What do you think? Are there some heavy changes that have to be made?
It's definitely still a clusterfuck, I'll tell ya. The "five years ago" Obama/ARGUS scene above is definitely happening in early 2009, which means that it is occurring "five years before the conclusion of Forever Evil" (OR "five years before what follows" OR "five years before the conclusion of the six-issue Forever Evil: ARGUS series that will conclude in 2014″). What does that all mean? It means that whatever (whenever?) DC editorial is using as its chronal axis-point for all of these silly temporal labels cannot be one single point. (If it were a fixed point at 2014, then the Darkseid attack would also take place in 2009, but we know that is occurs at least a year before the Obama/ARGUS scene)!
The clusterfuckery of this time game that DC is playing is akin to, or at least reminds me of, the Zero Hour game of chutes-and-ladders that DC dabbled in back in 1994-2001 where the timeline was always leading up to the current moment, sliding constantly to keep itself "fresh and new." Add a bit of the "grim" and a bit of the "gritty" and you've got yourself a recipe for disaster. But seriously though, what do y'all think!?