And without further adieu, Collin Colsher's TOP FIFTEEN PRINT COMICS OF 2015. Hope you agree! (Click here for the HONORABLE MENTIONS.)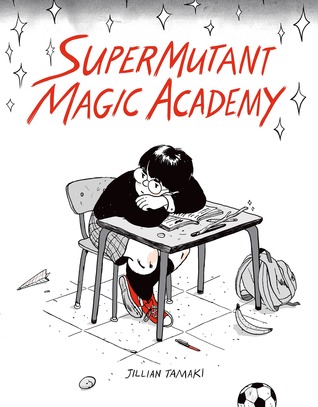 15. SuperMutant Magic Academy by Jillian Tamaki (DRAWN & QUARTERLY)
Jillian Tamaki was a part of arguably the best comic of 2014, This One Summer. So it should come as no surprise that she's back again in 2015. SuperMutant Magic Academy is hilarious and beautifully illustrated, telling the tale of a weird alternate version of a mashed-up Hogwarts-meets-Charles Xavier School. Tamaki is an excellent writer. If you aren't paying attention as you read—because it's easy to smile and laugh and get carried away in the non-sequitur humor strips of each page—you'll miss the most amazing world being built and you'll miss one of the tightest narrative continuities of the year. This is like the Adventure Time of comics (…well, besides the preexisting Adventure Time comics already out there)! Tamaki's character development is second to none. Her motley bunch of teens are filled with life. She has essentially created an even more charming version of Gotham Academy (with way more heart), which is hard to do since Gotham Academy is one of DC's best of 2015 for sure. And Marvel could do wonders putting this type of writing on a teen X-Men book of some sort. SuperMutant Magic Academy is a very moving, inspiring graphic novel that shouldn't be missed!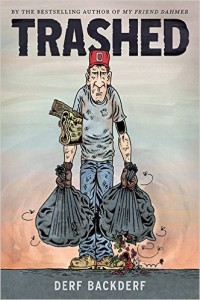 14. Trashed by Derf Backderf (HARRY N ABRAMS PUBLISHING)
Derf Backderf is something of a cross between R Crumb, Harvey Pekar, and Peter Bagge—in other words, a true great in the comic book field when it comes to both gorgeous art and superb writing. Trashed is a rare insider look into the fascinating world of sanitation workers. It also doubles as a warning/social activist/environmentalist message, history text, and twenty-something coming-of-age gross-out story. You won't be able to put this book down once you pick it up and you'll never look at trash the same way again.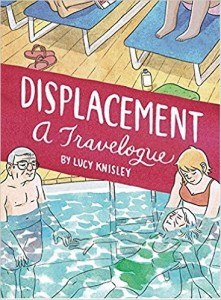 13. Displacement: A Travelogue by Lucy Knisley (FANTAGRAPHICS)
Typically, graphic memoirs, autobiographies, and travelogues aren't my cup of tea. However, the delightfully charming Displacement offers those things and so much more, and presented in a way that moved me to a place I didn't think possible while engaged in the genre. Lucy Knisley combines a very personal chronicle of a trip on a cruise accompanied by elderly grandparents with imaginative renderings of her grandfather's WWII journal to create one of the best of 2015. Her enchanting art—rendering all scenes with vivid color, detail, and allure—moves the story along at a flowing pace, all the while offering us insight into an interesting mind. Knisley truthfully (and boldly) explores what is like to interact with older family members, which gives us a chance to see into her soul, in a way. The complexity of growing old is profoundly examined, and even a cynic like me found myself questioning my own beliefs. A very powerful work—one that will make you really reflect—by an extremely talented author. To speak more about Knisley's art: It is charming and lively, light-hearted yet somber all at once. There is a certain wild passion and love in this book, but with the calm steady hand of a much more seasoned creator. Knisley is very self-aware not just in the narrative delivery, but in how she constructs panels and conveys information visually as well. Like my other choices made for my Top Fifteen, this is a powerful book in both story and illustration. A+ material here. So much self-reflection, heart, and honesty.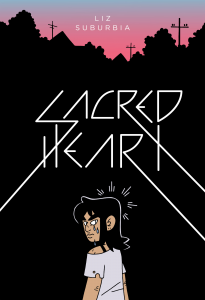 12. Sacred Heart by Liz Suburbia (FANTAGRAPHICS BOOKS)
A debut graphic novel this powerful demands attention. And thankfully, Liz Suburbia is getting what's due. With a very striking story that often leaves you dumbfounded, Suburbia does double duty with narrative and art, stylishly delivering a queer-punk coming of age tale but with a much, much darker and extreme edge. Her illustration is unique and gorgeous to boot—maybe the best overall art of the year.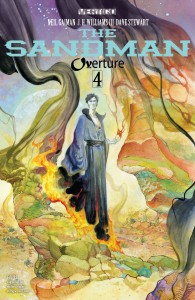 11. The Sandman: Overture by Neil Gaiman/JH Williams III/Dave Stewart (DC/VERTIGO)
Simply stunning. Gaiman is still the master storyteller and The Sandman is his gift and legacy to comics. Not only do the old issues of Sandman still hold up, this new title—a prequel no less—is a bold and exciting addition to the mythos. Combined with Williams' innovate and psychedelic layouts and lush, dramatic illustration, Overture is the perfect intro (and conclusion) to the long epic of Morpheus. This narrative ouroboros left me with a big fat smile on my face, which only returns when I think of the tale right now. We'll miss you Sandman, although, I guess, when dealing with the King of Stories, there are always more dreams to invent. I certainly wouldn't mind more like this.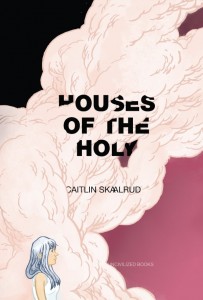 10. Houses of the Holy by Caitlin Skaalrud (UNCIVILIZED BOOKS)
Small publisher Uncivilized Books had a lovely little year and Houses of the Holy was one of its best. Caitlin Skaalrud has created a visceral and commanding work—part fairy tale adventure, part exploration of the human psyche at its lowest emotional valley, Houses of the Holy operates on several narrative levels. It is cryptically poetic and slightly freeform, but at the same time it is cohesively linear, containing a strong sense of continuity, which ultimately explains the path our protagonist has walked throughout the story. The mise-en-scène in Skaalrud's novel is littered with illustrative detail. Almost every page contains its own self-contained portrait, shaping Houses of the Holy into a truly incredible tour-de-force full of wonder, occult images, and heart-breaking sadness. There is a Charles Burns nature to Skaalrud's grotesque imagery, but her's is more metaphysical and mystical—more esoteric. The black-and-white on newsprint paper help add to the nightmarish quality of Houses of the Holy, making much of it a cross between a Henry Fuseli painting and a witch's spell-book. And Skaalrud's main character (there is only really one) has a Burns-esque style to her design, but with a sort of manga twist, further strengthening the idea of the bizarre, fantastic journey. There is an undeniable power in this book.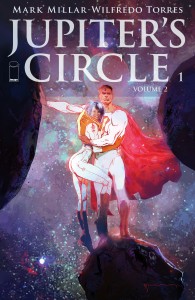 9. Jupiter's Circle Vol. 2 by Mark Millar/Wilfredo Torres (IMAGE)
Would you believe another amazing prequel!? The daring follow-up to the already daring Jupiter's Legacy—maybe actually less of a prequel and more of an extended flashback—was another Mark Millar success this past year. Again, no one dares attempt superhero stories quite like this—applying socialist commentary and real world scenarios to the superhero genre. There is political intrigue, historical fiction, racial tension, and much, much more in Jupiter's Circle. This is how the abysmal Watchmen prequels should have been handled. With Torres picking up nicely where Frank Quitely left off with drawing duty, Millar weaves a tale in which we see heroes go out of their comfort zone to affect real change in society. You'll never see Superman, Batman, or Captain America do what these characters do (even if you long for it every time you go into the comic shop on Wednesday). Picture the 1965 Watts Riots in LA, to use one of Millar's examples. No author would ever put a mainstream hero on those streets of turmoil and have said hero fight against the real baddies. But Millar does it, having a Superman stand-in stand side-by-side with African Americans to oppose a corrupt, violent, and oppressive LAPD. (Millar has a more contemporary Superman stand-in take down Boko Haram in his other wonderful title of 2015, Huck.) There are strong sociopolitical and socioeconomic messages being delivered here and Millar never shies away from the lectern. And this is in SUPERHERO COMICS no less! Superhero writers should take notice—it wouldn't be a bad idea for DC and Marvel to emulate some of the ideas occurring here (and in Huck as well). Jupiter's Legacy is a refreshing series that shouldn't be missed.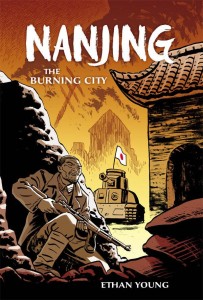 8. Nanjing: The Burning City by Ethan Young (DARK HORSE)
War truly is hell. Nanjing: Burning City captures the true brutality and futility of war very dramatically yet realistically. With a slick combination of amazing art, wonderful lettering, and flair for storytelling, Ethan Young is perfect, detailing a terrible period in the history of humanity. The story of Nanjing during the 2nd Sino-Japanese War is a real-life holocaust, and Young captures the dour spirit of that tragedy by sculpting the ultimate tragedy via daring pull-no-punches sequential art. The complexity shown in Nanjing's narrative is unbelievably Shakespearean. You feel the loss and the pain of the soldiers and non-combatants in the beleaguered city of Nanjing, shortly before WWII. The moral dilemmas are evident and weigh heavily on multiple characters' sleeves. And the layouts are gorgeous and impeccably thought-out. There are gut-wrenching moments of calm before the horrific storm, ghostly panels of silence that allow for reflection and contemplation. Nanjing is a definite book of the year candidate that should be on everyone's Top Ten list. So striking—it floored me and left me feeling a sense of deep loss. It's not often you interact with media and walk away feeling that affected. Young has done something heartbreakingly special here. His art is second-to-none. The stark contrasts and detail in every frame and panel create a living, breathing environment of terror. The layouts are exquisite. With subject matter such as this, the pencils and inks had to match it in order to give the story the justice it so rightly deserves. There is a classic style, yet with modern flair, with which Young deftly weaves the dire tale of Nanjing. Definitely some of the best (and most sophisticated) illustration of the year, hands down.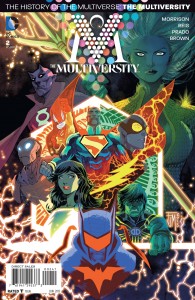 7. The Multiversity by Grant Morrison et al (DC)
Grant Morrison and a team of the industry's best artists continued telling DC's best superhero story of the year. Picking up from what was without-a-doubt the best single-issue of 2014 ("Pax Americana"), The Multiversity drew to its epic conclusion. Only Morrison does superhero comics like this. Only Morrison does comics like this. Period. The meta-nature of this story is so over-the-top and out-of-this-world, it is almost hard to process let alone explain. It simply has to be experienced. When you (the reader) become one of the main characters in the story and that same story somehow also fits into the stringent continuity of a mainstream superhero multiverse—while also DETAILING A MAP OF THAT MULTIVERSE AND SETTING FORTH SPECIFIC RULES REGARDING THAT MULTIVERSE—then you've cultivated a once in a lifetime achievement. I truly believe that The Multiversity, along with Morrison's Final Crisis, will go down as one of the all time most-important superhero comics in history. My only wish is that it also becomes one of the most influential as well. Unfortunately, few writers (if any) have been able to work in Morrison's league and continue adding to what he has so generously brought into the sandbox.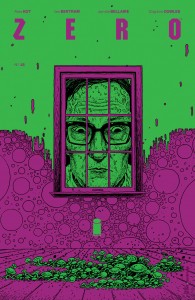 6. Zero by Ales Kot et al (IMAGE)
So many critics loved Material, and there was so much hype for Wolf (which failed to meet its lofty expectations), that they forgot about Zero! The amazing series wrapped up with its final seven issues in 2015, and damn were they good. Highly ambitious (even for a Kot book) and powerfully provocative, Zero's sci-fi-spy-thriller-meets-beat-poet-mysticism themes knocked it out of the park in 2015. With a revolving door of top artists—including my personal favorite, the ultra-talented Ian Bertram—Kot was able to relate a lot of weird moods and funnel many challenging ideas into a tight narrative about the nature of violence. Add all of this to the kickass concept of William S Burroughs and Allen Ginsberg as multiversial explorers while tripping on psychotropic drugs? Can't go wrong here.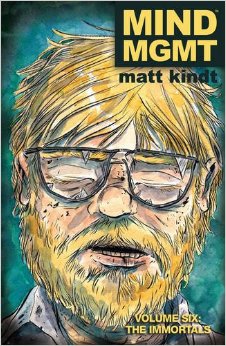 5. Mind MGMT by Matt Kindt (DARK HORSE)
Another long-running series comes to a delightful end. And what glorious meta-conclusion for Matt Kindt's intensely satisfying series. Kindt's watercolors and pencils are to die for and he truly understands how to use the comic book medium to its fullest potential. The big two could do wonders with Kindt's brain power. His complex narrative—mixed with noir, conspiracy, sci-fi spy-trade, superheroism, surrealism, feminism, and much, much more—is the stuff usually only seen in dreams (or nightmares). Mind MGMT builds tension, breaks it, and leaves you awestruck. This series will be sorely missed. Thankfully, I have the trades to devour over and over.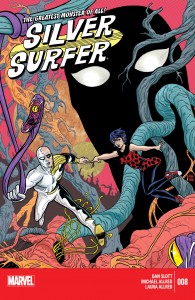 4. Silver Surfer Vol. 7 by Dan Slott/Michael Allred/Laura Allred (MARVEL)
Marvel's best book of the year, two years running. It's a shame that so much attention went to the all-star collaborative Star Wars books, which were heralded as superb but were actually not that great. Ditto for the attention Ms. Marvel received (meh, whatever) and ditto for the attention Secret Wars received (although Secret Wars was pretty dope). But amidst the hype machine that is attached to Disney's House of Ideas, everyone forgot to put Silver Surfer up on the pedestal too! The Moebius strip issue should be on every critic's best single issue of the year shortlist. Not many superhero comics will make you cry (both tears of sadness and joy), but Silver Surfer is the one. Slott's inspired writing channels the stuff of all the great cosmic/space yarn-weavers—Gaiman, Moore, Stan Lee, Jack Kirby, Jim Starlin, Mike Baron, Rick Remender, and more. Norid Radd is basically the new Morpheus—hitting all those same beats with charm and humor and humanity. And the Surfer's galaxy is one that I want to know more about and have fun exploring—much more so than anything seen in other recent Marvel comics. Guardians of the Galaxy? Not so much. Best ice cream in the universe? Yes, please. All this good mentioning and I haven't even gotten to the pure joy that is the Allreds. They are simply the best. You want style in illustration that tops all the rest? This is it. Nuff said.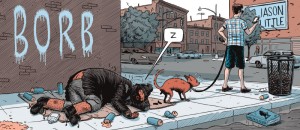 3. BORB by Jason Little (UNCIVILIZED BOOKS)
Jason Little's BORB is a poignant and incredibly sad story of a far-too-often marginalized people: the homeless in America. Gritty and highly detailed, BORB is at times hard to look at—so shocking and ugly that you can't turn away. But unlike its brutal and unforgiving cousin Saint Cole by Ethan Van Sciver, BORB manages to be savagely violent without being insufferably cruel and soul-sucking. And unlike the offensively gory and misogynistic imagery of Josh Simmons' awful Black River, BORB offers similar gore but with meaning, motivation, and a sense of respecting its victim's backstory. The victim, in regard to BORB, is the novel's main character—a destitute African-American homeless man living in a very realistic New York setting. Jason Little, through his protagonist and backdrop, expertly captures what it is like to be poor (and black) in an hard urban environment. However, the realism of the urban setting purposefully does not carry over into the narrative, which quickly swings into hyperbolic situations, detailing the man's life in worst-case-scenario Itchy & Scratchy-esque vignettes. These vignettes give us pause to think: "Is this farce? Or is this a tragedy of reality?" Whether you are moved by this man's tale or whether you are a rubbernecker, BORB grips you by the balls and doesn't let you go until its story has been told, complete with big reveals at the end. Not to mention, the author's own revelation that he was inspired to write BORB after seeing the plight of a homeless man in Brooklyn. Beyond Jason Little's sharp, clean, pen-and-ink illustration, the author is also very aware of form in regard to the shape of BORB—it has a newspaper strip format that is very effective in conveying an old-timey feel. The illustration matches this feeling quite well. Little draws his characters in a 1920s/1930s Sunday funnies style, but the images, of course, are very modern, creating a powerful juxtaposition. Little's lettering—an essential part of comics that is overlooked in most critiques—is very sharp and evocative, giving boldness to the limited choice of text used in the book. Little depicts the world of the homeless, from the perspective of the homeless, and it is through the stylistically simple word balloons and sometimes jumbled text that we are able to see through the eyes of the homeless and empathize with their plight.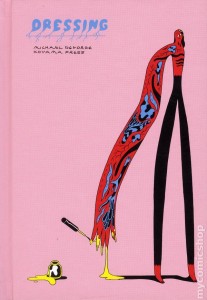 2. Dressing by Michael Deforge (KOYAMA PRESS)
Dressing's complexity in narrative equals its complexity in art, which makes it hard to even describe. The short vignettes capture a dark existential (and often sexual) realm of subconscious, one rarely explored in comic art—and rarely in such bizarre form. This realm that Deforge seems to capture and display so well is one that is often hidden deep within our psyche, almost like acid trip memories or an examination of what it must be like to exist as an alien (from the alien's perspective). Deforge is able to delicately muse about the spectrum of emotions related to the human condition via decidedly paradoxical non-human characters. This is incredibly hard to pull off, yet Deforge does it with relative (and jaw-dropping) ease. He is a chameleon, able to morph into whatever headspace he must in order to convey his message. Dressing's art is gorgeous, a style often attempted in indie "comix" today, but here unmatched. Deforge's visuals tell stories that often contradict the text in inexplicable yet pretty ways. The vibrant mostly-primary colors set an alarming tone and also serve, in some stories, to add to the narrative. Every panel contains so much arresting detail and each could easily be framed and sold as individual prints. These panels come together to form a brilliant tapestry of color, abstract shape, and design. Dressing—with its interstellar language, flirty fish, and erections that last forever—is a truly groundbreaking work, worthy of attention—and one of my overall favorites of 2015.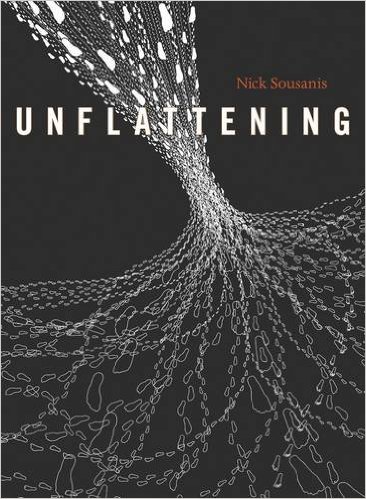 1. Unflattening by Nick Sousanis (Harvard University Press)
A religious experience, a spiritual awakening. These terms can both describe what can happen while reading Unflattening, which is the first ever comic book published by Harvard. This is the story of why comics are important, not just as an art or literary form, but as a way of understanding the world in which we reside. Beyond the philosophical ramifications of this exploration into visual thinking, author Nick Sousanis has created a dense, multi-layered, and domineering successor to Scott McCloud's seminal works, Understanding Comics and Reinventing Comics. Not only that, but Sousanis has also deftly and succinctly taken some of the most heady philosophical, psychological, and scientific concepts—from Arnheim to Bakhtin to Marcuse to Copernicus and a hundred more—and whittled them down into a tapestry that is both unbelievably complex yet easily understandable for the layman. How Sousanis has achieved such a herculean task still escapes my complete grasp, but his expert ability to compartmentalize these ideas and intermix them with his gorgeous art helps his case tremendously. (To actually speak as to how Sousanis pulled off this amazing feat, one should be informed that Sousanis developed Unflattening from his doctoral dissertation for Teachers College Columbia University. Sousanis' concept was to create a "thesis-as-comic." I wish everyone was skilled enough and had the desire, passion, and talent to turn their dissertations into comic books!) There have been several attempts to adapt Edwin Abbot Abbot's Flatland (in literature, film, and TV), but I haven't seen one in comics, nor one so thoughtful and precise. And from that relative starting point, Sousanis takes us on a journey through human history and the human mind. This highly innovative journey is unlike anything I've ever seen. Sousanis' art is meticulously laid-out and beautifully illustrated. The research done for most dissertations usually takes years. Add the time it must have taken to draft, plan-out, and draw that dissertation into a comic book masterpiece—it must have taken quite some time. Because of this fact, something akin to Unflattening will likely never be replicated. Unflattening isn't just informative, a science, philosophy, math, or psychology text, nor is it a re-hashing of "sequential art studies" with the addition of intensive academic research—Unflattening is also a guidebook for life. It is about how we think about the world, see the world, and live in the world. Sousanis wants us to "unflatten," to live, to learn, and to grow as humans. Will I walk the same path after reading this book? Honestly, probably something similar. But I will tell you one thing, I'll definitely take a left turn instead of a right next time I'm walking to work. And my eyes will be wide open, wider than they were before.