Don't forget to read my…
HONORABLE MENTIONS for print comics in 2014…
AND my…
TOP LIST COUNTDOWN for print comics in 2014, BOOKS #24 through #17…
before continuing below.
And in case you missed it, here are my favorite archival/collected/reprinted comics of 2014.
And also, my favorite webcomics of 2014, if you are so inclined.
________________________________________________________________________
Howdy! Welcome to my Top List featuring the best print comics in 2014. I already posted the honorable mentions, and #24 through #17 but now it's time for the TOP 16 of 2014!!! Here are books 16 through 9 (with the countdown eventually leading to my absolute favorite title of the year). The fourth and final part of my list (books 8 through 1) will follow soon. Thanks, enjoy, and leave some comments!
________________________________________________________________________
16. ANDRE THE GIANT: LIFE AND LEGEND by Box Brown (FIRST SECOND)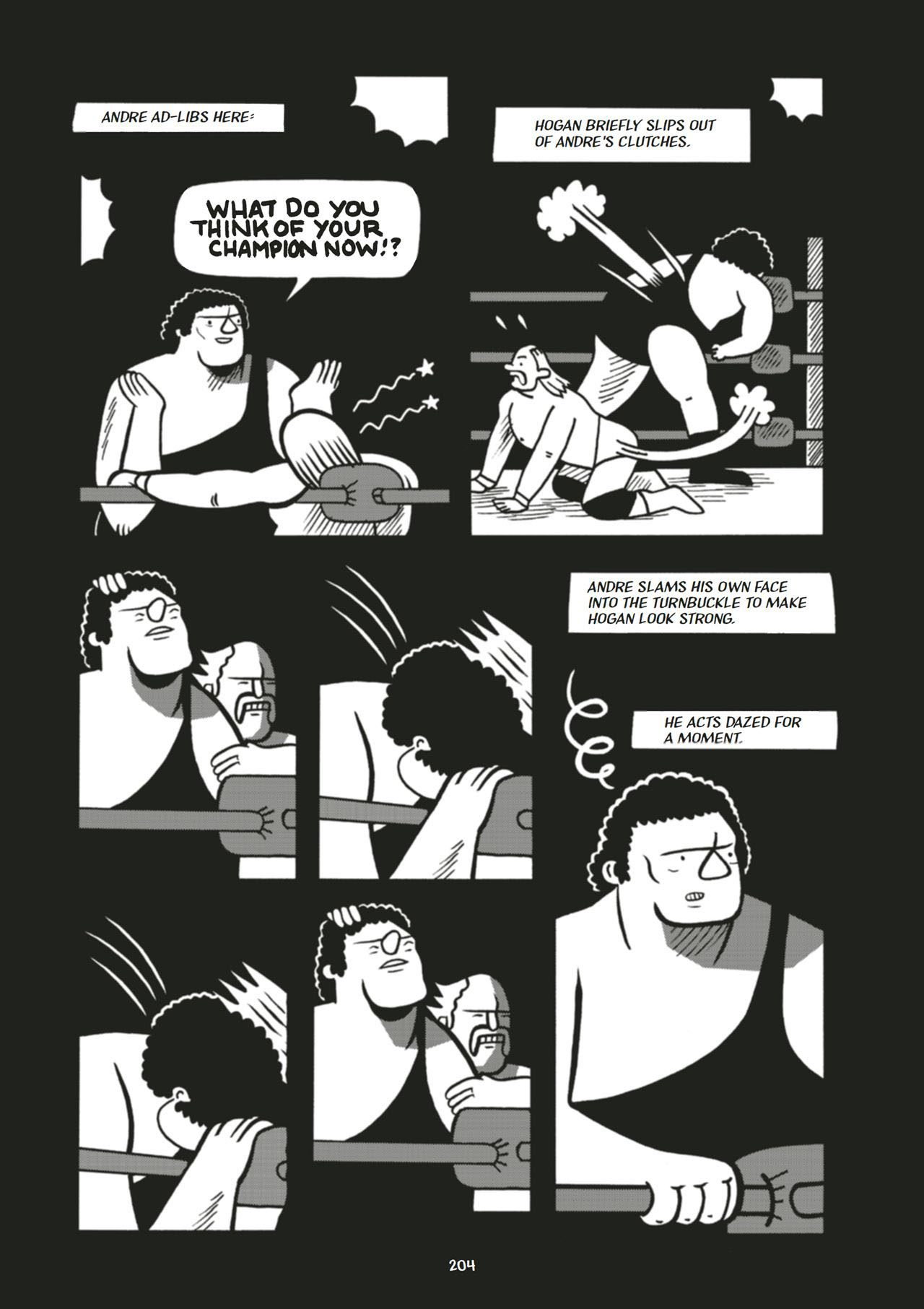 I love pro wrestling. I love everything about it. So, naturally, a bio-comic about Andre the Giant is already right up my alley. And this book delivers in spades. An open examination of the complexity of Andre's adventures, sometimes warmly touching and sometimes painting him in an honest negative light. Where does fact end and fiction begin? It's often hard to tell when a celebrity is larger than life like Andre was, and even more difficult when the giant himself and those around him partook in a career based in performance and a weird mix of deception and hyper-reality. This is a comic I've been dying to see made since I was little and I'm glad that it finally exists. Brown's renditions of classic wrestling heroes and villains are cute in just the right way. When I think of wrestlers, I often think of them as cartoonish caricatures flying around the ring, a sort of macrocosm for what goes on in the pages of your average superhero book. But wrestlers, the art of wrestling, and the backstage politics associated with wrestling, all have an intensely layered depth that most people don't realize exists. Brown touches upon and balances all of this perfectly in his novel.
________________________________________________________________________
15. THE RISE OF AURORA WEST by Paul Pope, JT Petty, & David Rubín (FIRST SECOND)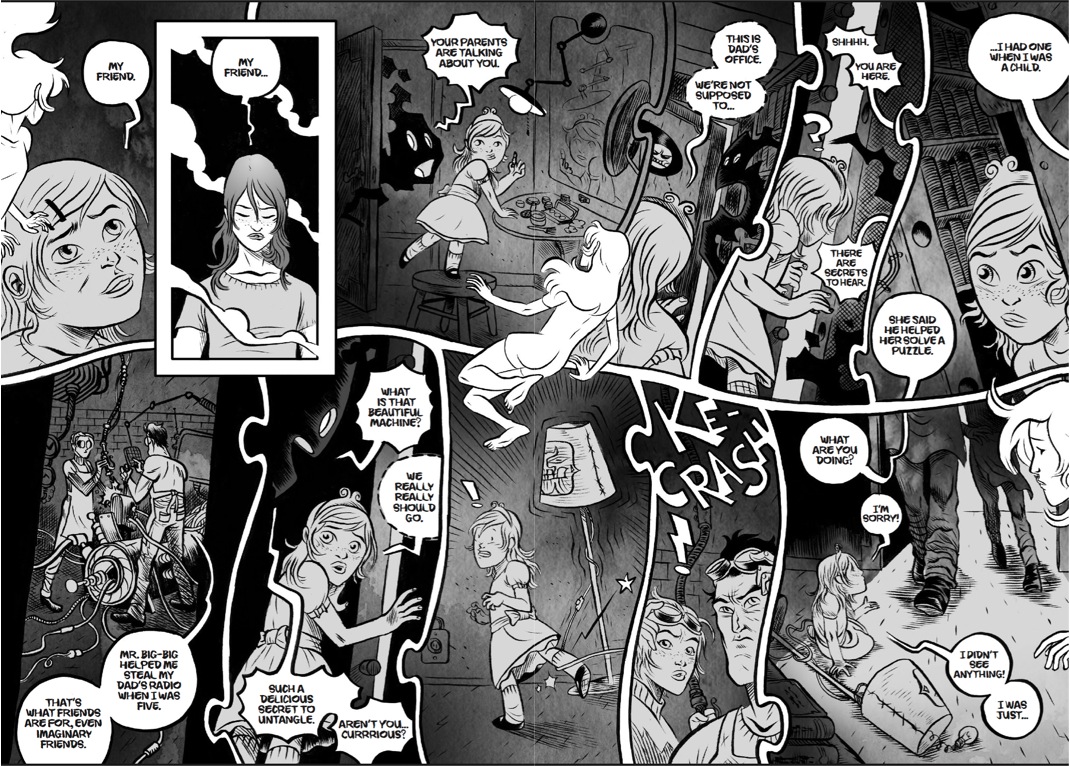 Despite the fact that JT Petty is a personal friend of mine, this entry isn't just a cheap shill for somebody I know. This book would have been on this list even if Dean Koontz wrote it—although it wouldn't have been nearly as good! Plus, Paul Pope—nuff said! Last year's Battling Boy was incredibly dope Pope stuff, some of his best to date. 2014's prequel to Battling Boy contains all of the same elements, but this time in black & white. With kinetic action sequences and elegant, absorbing character-building through graceful and gripping narrative, The Rise of Aurora West is a perfect companion piece to the original work, one that truly enhances the already vivid world of Arcopolis. Prequels are always dangerous territory to tread in (think Star Wars or Psycho IV), but this is exactly how it should be done. I can't wait for the next round.
________________________________________________________________________
14. NEMO: THE ROSES OF BERLIN by Alan Moore & Kevin O'Neill (TOP SHELF)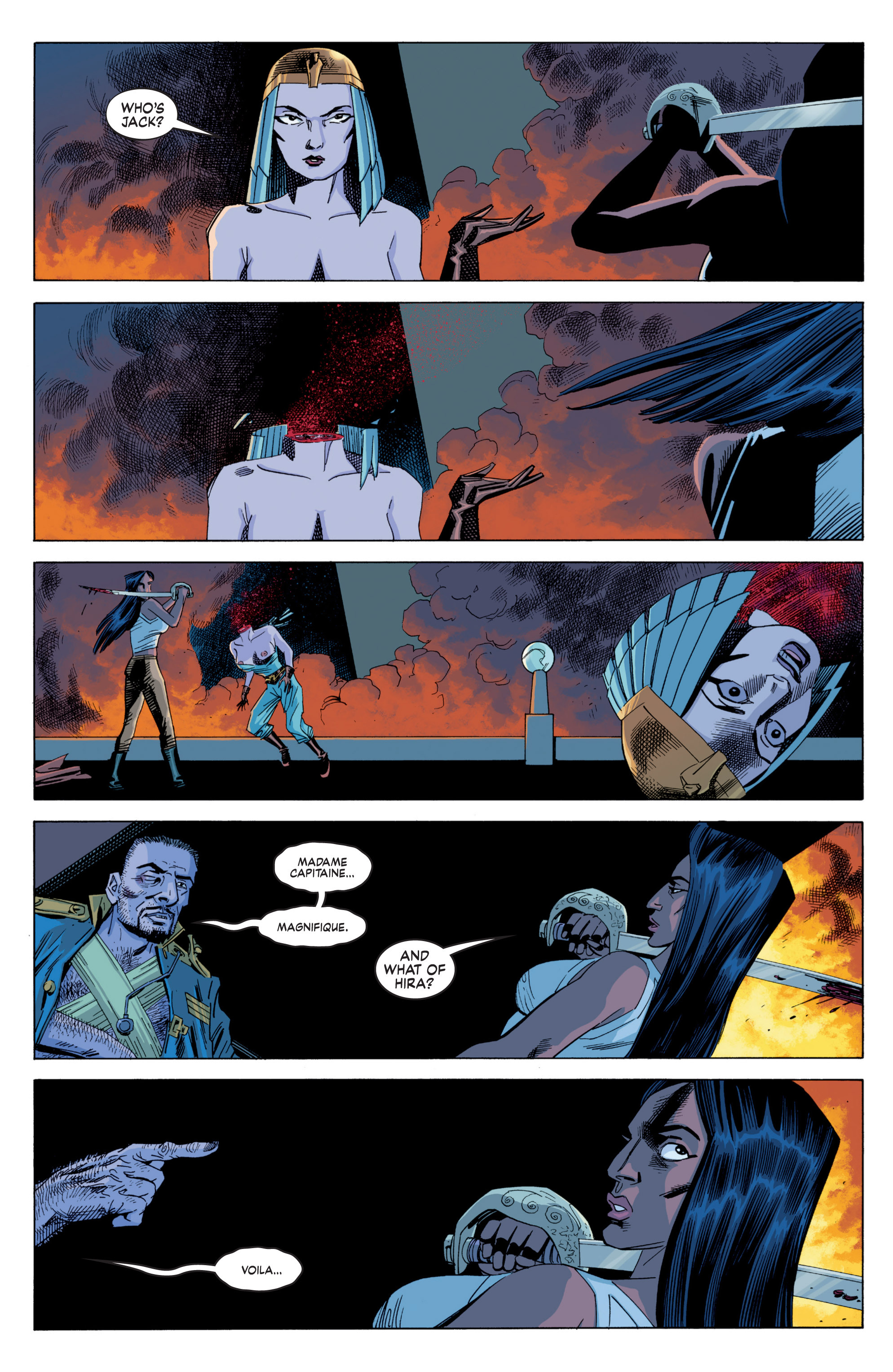 Anytime a new League of Extraordinary Gentlemen book comes out, it is guaranteed to be one of the best of the year. And this is no exception. However, critically, this was probably the least praised of the LOEG titles so far. Is this the weakest of the LOEG books because it has less pop lit references and more film references? Maybe, but it still love it. Also, as a student of film, I kinda dig the slight change. Moore clearly loves Janni Nemo passionately and it shows as we follow her continuing arc into Fritz Lang's Rotwang-constructed version of Metropolis' Berlin, a city controlled by the tyrannical Charlie Chaplin Hitler stand-in Adenoid Hynkel. C'mon just read that last sentence back and tell me this isn't a solid gold premise. Kevin O'Neill's art on this one is a bit more frantic and messy, harkening back to his Marshal Law days a bit, but it works, fitting in with the frenetic pace of the story.
________________________________________________________________________
13. SANDMAN: OVERTURE by Neil Gaiman & JH Williams III (DC/VERTIGO)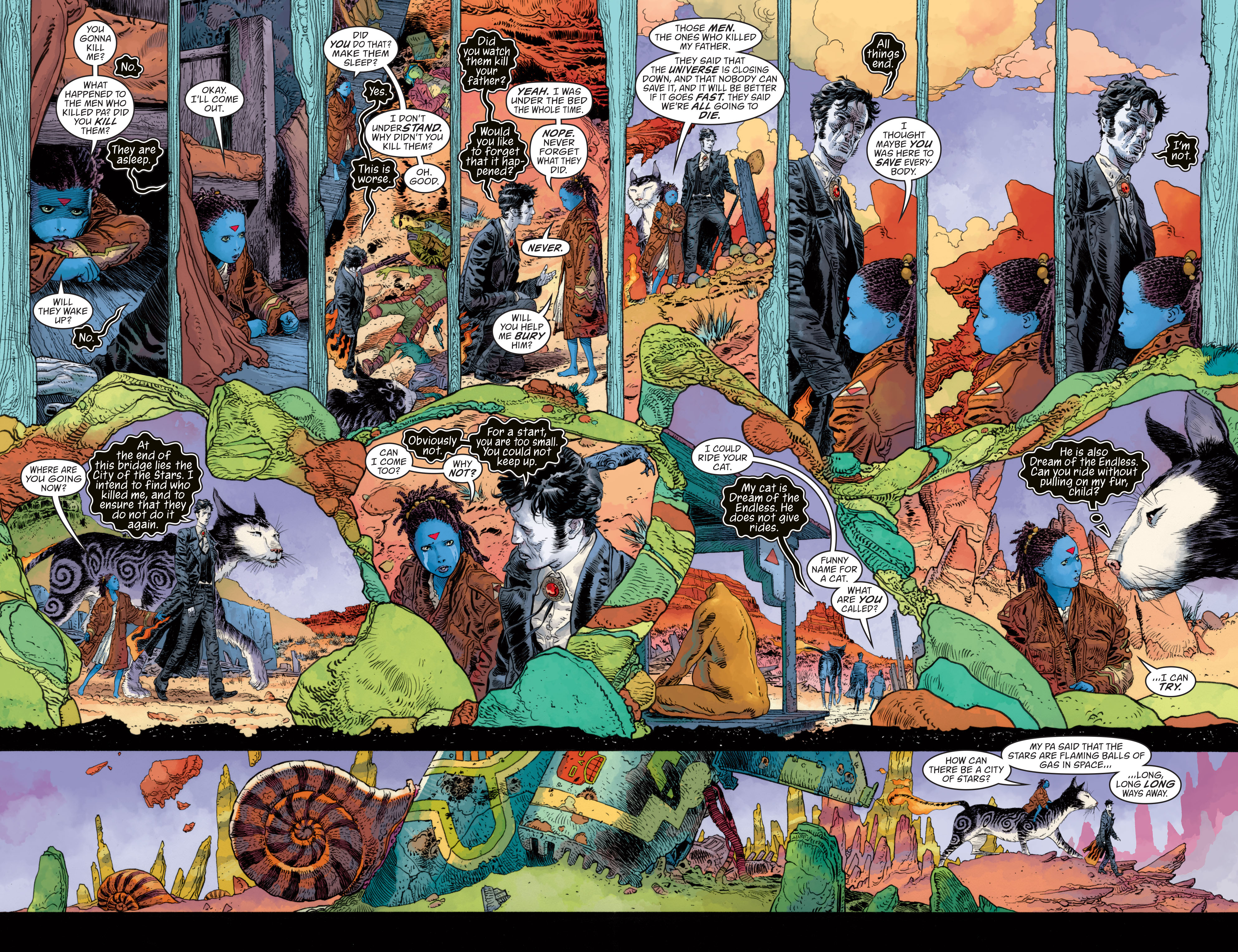 I literally jumped for joy when this title was announced a couple years back. This is another example of a prequel DONE RIGHT. Combine arguably the best comic book story of all time with one of the undeniable masters of the comic book art craft and you have a damn near perfect title on your hands. Slow down the pace of the title to releasing one issue every six months and you lose all of your momentum in a heartbeat. Such is the case with Sandman: Overture. Only two issues came out in 2014! It's a testament to the greatness of Gaiman and Williams, though, that Sandman: Overture still ranks highly on my list anyway. Still in an interesting narrative set-up phase at the moment, I've no doubt that Sandman: Overture will explode and rise in the ranks in 2015.
________________________________________________________________________
12. PROPHET by Brandon Graham, Simon Roy, and various artists (IMAGE)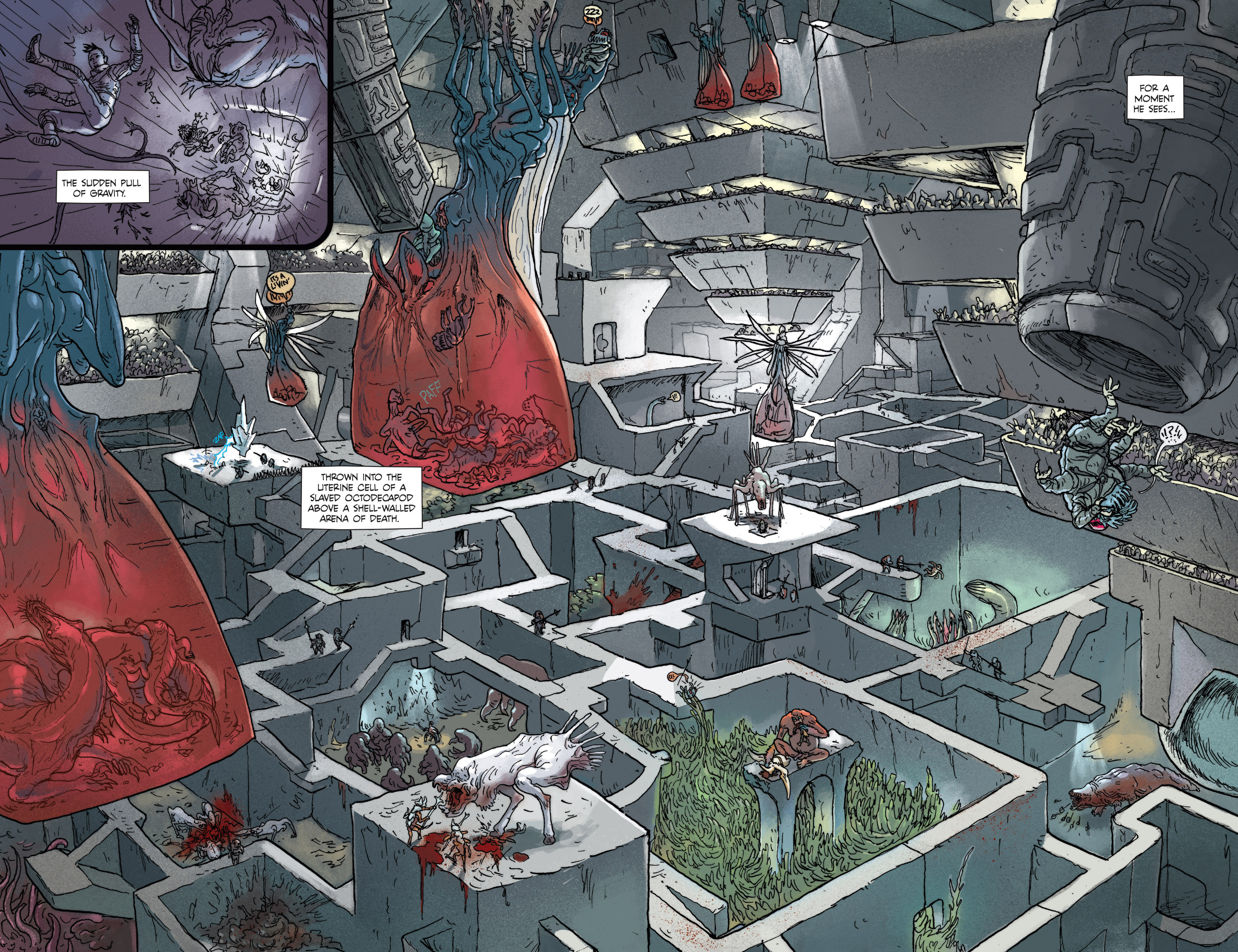 Brandon Graham and Simon Roy's twisted take on a dead Rob Liefeld vehicle from the 90s is consistently one of the most ambitious, complex, and out there concepts in all of comics today. The narrative and visual ideas that come out of this book in regard to future technology, cloning, space-travel, and much, much more are so high-end in their development that they really set the bar for sci-fi writing. This is world-building/universe-building ON ACID. And this is such a visceral book—you don't just read it, you FEEL every gloopy bodily-fluid splatter, vomited-up alien Neonaught fetuses, and squishy inter-species copulation down to your core. The art is overwhelming, mirroring the the insane world in which the Prophets dwell. If any other creative team was attempting to pull off such a wild ride, they probably wouldn't be able to. Three cheers for Graham, Roy, et al. Prophet is fucking solid.
________________________________________________________________________
11. THE GRAVEYARD BOOK by Neil Gaiman & P Craig Russell (HARPER COLLINS)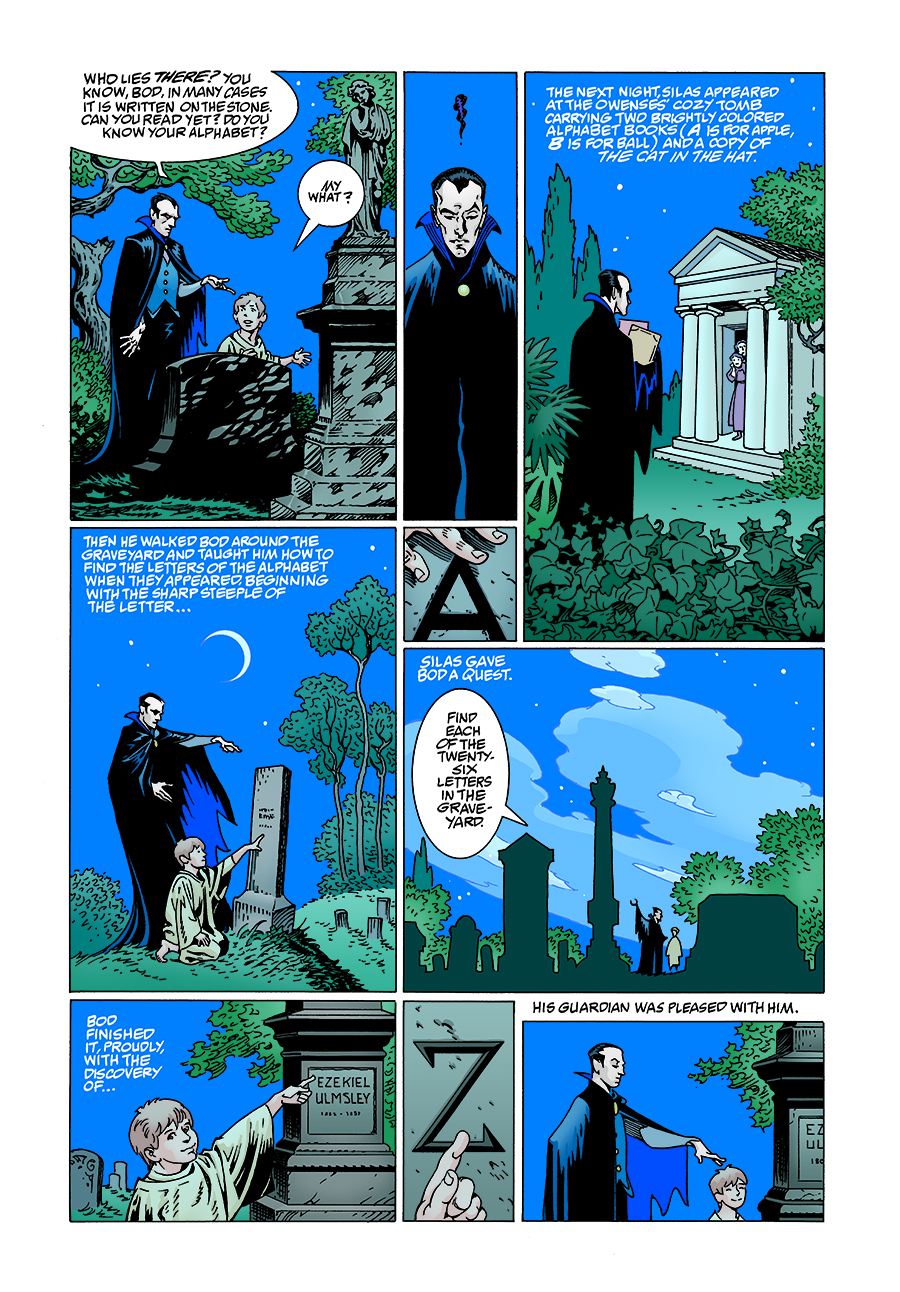 P Craig Russell's latest Opus (yes, he actually calls each of his published works "Opuses") is such a wonderful feast for the eyes. Russell is one of the all time greats in comic book history and we are all lucky that he worked on the illustrative adaptation of Gaiman's best selling Hugo and Locus award winning novel. Gaiman once said of The Graveyard Book novel that he felt it was like Rudyard Kipling in a cemetery. Russell, having already done a version of The Jungle Book before, therefore seems like the right choice for drawing The Graveyard Book. As you can see, the novel was ripe for adaptation and Russell's eye-popping bright colors and neat and expressive pencil style, which he has brought to the table for decades now, fits like a glove, capturing the mystery, spookiness, beauty, and childlike awe of the story. I'm really surprised this isn't on more End of Year Lists. So good.
________________________________________________________________________
10. aama Vol. 2 by Frédérik Peeters (SELF MADE HERO)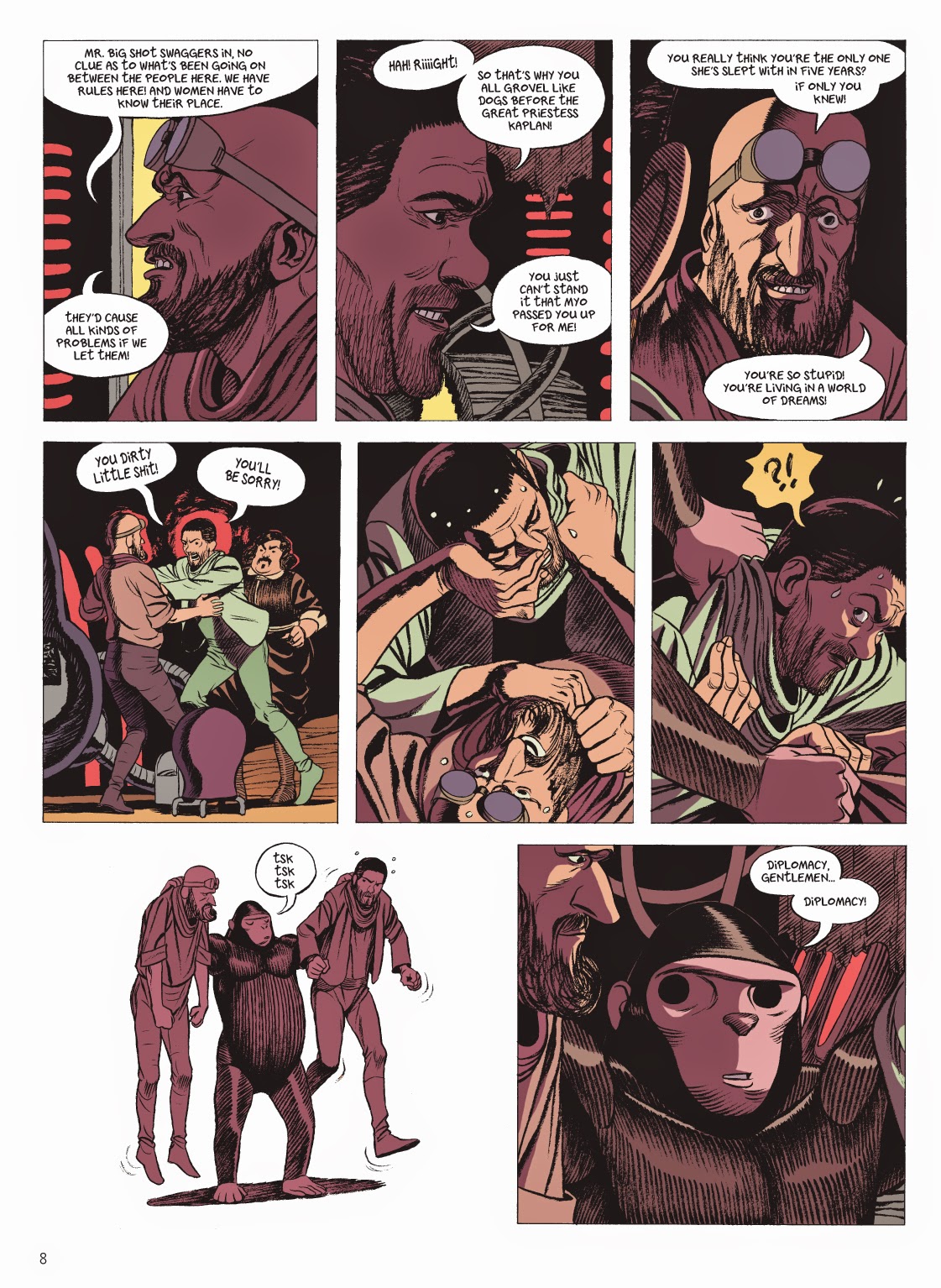 TOP TEN! TOP TEN! Welcome to the TOP TEN. One of my favorites from last year returns to start it off! Frédérik Peeters is IMO one of the very best writer/artists out there today. Sharp, stylistic, bold, and daring. These words describe the edgy sci-fi weirdness that he brings to the game every time you turn one of his pages. Simply said, aama rules. And the story continues in 2014, revealing answers to old mysteries while opening new ones all at once. The art is fantastic, evoking the strangeness of a space opera, while evoking a strong sense of melancholy, which befits the nature of the tale. I said it last year (in my Best of 2013) that America needs to catch on to Peeters. America still hasn't really celebrated him, but Angoulême (France's biggest comic book awards) gave aama its top prize, so at least Europe gets it. C'mon people! Can't wait for the next volume.
________________________________________________________________________
9. SAGA by Brian K Vaughan & Fiona Staples (IMAGE)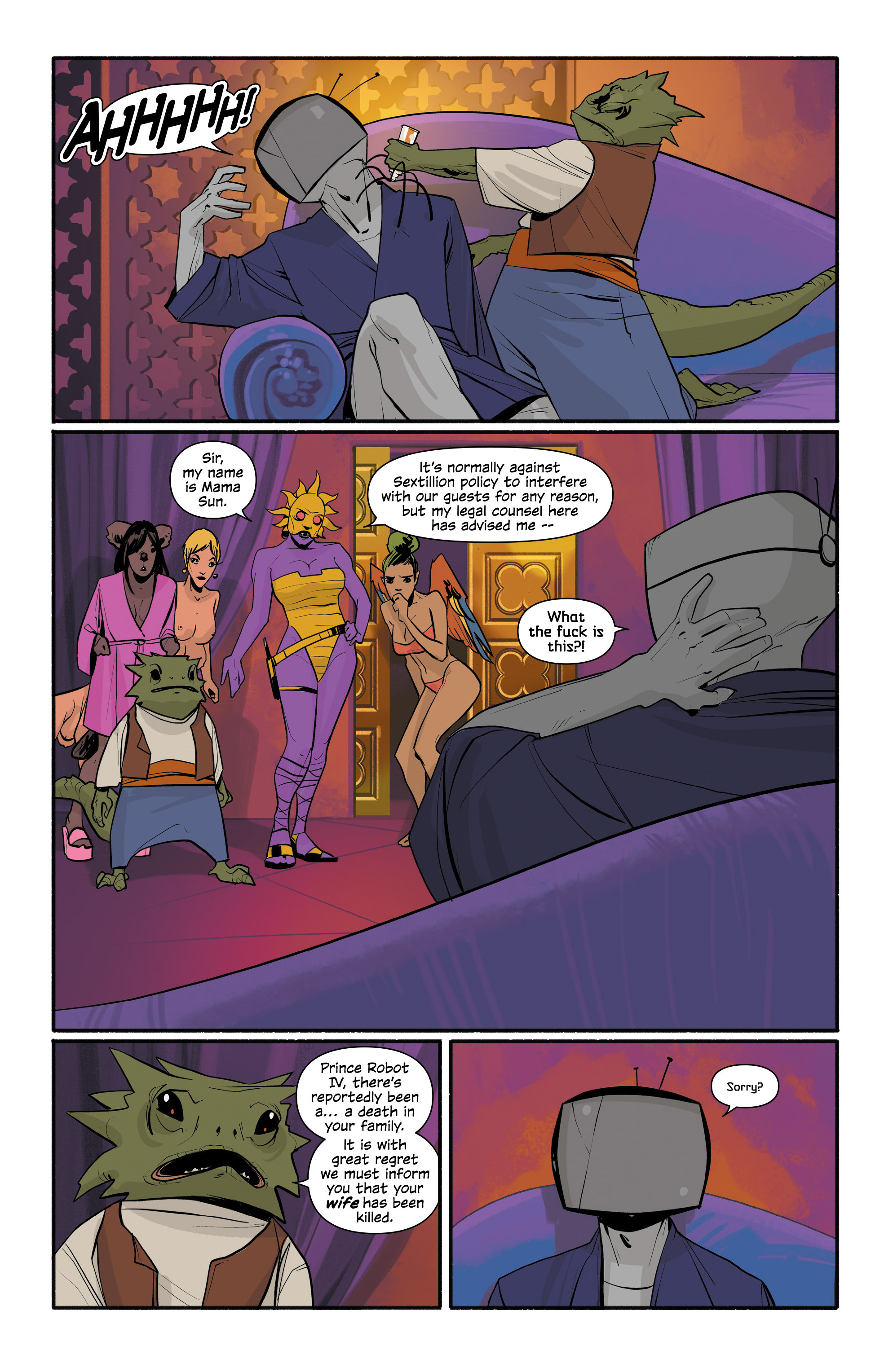 I agree with the general consensus—I think Saga was better than ever in 2014. This series, which deservingly won three Eisners (for art, writing, and best continuing story) has gone from being planetary brilliant to universally brilliant to COSMICALLY BRILLIANT. Just when you think Saga has peaked, it just gets better. I love it all. Every character, every Vaughan-type swerve and shocking twist, new developments, relationships bending until they nearly break, bizarre sci-fi concepts whittled down to the mundane banal world of the daytime soap, Staples' impeccable pencils and colors, sexy characters being genuinely sexy—these are reasons to read this title. I'd live and die and soar through outer space and land on a million planets with Alana, Marko, Hazel, Izabel, and the royal Robots until the end of time. Vaughan writes such a damn good relationship. The saga in Saga is really an intense love story, handled with realism and a delicate authorial touch. Saga is destined to be one of the all time best. In fifty years, we'll look back at this as a seminal title and think of it as a real game-changer, a classic beyond compare.
________________________________________________________________________
COMING UP NEXT… LAST BUT NOT LEAST, THE ELITE EIGHT. STAY TUNED FOR THE BEST PRINT COMICS OF 2014!